Nephrology Fellow Chosen for DEI Committee
We congratulate Juan Salcedo-Betancourt, M.D., on being selected by the American Society of Nephrology to serve on its Diversity, Equity and Inclusion Committee. The one- year internship continues through Dec. 31, 2022. Originally from Colombia, Dr. Salcedo- Betancourt is currently a first-year clinical fellow in Nephrology. He graduated first in his medical school class at Pontificia Universidad Javeriana, and then completed internal medicine residency training at the University of Miami. His clinical interests include transplant nephrology and immunology.
How to build a successful urgent-start peritoneal dialysis program
In-center hemodialysis (HD) remains the predominant dialysis therapy in patients with end-stage kidney disease (ESKD). Many patients with ESKD present in late stage, requiring urgent dialysis initiation, and the majority start HD with central venous catheters (CVC) that is associated with poor outcomes and high cost of care. Implementation of urgent-start will help any medical facility to increase PD-utilization, reduce cost and improve patient outcomes, and will be a step forward in fostering the goal set by the Advancing American Kidney Health initiative. The ongoing-COVID-19 pandemic has exposed the vulnerability of ESKD patients getting in-center HD. Patients get exposed to dialysis staff and other patients when they get in-center dialysis three times a week. At home dialysis modalities, home hemodialysis and peritoneal dialysis, can mitigate the risk of COVID in dialysis patients by limiting the visits to dialysis centers and by reducing environmental exposure to the virus. With the shortage of hemodialysis staff and supplies, urgent start PD became a necessity with COVID-19. UTSW has one of the largest PD center in the country and in this review, Dr. Nilum Rajora, shared the group's experience and expertise to educate the nephrology community how to develop a successful urgent start PD program.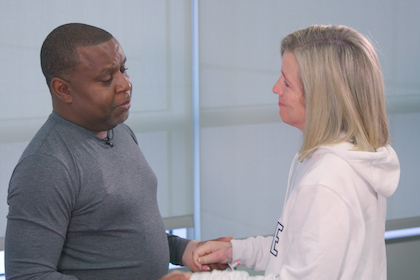 Inspirational lesson: Educator, school family linked through living organ donation
Sarah Schecter, Ph.D., gave as good as she received during the misty minutes-long embrace at UT Southwestern Medical Center's William P. Clements Jr. University Hospital. A day earlier, a severely ill Jones received a healthy kidney from Schecter, a principal at his children's school who was moved to action when she learned what Jones had endured for 18 months.
On January 13, 2020, a transplantation team led by UTSW surgeon Parsia Vagefi, M.D., took a heathy kidney from Schecter to improve Jones' life. Not surprisingly, the two Clements' patients emerged from post-op recovery asking about the other.
Read more about this story in the Newsroom and learn more about the UT Southwestern Living-Donor Kidney Transplant program.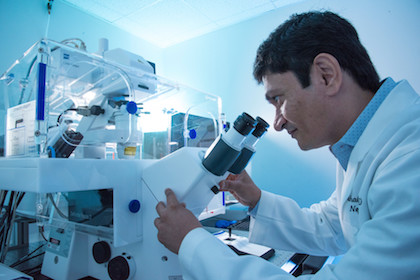 Promising new treatment for ADPKD
Autosomal dominant polycystic kidney disease (ADPKD) affects about 12 million people worldwide, with half developing end-stage kidney disease by age 60, according to the study. A potential treatment for polycystic kidney disease – a genetic disorder that causes the kidneys to swell with multiple cysts and can eventually lead to organ failure – has shown promising results in animal testing. The study shows an approximately 50 percent reduction in kidney size in afflicted mice following treatment. The drug is now in early clinical trials in human subjects, said Dr. Vishal Patel, Associate Professor of Internal Medicine at UT Southwestern and senior author of the study.
New to the Nephrology Division, Dr. Lee Anderson
Dr. Lee E. Anderson, III has recently joined the faculty in the Division of Nephrology. Dr. Anderson completed his residency training at Texas A&M College of Medicine- Scott and White in Bryan, Texas. He then came to UT Southwestern to complete his fellowship training in Nephrology and Transplant Nephrology. Dr. Anderson's research interests are in kidney transplant and chronic kidney diseases.
Congratulations to Dr. Mythili Ghanta on her recent promotion
Mythili Ghanta, M.D., was recently promoted to Associate Professor. She currently specializes in taking care of kidney and pancreas transplant recipients as well as other solid organ transplant recipients with kidney problems. Congratulations Dr. Ganta!
Dr. Marciano promoted to Associate Professor
Congratulations to Denise Marciano, M.D., Ph.D., on her recent promotion to Associate Professor. Dr. Marciano is a research faculty in Nephrology and also an attending physician at Parkland Hospital. Her research focuses on understanding the cellular and molecular mechanisms that drive kidney development and repair after injury. She uses a variety of cellular, genetic, and biochemical approaches to study these processes in renal tubules and the filtration units of the kidney, called glomeruli. More details on her research program can be found at the Marciano Research Lab.
Dr. Berger is promoted to Associate Professor
Joseph Berger, M.D. was recently promoted to Associate Professor of Internal Medicine. Dr. Berger has been a member of the Nephrology faculty since 2009, but has been with UT Southwestern throughout his educational career starting with his M.D. and continuing with his residency and fellowships. Congratulations on your recent promotion.
Dr. Wojciechowki joins Nephrology as Medical Director
David Wojciechowski, D.O., is an Associate Professor in the Division of Nephrology and the Medical Director of the Kidney Transplantation Program at UT Southwestern. Dr. Wojciechowski's research focuses on kidney transplantation, specifically preventing and treating post-transplant viral infections, increasing access to transplantation, and evaluating immunosuppression protocols to maximize patient outcomes and minimize toxicity. The Associate Editor of the nephrology section of Frontiers in Medicine, Dr. Wojciechowski is a Fellow of the American Society of Transplantation and serves on its renal transplant fellowship training accreditation committee. In addition, he's a member of the American Medical Association and American Society of Nephrology.