Curriculum: Year Three
In the third year, students begin the first of two years of intense clinical training and experiences involving direct patient care. Rotations include:
Students can expect a typical day on hospital wards consisting of morning rounds, a noon conference, and afternoon rounds.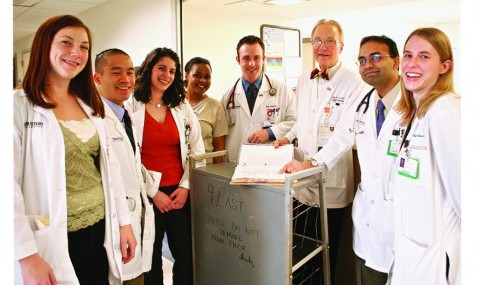 The third-year curriculum is 11 months long, with a two-week winter break and a two-week spring break. Students take both components (clinical knowledge and clinical skills) of USMLE Step 2 after the third year. Passing each component is a requirement for graduation.
Year Three Curriculum Overview
Students request a schedule sequence for the third year. A typical schedule is below. The schedule will vary according to the student's desires and rotation availability.
Psychiatry (6 weeks)
Obstetrics and Gynecology (6 weeks)
Internal Medicine* (12 weeks)
Family Medicine (4 weeks)
Surgery (8 weeks)
Pediatrics (8 weeks)
Neurology (4 weeks)
* Four weeks of internal medicine may be deferred to the fourth year for those choosing to use elective time in the third year.
Throughout the rotations students are exposed to inpatient and outpatient, public, and private clinical settings. Locations are primarily in the Dallas/Fort Worth area, although opportunities in Waco and Tyler are also available for the family medicine rotation.
Course Descriptions
Family Medicine
The third-year clerkship in family medicine exposes students to primary-care role models and ambulatory clinical experiences in contemporary health-care delivery away from the tertiary-care setting. This four-week clerkship has both didactic and clinical portions.

The clinical portion of the clerkship is based primarily at family medicine residency programs affiliated with UT Southwestern and the Family Medicine Residency Program located at UT Tyler and John Peter Smith Hospital. Some students also are based at private practitioner offices in Mansfield, Plano, and Bedford that are designated clerkship sites. The UT Southwestern-affiliated sites include Charlton Methodist Hospital, Dallas; Family Medicine Primary Care Clinic in Professional Office Building 2; McLennan County Family Practice Center, Waco; and UT Southwestern – Parkland Family Medicine Residency Program, Dallas. Each of these sites is staffed by UT Southwestern faculty. Students see patients at the family medicine centers and in a variety of other practice sites, including private offices, under the supervision of adjunct clinical faculty.

The didactic portion of the clerkship consists of lectures and small-group activities that focus on clinical topics and patient and family issues commonly encountered in a family medicine environment. Clerks prepare and present a patient study to faculty at each site and participate in conferences.
Internal Medicine
Each student spends eight intensive weeks as a clinical clerk on general internal medicine inpatient services. Each student spends four weeks at Parkland Memorial Hospital and four weeks at the Dallas Veterans Affairs Medical Center, Parkland, or St. Paul University Hospital. An additional four weeks is spent on a subspecialty service, either an admitting service or a consultant service. In both cases, ambulatory subspecialty medicine clinics are included.

The student is assigned patients in rotation under the supervision of house staff and attending physicians. The clinical clerk is responsible for written admission workups, progress notes, and oral presentations, as well as for participation in the ongoing care of patients.

The objectives of the clerkship are to develop proficiency in approaching the diagnosis and therapy of serious medical illness, to foster an appreciation of disease as the expression of deranged physiology, to inculcate habits of critical inquiry and self-education, and to enhance an appreciation of the physician's responsibility to the patient.

Teaching is carried out on rounds with house staff and attending physicians and at conferences and lectures specifically organized for the clerks. Each student must undertake a systematic program of daily reading in standard texts and journals. Attendance at departmental events such as Clinical-Pathological Conference, and the case presentations at noontime Potpourri and Residents' Conference completes this educational experience.
Neurology
A comprehensive and intensive neurology clerkship has been designed to offer instruction in the diagnosis and management of neurologically ill patients. The students participate actively in the evaluation and care of patients on neurology services at Parkland, VA Medical Center, and Children's Medical Center. Clinical conferences, tutorial seminars, and didactic teaching sessions are important parts of the clerkship. The clerkship prepares the student to evaluate neurological disease and to apply knowledge of anatomy, physiology, and pathology to the formulation of an appropriate differential diagnosis.
Obstetrics and Gynecology
Each third-year medical student spends six weeks on the obstetrics and gynecology service. The time is evenly divided between obstetrics and gynecology. Students are divided into small groups, and their clinical activities are supervised by house staff and faculty.

During obstetrics, students rotate through postpartum and antepartum care of medical complications of pregnancy. Students also provide care in the labor and delivery area of Parkland, the triage area of Parkland, and the prenatal clinic at Maple Plaza. Under supervision of house staff or certified nurse midwives, students deliver babies of uncomplicated pregnancies. The student also assists in the management of complicated pregnancies during the labor and delivery process and follows the patient postpartum.

During gynecology, the students are divided into small groups and rotate through gynecology clinic and surgeries at Parkland and other hospitals. One afternoon is spent in the Southwestern Center for Minimally Invasive Surgery learning laparoscopic techniques.

In addition to ward and clinical activities, each student spends four to five hours each week in formal conferences with faculty. These conferences are devoted to discussion of patients or clarification of information that the student has encountered elsewhere. Members of the faculty give lectures on the principles of obstetrics and basic gynecology.
Pediatrics
The eight-week pediatric rotation is divided into four weeks on the inpatient service at Children's Medical Center, two weeks in its outpatient department, one week in a private-practice office, and one week in the newborn nursery at Parkland.

Inpatient Service
During the four-week inpatient rotation, students are placed on one of the general pediatric inpatient clinical services at Children's for two weeks and on one of the four subspecialty services for two weeks.
Students are part of the clinical management team under the supervision of a full-time faculty attending physician and an upper-level pediatric resident. The number of patients each student follows is determined by his or her individual educational requirements. Each student is expected to take initial histories, perform initial physical exams, write daily progress notes on his or her assigned patients, and be prepared to present them on daily rounds.

Outpatient Rotation
Students spend two weeks in ambulatory pediatrics, one week in a private practice office, and one week in the newborn nursery at Parkland. During the two weeks in ambulatory pediatrics, students spend most mornings in Medical Student Clinic, where they take complete histories and physicals and present to both full-time and volunteer faculty. The remaining time is spent in various pediatric subspecialty clinics and can be directed toward each student's interest.
During the private practice rotation, students spend three days under the supervision of a volunteer faculty member. The remaining days are focused on adolescent medicine and child abuse/child advocacy. During the newborn nursery week, students examine healthy newborns and may attend complicated deliveries.

The course in pediatrics is designed to emphasize normal growth and development and the impact of disease and its treatment on the developing child. Additionally, the prevention of disease and injury, along with the role of the physician as child advocate, is stressed.
Psychiatry
An intensive six-week rotation in psychiatry actively involves the student in a variety of psychiatric services. Students are assigned to two, three-week sites for their primary clerkship experiences. These sites include inpatient psychiatry, consultation/liaison psychiatry, community health care, and emergency psychiatry in a variety of hospital settings, including Parkland, UT Southwestern University Hospitals, VA Medical Center, Children's Medical Center, and Presbyterian Hospital of Dallas. These primary clerkship experiences are supplemented by part-time experiences in outpatient psychiatry and emergency psychiatry.

Students also are able to see clinical care unique to psychiatry, such as electroconvulsive therapy. In addition to diverse clinical exposure, students also spend one half-day a week in didactic teaching sessions focusing on the diagnosis and biopsychosocial treatment of psychiatric disorders and have the opportunity to access interactive computer-based psychiatric cases. Students attend weekly departmental Grand Rounds and participate in teaching conferences on their primary service site.
Surgery
The junior surgical clerkship is designed to introduce students to the theoretical and practical aspects of surgical patient care. Emphasis is placed on the underlying pathophysiology rather than technical aspects. Students are fully involved in the daily care of surgical patients and participate in diagnostic and therapeutic decision making. This eight-week experience includes didactic teaching sessions as well as small-group interactions with full-time faculty.
Additional information about third-year courses is available on the Moodle site.