Curriculum: Year Two
In the second year, the curriculum is fully integrated around organ systems. Materials covered in clinical medicine, microbiology, pathology, and pharmacology are integrated into system blocks. The second-year curriculum is nine months long with a two-week winter break and a two-week spring break. Students usually take Step 1 of the U.S. Medical Licensure Exam (USMLE) at the end of the second-year curriculum.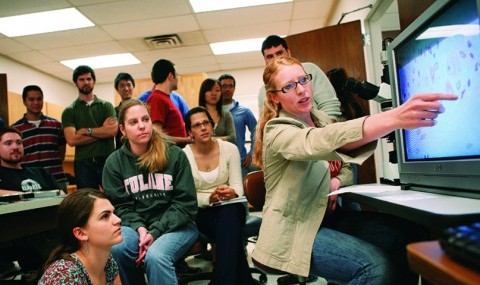 Year Two Curriculum Overview
The second-year curriculum integrates the disciplines of clinical medicine, microbiology, pathology, and pharmacology into 12 instructional blocks. The first three blocks consist of fundamental principles in each discipline (pharmacokinetics, neoplasia, genetics, etc.), with the remainder of the blocks integrated by organ system (renal, cardiovascular, etc.). Examinations are administered at the end of each block, with a composite grade given quarterly (three blocks/quarter).
Fall
General Principles and Hematopoietic System (9 weeks)
Cardiovascular
Respiratory
Renal/Musculoskeletal Systems (10 weeks)
Academic Colleges (weekly)
Spring
Gastrointestinal, Central and Peripheral Nervous Systems, and Psychopathology (8 weeks)
Endocrine and Reproductive Systems, and Extremes of Life (8 weeks)
Academic Colleges (weekly)
Certification in advanced cardiac life support is a requirement for graduation. Students complete this training after their second year.
Course Descriptions
Clinical Medicine
Clinical Medicine: Principles and Practice offers classroom-based instruction that serves as a transition from basic to clinical sciences. The goal is to help the student acquire the knowledge necessary to participate in patient care. Didactic material reinforces the pathophysiology of important diseases and the differential diagnosis of cardinal symptoms, as well as common treatment modalities. Selected principles are reinforced during concurrent small-group sessions in the Academic Colleges. Students will become proficient in data gathering, clinical reasoning and judgment, and practical skills, as well as understanding and demonstrating ethical and professional behavior toward patients.
Microbiology
Medical Microbiology introduces microorganisms of medical importance and infectious disease syndromes caused by those microorganisms. There are two major sections: The first section covers basic classification and biology of the viruses, bacteria, fungi, and eukaryotic parasites and introduces basic principles and their mechanisms of pathogenesis. The second section is organized by organ systems, in which microorganisms that cause organ-specific pathology are studied in the context of the major syndromes and diseases that these organisms cause. Methods of instruction include lectures, laboratory exercises, and case-based teaching in both small-group and large-group formats.
Pathology
Anatomic and Clinical Pathology presents the etiology, pathogenesis, and pathophysiology of general disease processes and of specific diseases of organ systems, as well as the clinical consequences of disease. Students acquire information from several sources, including a limited number of lectures, course syllabus, textbook readings, online materials, glass-slide laboratory sessions, and demonstrations of gross tissue specimens by pathology faculty. Students prepare for small-group case discussions by viewing online case materials during designated independent study time. There is also an opportunity to view an autopsy at the Medical Examiner's office.
Pharmacology
Medical Pharmacology is first approached as a basic biomedical science and later focuses on therapeutics and clinical pharmacology. After a thorough introduction to the general principles of pharmacodynamics and pharmacokinetics, the pharmacological and toxicological properties of the major classes of drugs are covered. Emphasis is placed on understanding mechanisms of drug-induced modifications of physiological functions. Lectures are supplemented with clinical correlations that explore the rational use of drugs in the management of disease.
Advanced Cardiac Life Support (ACLS)
ACLS includes didactic information about the management of cardiac arrest, including rhythm recognition, drugs, and protocols. The course also has skills practice for airway management, including: intubation; management of bradycardia, tachycardias, ventricular fibrillation, asystole, pulseless electrical activity, and shock and heart failure; and use of defibrillators and automated external defibrillators.
Students must master techniques for basic life support for health professionals, such as one- and two-rescuer cardiopulmonary resuscitation, infant CPR, child CPR, and management of obstructed airway for all ages, before practicing skills for advanced techniques. Examinations include a written examination and demonstration of proper technique for intubation and ability to serve as team captain for a cardiac-arrest scenario. The student must pass each section for certification.
Additional information about second-year courses is available on Moodle.