Curriculum: Year One
During the first year of UT Southwestern Medical School, students study the basic sciences with courses in: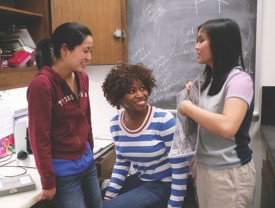 The first-year curriculum is nine months long with a two-week winter break and a one-week spring break. An 11-week summer break at the end of the first year allows students opportunities to pursue interests inside or outside of their medical education. Clinical preceptorships and UT Southwestern basic science and clinical research opportunities are available.
Year One Curriculum Overview
The first-year curriculum begins with a study of the normal human body, and its processes at the molecular and cellular levels. Biochemistry, genetics, anatomy, and embryology are presented concurrently for the first portion of the year, building together the concepts of macromolecular and cellular interactions within tissues. Introductory courses in clinical ethics in medicine and critical thinking are also provided at this time. The spring is comprised of interdisciplinary courses in physiology and neuroscience, as well as courses in cell biology and human behavior and psychopathology.
Fall
Medical Biochemistry (8 weeks)
Human Anatomy (15 weeks)
Medical Embryology (8 weeks)
Medical Genetics (4 weeks)
Medical Physiology (5 weeks)
Academic Colleges (weekly)
Spring
Medical Physiology (10 weeks)
Medical Neuroscience (7 weeks)
Human Behavior (6 weeks)
Biology of Cells and Tissues (8 weeks)
Fundamentals of Immunology (3 weeks)
Academic Colleges (weekly)
Course Descriptions
Anatomy
The Human Anatomy course presents the gross structure and function of the human body as it relates to the practice of medicine. By using surface, radiological, and cadaver anatomy, students acquire a three-dimensional understanding of structural relationships in the living body. Working in groups of four, students dissect the major structures of the body. Prosections and demonstration specimens are provided for amplification and clarification of adult anatomy.
Laboratory work is further supplemented by sessions in which radiological techniques are used to illustrate parts of the bony skeleton, and the thoracic and abdominopelvic viscera. Videos illustrating the anatomy of selected regions of the body are available for on-demand viewing. Lectures stress important aspects of anatomy, especially as they relate to medical practice.
Biochemistry
The Medical Biochemistry course introduces the fundamentals of modern molecular biology and biochemistry as applied to medicine. The course is divided into four blocks: The first block enhances your understanding of proteins including their structure and function. We explore the basic amino acid building blocks and how differences in structures are manifested into a variety of functional states. The second block explores nucleic acids, macromolecular machines, and their regulation on a molecular level. Sections three and four delve into the intrinsic nature of metabolism. Section three deals with the fundamentals of carbohydrate and amino acid metabolism including a variety of disease states arising from genetic and environmental factors. Section four covers the breadth of lipid metabolism, with major emphasis given to diseases such as diabetes, obesity, and atherosclerosis.
Cell Biology
The Biology of Cells and Tissues course consists of lectures and coordinated laboratory sessions that introduce the fine structure and function of cells, tissues, and organ systems of the human body, primarily as observed at the resolution of light and electron microscopy. Emphasis is placed on structure-function relationships between different cell types in human tissues and organ systems, as well as on how alterations in cell architecture and cell behaviors lead to disease.
The first part of the course covers the functional morphology of cells and their organelles, the biochemical composition of cellular components and products, features of cell surfaces and cellular movement, and the basics of cell-cell and cell-matrix interactions. The remainder of the course is a systematic survey of the body's organ systems, with an emphasis on the functions of specialized cell types in each organ. Approximately 50 hours are devoted to laboratory exercises that serve as a foundation for understanding pathology in the second year.
Embryology
The Medical Embryology course covers embryologic development from ovulation through birth, and is organized by organ systems. Topics are integrated with Human Anatomy to facilitate understanding of anatomical relationships, selected birth defects, and anatomical variants. Following an introductory overview lecture, the remainder of the course is completed in an online self-study format. Course materials include a complete syllabus with self-study questions, a companion website, a CD-ROM with animations of embryologic development, and supplementary textbooks on library reserve. The course culminates in an informal journal club that explores selected topics of relevance to modern developmental biology and medicine.
Genetics
The Medical Genetics course introduces basic principles of human genetics and their application to clinical medicine. Topics include chromosome abnormalities, genetic patterns of inheritance, inborn errors of metabolism, multifactorial inheritance, population genetics, gene mapping and identification, genetic screening, cancer genetics, pharmacogenetics, gene therapy, genetic counseling, and ethical issues, and decision-making in medical genetics. The course consists primarily of self-study assignments that precede interactive, classroom-based problem-solving sessions led by a faculty expert in each topic. In-class quizzes are administered to provide students with ample formative feedback throughout the course.
Human Behavior
The Human Behavior course examines the basic science of human behavior that is relevant to the understanding of mental disorders. A variety of educational media (lectures, videos, computer media) are used to examine human psychosocial development and the biopsychosocial underpinnings of behavior. Course content is coordinated with small group sessions in the Academic Colleges, allowing students to practice clinical interview and examination skills, reflect on how patients and physicians react to illness, and recognize salient aspects of the physician's professional roles.
Immunology
The Fundamentals of Immunology course introduces the components of the immune system, their locations in the human body, and their interactions in different clinical contexts. Students learn how the immune system senses and attempts to eliminate pathogens, and how selected pathogens evade it to cause disease.
First, the genes and molecules that play key roles in the immune system – including antigens, antigen receptors, antibodies, complement, major histocompatability complex loci, chemokines, and cytokines – are introduced. The interactions between innate and acquired are then discussed. Finally, medically relevant forms of immune dysregulation and intervention are explored, including vaccines, immunomodulators, hypersensitivities, immunodeficiencies, autoimmunity, graft-versus-host disease, transplantation immunology, and tumor immunology.
Neuroscience
Medical Neuroscience is a multidisciplinary course that is organized jointly by Neurology and Neuropathology, with assistance from the departments and/or divisions of Cell Biology, Physiology, Psychiatry, Neuroradiology, Internal Medicine, and Neuroscience. Emphasis is placed on applying basic anatomical and physiological principles to problems in neuropathology and clinical neurology.
The course is divided into three blocks: The first block applies the principles of cellular excitability learned in Medical Physiology to the specialized cells of the nervous system and their synaptic connections. The second block covers neuroanatomy and relevant clinical correlations, and is supplemented by small-group neuroanatomical demonstrations and neuroanatomy review sessions. The third block surveys sensory, motor, and cognitive systems and introduces the clinical neurological exam, providing an opportunity to incorporate the neurological exam into the physical examination learned in the Academic Colleges.
Physiology
The Medical Physiology course examines the physiological function and regulation of major organ systems and their components in the human body. Topics include membranes and transport mechanisms; skeletal, cardiac and smooth muscle; and the cardiovascular, respiratory, renal, gastrointestinal, and endocrine systems.
Instruction is composed of lectures, problem-solving and case-study sessions, and clinical correlation sessions taught by practicing physicians. The course emphasizes mechanistic and integrative functions of normal physiology and explores abnormal function that occurs in many human diseases.
Additional information about first-year courses is available on the Moodle site.