Student Profiles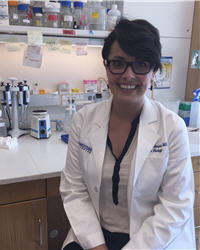 Ashley Lakoduk
Cell and Molecular Biology Graduate Program
Mentor: Sandra Schmid, Ph.D.
Hometown: San Diego, CA
Awards/Fellowships: CTSA TL1 Pre-doctoral Training program (2015–2016), Poster Presentation/Travel Award: IASLC 15th Annual Targeted Therapies of the Treatment of Lung Cancer, Oral Presentation: Translational Science meeting. Washington, D.C. 2016
I have always been extraordinarily curious and became fascinated with science at a young age. However, I fell in love with molecular biology during my junior year of high school in an AP Biology course. This love for the molecular determinants of disease drove me to attend UC San Diego and major in Molecular Biology. I had the opportunity to work in a lab at the Sanford Burnham Institute as a college freshman, and I have been involved in science/research ever since.
I chose to come to UTSW for graduate school for the collaborative environment, the close relationship between basic science and clinical research, and the strong emphasis on translational science. The translational opportunities at UTSW are unparalleled, and the Mechanisms of Disease and Translational Science track really delivers on its promise to train students from "bench to bedside."
"The availability of cutting-edge basic science research, coupled with an emphasis on translational science makes UTSW the best program for graduate students interested in advancing human health through research."
One of my research projects is to develop new tools and assays to measure focal adhesion turnover in live cells. Additionally, I collaborate closely with computational scientists to develop sophisticated image analysis software to analyze focal adhesion turnover and integrin trafficking in live cells. I am currently interested in identifying molecular sensitizers to breast cancer therapeutics, and I hope inhibiting PIPIK gamma p90 will prove to be useful in the clinic.
I love the enthusiasm of the faculty for educating and training our graduate students. I have been mentored from wonderful basic science researchers as well as several clinicians, and they are truly supportive and invested in my future success as a translational scientist. I also love the opportunities to shadow physicians and cater my research from "bedside to bench" in hopes of filling current therapeutic gaps. I also think the Center for Translational Medicine (CTM) at UTSW is fundamental in maintaining the collaborative atmosphere and translational science focus.
---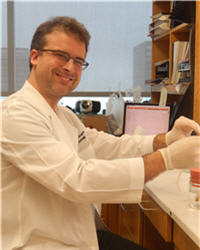 Ryan Laranger
Genetics, Development and Disease Graduate Program
Mentors: Jerry Shay, Ph.D. and Woodring Wright, Ph.D.
Hometown: Carmel, NY
Awards/Funding: HHMI funding as a Med-into-Grad scholar, National Center for Advancing Translational Sciences funding for TL1 grant, and a Cancer T32 training grant
I've always been interested in building and inventing. My research at SUNY Binghamton taught me that long nights spent in pursuit of even basic science discovery can feel incredibly rewarding. I then went and got a Professional Science Master's degree in the Business of Bioscience and Bioseparations Engineering at the Keck Graduate Institute. Over the course of getting this degree, I became intensely interested in developments in regenerative medicine and gene therapy and how they could yield cures to otherwise chronic conditions. This interest led me to pursue research to contribute to the development of this exciting field.
"The Mechanisms of Disease program gave me the opportunity to work directly with clinical researchers; opening up some great opportunities to collaborate and giving me a solid foundation for performing translational research."
The breadth of research projects at UTSW is enormous. I was interested in translational research in the emerging fields of regenerative medicine and tissue engineering. This research often requires collaboration between basic scientists and translational researchers. UTSW has faculty who have pursued these relationships and produced dramatic strides in the field of regenerative medicine, and so I applied to come to UTSW to take part in this research.
My research involves engineering reconstituted lungs to model regeneration and disease. We create these lungs by seeding life-extended human cells into a decellularized lung matrix, and then culturing the tissue in a bioreactor with simulated breathing. We are using this system as a proof-of-concept to model the ability of life-extended human cells to differentiate and simulate genetic diseases such as cystic fibrosis in tissue when provided the proper contextual queues. In the future, we hope that this research will lead to the creation of tissue constructs which could be used for transplantation.