Student Profile
Hema Manjunath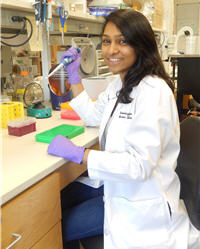 Hema Manjunath
Genetics, Development and Disease Graduate Program
Mentor: Joshua Mendell, Ph.D.
Hometown: Davangere, India
As a child, I was fortunate to have wonderful teachers and learning environments that allowed me to grow up indulging my curiosity. Doing research feels like a grown-up version of that same indulgence, and so it feels very natural to me. I realized this as soon as I started working independently in a lab – as an undergraduate summer student in Dr. David Berman's lab at Johns Hopkins Medical School – and immediately decided that I wanted a career in research.
I've always been interested in studying the biology of disease states and so, UT Southwestern, with its focus on disease research, was a perfect fit. Beyond this, the school presented opportunity to receive excellent graduate training in a collaborative atmosphere, which was very important to me. I am studying the molecular mechanisms of a pediatric kidney cancer called Wilms tumor; specifically, whether misregulated developmental programs in the fetal kidney result in the formation of these tumors in children. My research began with interesting preliminary data from clinical samples obtained here at UTSW and aims to end in important molecular understanding that will help develop better therapies for use in the clinic.
"One of the best things about being trained here is having access to a large network of people that you can collaborate with and learn from."
The GDD program provides a great learning environment for graduate students – with mentors who are invested in the success of their students, labs doing creative research in diverse fields and access to excellent personnel and resources. My research and overall scientific development have benefited enormously from interactions with physicians and scientists in my lab and outside it. Ultimately, as a scientist-in-training in the GDD program, I feel like I am part of a scientific community and I love that.
Antonio Fernandez-Perez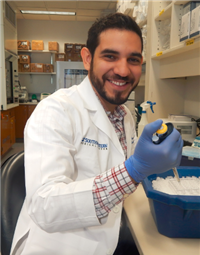 Antonio Fernandez-Perez
Genetics, Development and Disease Graduate Program
Mentor: Nikhil V. Munshi, Ph.D.
Hometown: Tijuana, Mexico
Awards/Fellowships: National Science Foundation Graduate Research Fellowship Program, on tenure, National Institutes of Health (NIH) T32 Training Grant
Like many other graduate students, my interest in science started early in life. Whether it was at a science fair, or by the life growing in the nearest tide pool in Tijuana, I was always admiring wondering the "how and why" of nature. However, it was not until my early college years that I realized I wanted a future in research. My inspiration came about when my mother fell ill to a rare heart disease. Witnessing firsthand how the clinical and the basic sciences came together to better understand her disease and develop a treatment based on previous decades of research, made me realize that this was the career that I was meant to pursue.
The unique aspects that compose UT Southwestern place the institution with some of the best in the country. The collaborative atmosphere that emerges from working side by side with physicians, medical students, faculty, and local universities, provides students with a wonderful environment to take our research in any ambitious direction. This, in conjunction with great mentoring and diverse programs, allows all students to develop the best education and foundation for our future careers. Moreover, it also houses some of the most cutting edge research in cardiovascular biology, making it a perfect home for me.
My thesis project focuses on dissecting the contribution of the transcription factor Hand2 during the direct reprogramming of fibroblasts into cardiomyocytes. By better understanding the mechanisms that regulate cardiac cell fate determination, we have the opportunity to develop unique and exciting regenerative medicine therapeutics.
I consider the GDD program at UT Southwestern one of the best in the country, not only for its excellent faculty and resources, but also because the program comes together to build a strong community, both personally and professionally. As graduate students we spend an incomprehensible amount of our time in the lab, and it is refreshing to be surrounded with mentors, peers, and friends that motivate and inspire us to keep pushing. My current progress and awards could not have been possible without this strong foundation.
"The collaborative atmosphere that emerges from working side by side with physicians, medical students, faculty, and local universities, provides students with a wonderful environment to take our research in any ambitious direction.""
Another great aspect of the GDD program is that it provides many opportunities for scientific growth. With a combination of work-in-progress seminars, poster sessions, presentations, student-run organizations (Science policy, creative art, journal clubs, among others), we are able to polish our communication skills, critical thinking, and expand our career options. Although these aspects are not unique to our program, the GDD student community knows how important these aspects are for our and future GDD students development.