Integrative Molecular and Biomedical Sciences Ph.D. Program
About the Integrative Molecular and Biomedical Sciences Program
The Integrative Molecular and Biomedical Sciences Graduate Program promotes cross-disciplinary research with the goal of training students to become independent investigators and leaders in biological and biomedical sciences. Their research focuses on the molecular and cellular basis of integrated biological systems, including cells, tissues and whole animals, under physiological and pathological conditions in world-class laboratories.
The program has more than 70 internationally recognized faculty in basic and clinical sciences and students benefit from the strong tradition of interdisciplinary training at UT Southwestern Medical Center.
The Integrative Molecular and Biomedical Sciences Graduate Program offers the most diverse exposure to different aspects of biological and biomedical sciences at Southwestern. Major areas of investigation in the Integrative Biology Graduate Program include:
Molecular mechanisms of diseases
Metabolism and metabolic diseases
Gene expression and regulation
Regulation of cardiovascular, renal, liver functions
Stem cell biology
Cancer, cell cycle and growth control
Mechanisms of behavior
Carbohydrate and lipid metabolism
Cell signaling
Neuronal functions and neurological diseases
Structural and computational biology
Immunology
Students interested in joining the Integrative Molecular and Biomedical Sciences Ph.D. program should apply to the Basic Biomedical Sciences Program. First-year students complete a core curriculum that includes a core course, three or four laboratory rotations, and training in the responsible conduct of research. Students who perform satisfactorily in the first semester core course are qualified to enter the Integrative Biology Graduate Program.
A Message from the Program Chair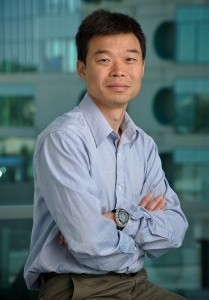 Yi Liu, Ph.D.
Professor, Physiology
Graduate School: Ph.D., Vanderbilt University, 1995
Postdoctoral Training: Dartmouth Medical School
Our program has a strong emphasis on physiological processes and human diseases, but our biggest strength is the diversity of research of our students, ranging from metabolism, development, neuroscience, behavior, and cancer to immunological and biophysical studies.