Student Profile in Decreasing Health Disparities
Tanisha Clark
Clinical Psychology Graduate Program
Mentor: Jill McLeigh, Ph.D.
Undergraduate Degree: Psychology
Undergraduate Institution: Spelman College
Hometown: Dallas, Texas
Awards/Fellowships: Dewitt Dean's full tuition Scholarship and the NIMH-COR undergraduate research fellowship at Spelman College; with two colleagues, awarded a grant for $29,000 from Arabella Advisors to create and host an educational conference for educators across the Dallas Forth Worth Metroplex; first-ever Social Justice Fellowship from Children's Rees-Jones Center for Foster Care Excellence, a joint initiative of Children's Health and the Clinical Psychology program at UT Southwestern.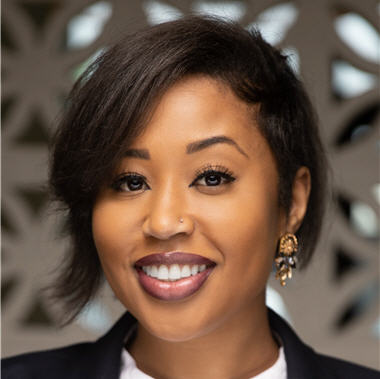 How did you become interested in science and/or research specifically?
As an undergraduate student at Spelman College, I received the opportunity to be a part of the National Institute of Mental Health Career Opportunities in Research (NIMH-COR). I had great mentors, like Drs. Karen Brakke and Margaret Weber-Levine, who facilitated my placement at The Grady Nia Project via Emory University under the leadership of Dr. Nadine Kaslow and Dr. Asha Ivey-Stephenson. This project specifically focused on improving outcomes for Black women with a history of domestic violence and suicidality. This first experience taught me the power that research has to change lives. Through NIMH-COR I went on to research with several knowledgeable mentors across the country.
Following graduation from Spelman, I desired more experience working with underserved adolescent populations in community settings. Over the course of 10 years, I served as a Youth Development for YMCA of Metropolitan Dallas, Teach for America Corps Member, and an assistant principal. It became increasingly evident that a career as a scientist-practitioner was the best path for the type of impact wished to make. I arrived at UTSW with a desire to focus on disparities in the identification and treatment of developmental disorders in Black children.
Tell us about your research project and its relevance to human health.
I am currently working on multiple research projects. During my first year, I developed a brief online trauma-informed care training for medical and allied health students under the leadership of Dr. McLeigh and several medical and behavioral health trauma experts.
Currently, Dr. McLeigh and I are also in the initial phases of a new project focused on the utilization of early screening and intervention to decrease health disparities during critical developmental years.
Beyond my work with Dr. McLeigh, I serve in a leadership capacity on the Social Justice Research Team lead by Dr. Kipp Pietrantonio. Our team is working to develop a Social Justice Curriculum Appraisal Tool. Our purpose is to decolonize the curriculum within the field of Clinical Psychology and promote the inclusion of diverse history and perspectives to improve trainee experiences and patient outcomes.
Why did you choose to come to UT Southwestern for graduate school?
UTSW Clinical Psychology Program is in the center of a large academic medical center, and it has a pronounced focus on interdisciplinary patient care. I knew I would be able to work with professionals who were thriving in their perspective fields. After speaking with current students in the program, I realized that each trainee was on track to achieve the postdoctoral fellowship and career path of their choice. The captive internship and the prospect of completing my degree within four years were also very compelling features.
In your opinion, what makes your specific program one of the top in the country?
UTSW Clinical Psychology program offers the ability to collaborate with many scientist-practitioners across fields. My current research mentor, Dr. Jill McLeigh, is an expert in public policy. During my time as a Social Justice Fellow at Children's, Dr. McLeigh supervised my research, and Dr. Laura Lamminen, a clinical psychologist, oversaw my clinical training. During this time, I shadowed virtual Parent-Child Interaction Therapy, Trauma Focused-Cognitive Behavioral Therapy, and trauma-informed intake for children and adolescents with various psychiatric diagnoses (e.g., Adjustment Disorder, Major Depressive Disorder, etc.). I also participated in bridge visits with the administration of the Child and Adolescent Needs and Strengths (CANS) assessment along with other learning opportunities.
Faculty and staff are also supportive of each student's specific goals and career trajectory. Program leadership supported my placement at the Children's Center for Autism and Developmental Disabilities (CADD) when I informed them of my desire to explore assessment and behavioral psychotherapy for children with Autism Spectrum Disorder. My supervisors at CADD have continued to support my personal and professional growth.
What do you love about your program or why should a prospective student decide to get their Ph.D. here?
This program fosters collaborative relationships and involvement among students. Students are paired with upper-class mentors to aid in the achievement of each program milestone (i.e., first-year coursework, practicum, and navigating supervision). As a nontraditional student, the support I have received from my cohort has been invaluable to my success.
UTSW also offers several pathways for becoming involved at the local, state, and national levels. For example, as a student member of the Dallas Forth Worth Association of Black Psychologists, led by Dr. Mona Robbins of UTSW, I received the opportunity to co-facilitate a national webinar on the racial socialization of Black children with Dr. Daphne Harris at the University of North Texas. I also serve on the Department of Psychiatry Anti-Racism Taskforce as a member of the education subcommittee. Each opportunity has provided small ways for me to channel my frustration with systemic oppression and police brutality into vehicles for change.
– Tanisha Clark, Clinical Psychology Graduate Program