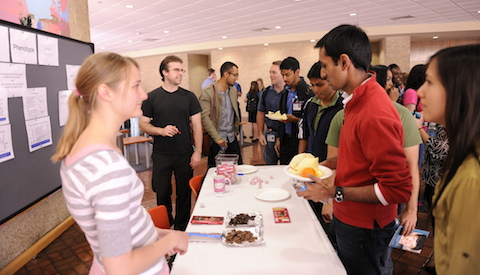 Convergence arose from a two-year study to identify a project that would have a wide impact on the quality of education at UT Southwestern. The project, focused on interprofessional education (IPE), was submitted and accepted as our Quality Enhancement Plan for reaffirmation of Accreditation by the Southern Association of Colleges and Schools.
In the first five years, Convergence engaged students of the medical, health professions, and graduate schools in interprofessional activities focused on an annual science-of-medicine theme that featured a prominent investigator, as shown below.
With the 2011 publication of Core Competencies for Interprofessional Collaborative Practice, impetus for IPE shifted to its potential to improve clinical practice by enhancing safety, quality, and accessibility. Thus, Convergence and other UT Southwestern leaders agreed in 2014 to refocus IPE on elements of clinical practice. Current participants are UT Southwestern students of medicine and health professions, Texas Woman's University, UT Arlington students of nursing, and Texas Tech University students of pharmacy.
2018-2019 Interprofessional Collaborative Clinical Practice Theme – Diabetes
Topic: Interprofessional Management of Diabetes: Patient and Panel Discuss Interdisciplinary
Care for Diabetes
Hosted by the UT Southwestern Diabetes Management Program and The Parkland Health and Hospital System Global Diabetes Program.
2017-2018 Interprofessional Collaborative Clinical Practice Theme – Cancer
Topic: Interprofessional Management of Cancer: Patient and Panel Discuss Interdisciplinary
Care for a Case of Ewing's Sarcoma
Hosted by the UT Southwestern Hematology/Oncology Clinic and The Pauline Allen Gill Center for Cancer and Blood Disorders at Children's Health℠
2016-2017 Interprofessional Collaborative Clinical Practice Theme – Pain Management
Topic: Interdisciplinary Approaches to Pain Relief Therapies:
An interprofessional panel discusses getting past opioids
Hosted by the UT Southwestern Eugene McDermott Center for Pain Management
2015–2016: Interprofessional Collaborative Clinical Practice Theme – Aging
Topic for case study - A simulated Geriatric Care team meeting with the Coopers
Bruce Beutler, M.D., Theme Director
Dan Kastner, M.D., Ph.D., Keynote Speaker
Topic for case study – Autoinflammatory diseases
Helen Hobbs, M.D., Theme Director
Harry (Hal) Dietz, M.D., Keynote Speaker
Topic for case study – Marfan syndrome
Craig Rubin, M.D., Theme Director
Nir Barzilai, M.D., Keynote Speaker
Topic for case study – Alzheimer's disease and falls in the elderly
Jay Horton, M.D., Theme Director
Stephen O'Rahilly, M.D., Keynote Speaker
Topics for case study – Obesity and fatty liver disease
James Willson, M.D., Theme Director
Gerard Evan, Ph.D., Keynote Speaker