CSB Seminar - Dr. Joao Xavier
Please join us for the upcoming CSB Seminar, Monday, April 23, 2018 at 11 a.m. ‐ noon in ND11.218. A meet-the-speaker lunch will follow each seminar in the ND11 atrium.
João Xavier, Ph.D.
Memorial Sloan Kettering Cancer Center
Monday, Apr 23, 11 a.m.
Changes in the intestinal microbiota and risk of infection in patients receiving intense antibiotic treatment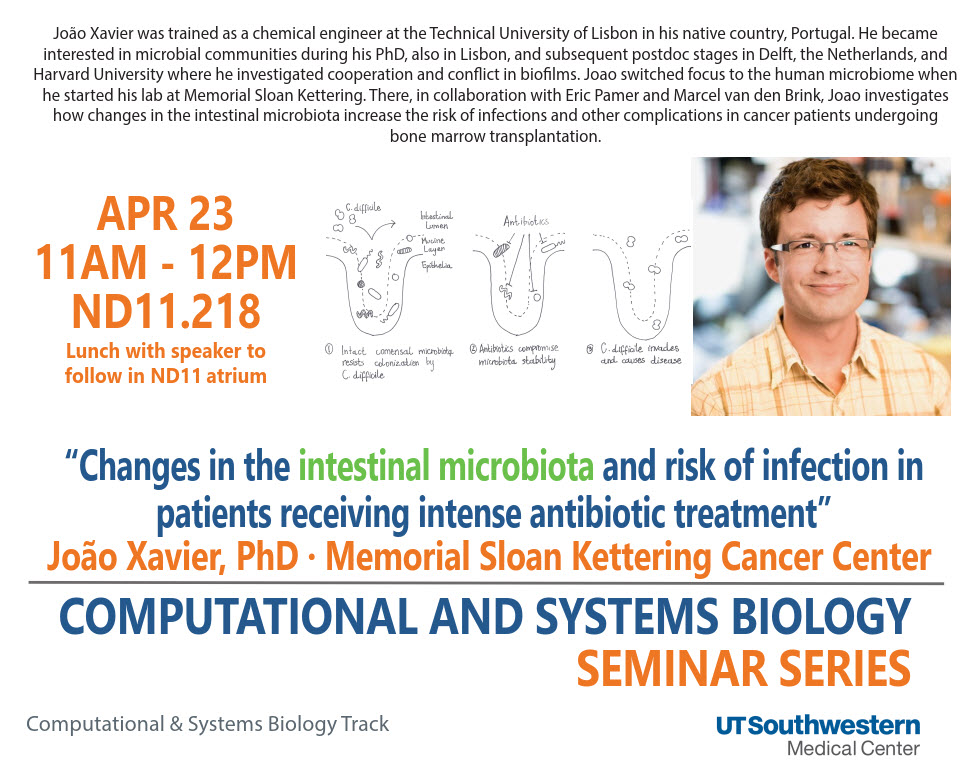 João Xavier was trained as a chemical engineer at the Technical University of Lisbon in his native country, Portugal. He became interested in microbial communities during his PhD, also in Lisbon, and subsequent postdoc stages in Delft, the Netherlands, and Harvard University where he investigated cooperation and conflict in biofilms. Joao switched focus to the human microbiome when he started his lab at Memorial Sloan Kettering. There, in collaboration with Eric Pamer and Marcel van den Brink, Joao investigates how changes in the intestinal microbiota increase the risk of infections other complications in cancer patients undergoing bone marrow transplantation.