CSB Seminar - Dr. Jared Toettcher
Please join us for the upcoming CSB Seminar, Monday, September 25 at 11 a.m. ‐ noon in ND11.218. A meet-the-speaker lunch will follow each seminar in the ND11 atrium.
Jared Toettcher, Ph.D.
Princeton University
Monday, Sept. 25, 11 a.m.
Optogenetics for intracellular codebreaking: dissecting how ERK activity is interpreted to control gene expression and cell fate.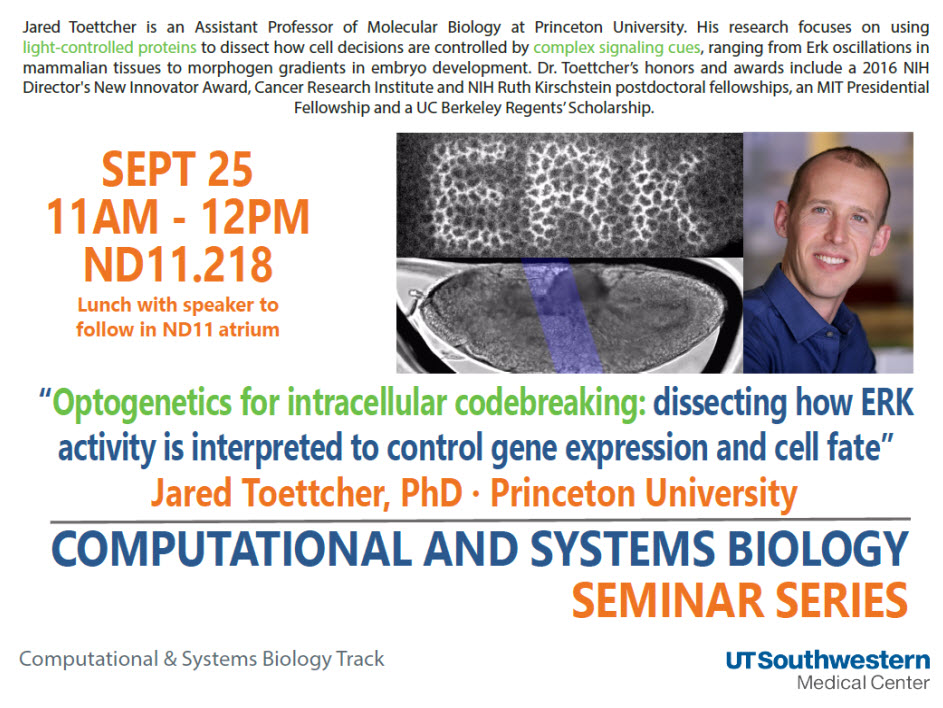 Jared Toettcher is an Assistant Professor of Molecular Biology at Princeton University. He obtained his Ph.D. in Biological Engineering from MIT in 2009, working with Bruce Tidor and Galit Lahav on the relationship between mammalian cells' surveillance of DNA damage and decision to undergo cell cycle arrest. He then completed postdoctoral training with Wendell Lim and Orion Weiner at UC San Francisco, where he engineered optogenetic control over Ras and PI 3-kinase. Dr. Toettcher's research focuses on using light-controlled proteins to dissect how cell decisions are controlled by complex signaling cues, ranging from Erk oscillations in mammalian tissues to morphogen gradients in embryo development. Dr. Toettcher's honors and awards include a 2016 NIH Director's New Innovator Award, Cancer Research Institute and NIH Ruth Kirschstein postdoctoral fellowships, an MIT Presidential Fellowship and a UC Berkeley Regents' Scholarship.