CSB Seminar - Dr. Leman Akoglu
Please join us for the upcoming CSB Seminar, Monday, October 23 at 11 a.m. ‐ noon in ND11.218. A meet-the-speaker lunch will follow each seminar in the ND11 atrium.
Leman Akoglu, Ph.D.
Carnegie Mellon University
Monday, Oct. 23, 11 a.m.
autOmated Data Description (ODD): Explaining anomalies for human interpretation.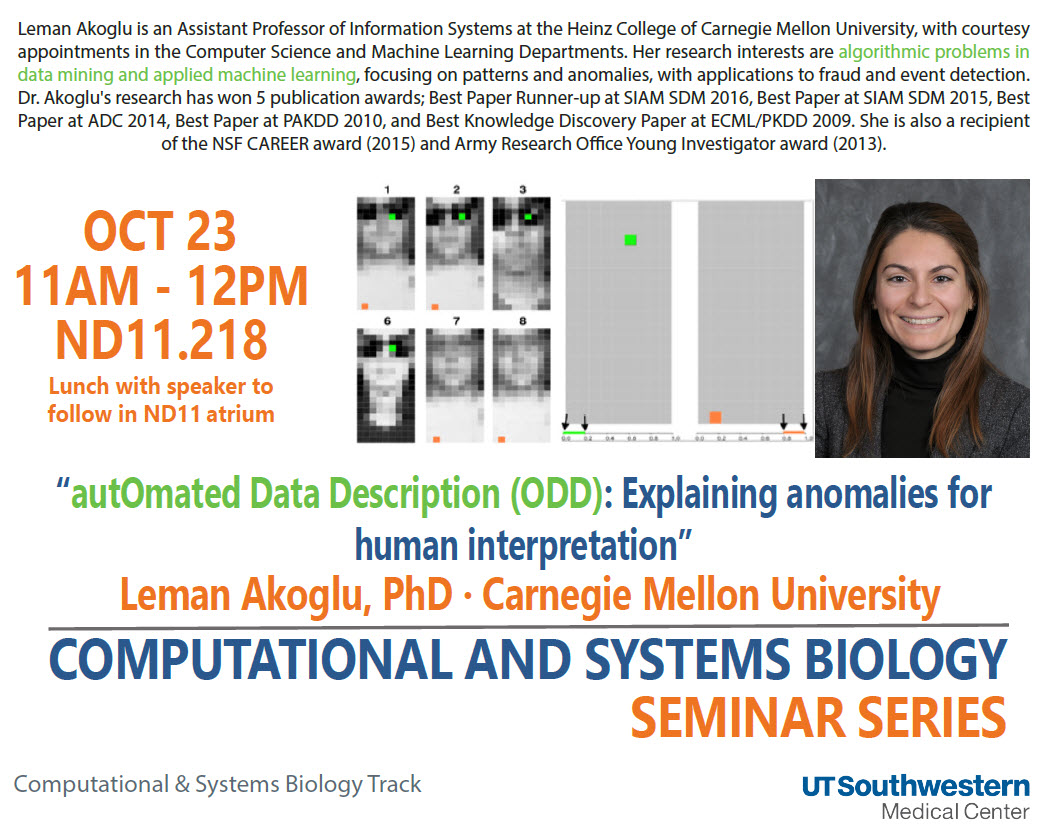 Leman Akoglu is an Assistant Professor of Information Systems at the Heinz College of Carnegie Mellon University, with courtesy appointments in the Computer Science and Machine Learning Departments of School of Computer Science. She received her PhD from the Computer Science Department at Carnegie Mellon University in 2012. Her research interests are algorithmic problems in data mining and applied machine learning, focusing on patterns and anomalies, with applications to fraud and event detection. Dr. Akoglu's research has won 5 publication awards; Best Paper Runner-up at SIAM SDM 2016, Best Paper at SIAM SDM 2015, Best Paper at ADC 2014, Best Paper at PAKDD 2010, and Best Knowledge Discovery Paper at ECML/PKDD 2009. She is also a recipient of the NSF CAREER award (2015) and Army Research Office Young Investigator award (2013).