Learn about ...
UT Southwestern Medical Center remains open, including its Emergency Room, William P. Clements Jr. University Hospital, and all our clinics across the DFW region. UT Southwestern has taken steps to expand capacity at our emergency room and to screen patients with respiratory illnesses in areas separated from other emergency care needs as an additional precaution.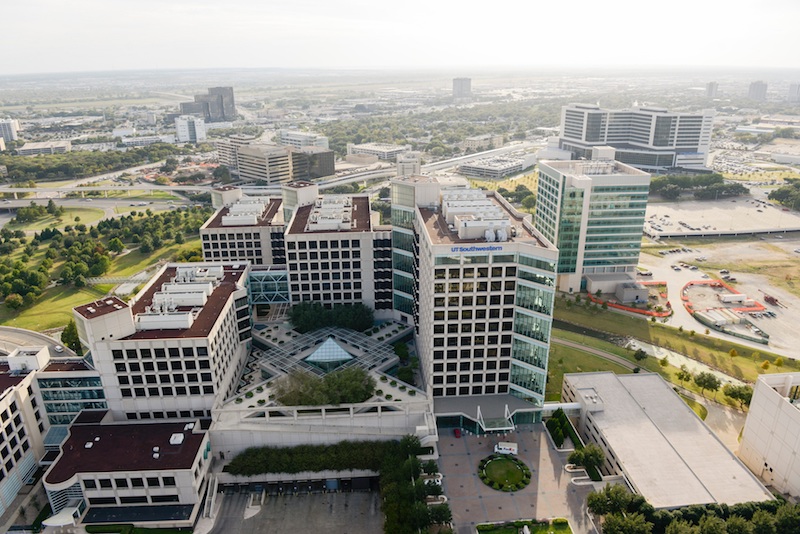 Academic Visitors
Academic operations, including research and clinical trials, are continuing with appropriate measures to protect the health of the community, including limitations to gatherings of less than 10 individuals, social distancing practices such as virtual classes, lectures, symposiums, and events.
In addition, UTSW is limiting exposure of our employees to gatherings in the community of less than 10 individuals to help preserve our health care workforce so we can serve the medical needs of our community.
Departments with visitors arriving for employment can continue to onboard these visitors post-quarantine.
Dining
William P. Clements Jr. University Hospital
The cafeteria is open seven days a week from 6 a.m.-2 a.m., with no self-checkout.
Caribou Coffee Shop, 6:30 a.m.-2 p.m. Monday-Friday
Mindful Grill, 6 a.m.-2 p.m. Monday-Friday
Asian Fusions, 11 a.m.-2 p.m. Monday-Friday
Latin Fare, 6 a.m.-2 p.m. Monday-Friday
Starbucks, 6:30 a.m.-5 p.m. Monday-Friday, and 6:30 a.m.-2 p.m. Saturday-Sunday
Simply to go: Open 24/7 days a week, offering lighter fare, including salads, sandwiches, snacks, sushi, beverages, coffee and desserts. The coffee shop inside offers a variety of coffee blends.
Zale Lipshy Pavilion
Cafe
Breakfast 6:30–9:30 a.m. 7 days a week
Lunch 11 a.m.–2 p.m. 7 days a Week
Dinner 4:30–7:30 p.m. Monday-Friday
Grab & Go 2–4:30 p.m. Monday–Friday
Simply to Go 7:30 p.m.–2 a.m., Monday–Friday, with no self-checkout
Coffee Shop
Mon–Fri 6:30 a.m.–1:30 p.m.
Sat–Sun 7 a.m. – 7 p.m.
North Campus
North Campus 3rd Floor Food Court is open from 7:30 a.m.–2 p.m., Monday–Friday. Dickey's Barbecue Pit within the food court is open from 11 a.m.–2 p.m., Monday–Friday.
Brew Coffee Shop is open from 7:30 a.m.

–

2 p.m., Monday

–

Friday.
NG3 Mini-Market is open 24/7.
ND14 Café will remain closed until Jan. 2, 2021.
Bass Center food venues are dependent upon vendor capabilities. Currently, Fresh Market (take out only), Hunan, and Parks Burger will operate for lunch Monday through Friday, hours may vary.
South Campus
Hunan and Burger House are open in the South Campus Food Court from 11 a.m.

–

2 p.m., Monday

–

Friday.
A.W. Harris Faculty Club is open 11 a.m.–2 p.m.,

Monday–Friday.

D Plaza Mini-Market is open 24/7.
Brew Coffee Shop is open from 7:30 a.m.

–

2 p.m., Monday

–

Friday.
West Campus
The Outpatient Building, West Campus Building 3 (WCB3), and the Radiation Oncology building coffee shops will operate during regular hours.
Our Entrances Have Changed
UT Southwestern has been taking necessary precautions for the safety and well-being of our community since COVID-19 first emerged.
With the health of our patients, our workforce, and our community top of mind, we are putting new measures in place to limit the number of visitors per patient, restrict the number of entry access points to our medical facilities, and implement screening for all visitors.
We are aware that the new safeguards might cause some disruption to your daily workflows, so we are sharing the details with you so that you will be able to plan accordingly.
Unless otherwise stated, the new guidelines went into effect on March 16 at 10 p.m.
Limited Access Points
Access is restricted to the following:
Two Visitors Per Patient, No Visitors for COVID Patients, & No Children Under 12
With declines in COVID-19 cases and a growing number of people being vaccinated, UT Southwestern is expanding its patient visitor policy from one guest to two in environments that provide ample space for social distancing.
Hospitals
Two visitors per patient are permitted in Williams P. Clements Jr. University Hospital and Zale Lipshy Pavilion, unless under the following circumstances:
Only one visitor may accompany a surgery patient to the hospital and Outpatient Surgical Center (WA), including preoperative and post-anesthesia care areas, where seating has been reduced so patients and visitors have adequate space between them.
Only one visitor is allowed in the Emergency Department.
No guests are permitted to visit COVID-19 patients, as enhanced safety measures must continue.
Clinics
Given that social distancing can be more challenging in our ambulatory settings, patients are allowed one guest to clinic appointments.
Children
At this time, children under age 12 should refrain from visiting our hospitals and Outpatient Surgery Center. Minors are permitted in our clinics, so long as the one visitor per patient rule is upheld. If children are UT Southwestern patients, they may be joined by two parents/guardians.
Stay Connected with Loved Ones Virtually
You can take advantage of our virtual technology, including Skype, to stay connected to your loved ones. More information about these options
Mask Requirement Upon Entry
Before entering our University Hospital or clinics, all visitors ages 2 and older are required to wear a clean mask or a cloth covering that meets the CDC guidelines:
Fits snugly but comfortably against the side of the face
Is secured with ties or ear loops
Includes multiple layers of fabric
Allows for breathing without restriction
Can be laundered and machine dried without damage or change to shape
Nonessential Visits
Please help keep our institution safe by minimizing the number of nonessential visitors on campus during this epidemic.
Nonessential/non-mission critical visitors are not permitted on campus, including invited guests, speakers, contractors, vendors, etc. If the reason for the visit can be delayed, rescheduled, canceled, or conducted via telephone or virtually, that action must be taken. Fellowship and recruiting interviews should be performed virtually.
If the incoming visit is considered mission critical, please contact your supervisor to determine whether the visit will be permitted.
Visitors not seeking care who have a fever, cough, or respiratory symptoms will be required to exit campus.
While we appreciate that some schools are closing, do not bring your children to work. Contact your supervisor for telecommuting options, work-schedule shifting, and alternative child care arrangements as necessary. Information on working remotely is available here.
Parking
Parking fees for patient and visitor self-parking have resumed.
Valet service remains available. Valets are applying hand-sanitizer after every encounter.
Visitor Center (A Building) is open Monday-Friday, 7:30 a.m.–5 p.m. and the new Parking Services office at CUH Orange Tower, second floor, room 02.746 is open Monday-Friday 7 a.m. –4 p.m.
Hospital Visitors Will Require Temperature Checks
Everyone entering William P. Clements Jr. University Hospital and Zale Lipshy Pavilion will have a no-touch thermometer scan. If you register a reading of 100.0°F/37.7°C or higher, you will not be allowed in the buildings. We will refer you to your primary care physician for further evaluation
Additionally:
Screening occurs at designated entry points, including the Emergency Department.
Other screening criteria include asking if you have experienced any respiratory symptoms – fever, shortness of breath, or a cough – or traveled outside of Texas within the last 14 days.
Individuals cleared through the screening process will receive an orange wristband, which must be worn at all times.
Patients who are being screened for COVID-19 or who have already tested positive are not allowed any visitors.
Ambulatory Sites
The temperature screening process will carry over to our ambulatory sites of care on Monday, April 6.
A guest with a positive screen is not permitted to enter.
A patient with a positive screen is

masked and sent to be evaluated or secondary screening in a clinic.
Why We're Limiting Visitors
Our top priority – always – is keeping our patients, families, visitors, team members, and community members safe as we implement a social distancing strategy recommended by public health experts. These measures are designed to protect patients and the community, and to protect health care workers so they are able to care for patients. These strategies also help preserve our resources.