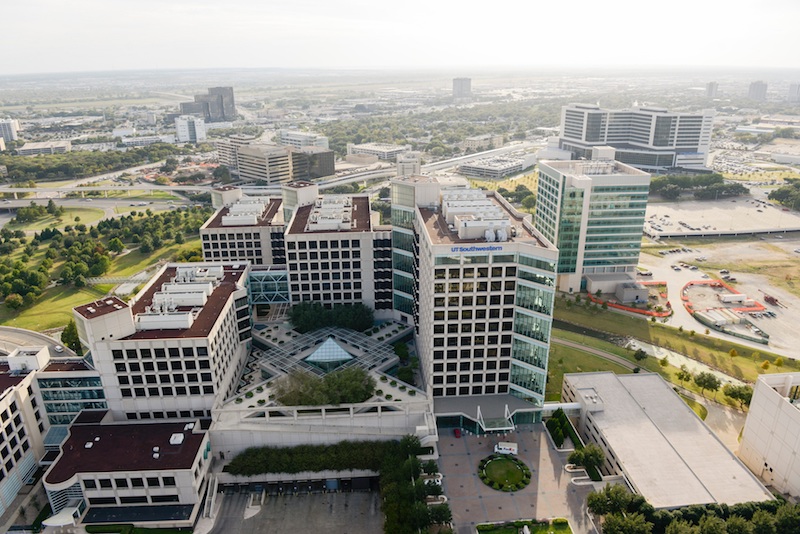 UT Southwestern Medical Center remains open, including its Emergency Room, William P. Clements Jr. University Hospital, and all our clinics across the DFW region. UT Southwestern has taken steps to expand capacity at our emergency room and to screen patients with respiratory illnesses in areas separated from other emergency care needs as an additional precaution.
Hospital Visitors
The number of visitors per patient has been reduced to one, effective Wednesday, March 18.
In order to protect the health of our children, those under age 12 will not be allowed entry into Clements University Hospital or the Outpatient Building (WA). This is the current UT Southwestern policy during flu season.
You can take advantage of our virtual technology, including Skype, to stay connected to your loved ones. More information about these options.
Academic Visitors
Academic operations, including research and clinical trials, are continuing with appropriate measures to protect the health of the community, including limitations to gatherings of less than five individuals, social distancing practices such as virtual classes, lectures, symposiums, and events.
In addition, UTSW is limiting exposure of our employees to gatherings in the community of less than five individuals to help preserve our health care workforce so we can serve the medical needs of our community.
Departments with visitors arriving for employment can continue to onboard these visitors post-quarantine.
Nonessential Visits
Please help keep our institution safe by minimizing the number of nonessential visitors on campus during this epidemic.
Nonessential/non-mission critical visitors are not permitted on campus, including invited guests, speakers, contractors, vendors, etc. If the reason for the visit can be delayed, rescheduled, canceled, or conducted via telephone or virtually, that action must be taken. Fellowship and recruiting interviews should be performed virtually.
If the incoming visit is considered mission critical, please contact your supervisor to determine whether the visit will be permitted.
Visitors not seeking care who have a fever, cough, or respiratory symptoms will be required to exit campus.
While we appreciate that some schools are closing, do not bring your children to work. Contact your supervisor for telecommuting options, work-schedule shifting, and alternative child care arrangements as necessary. Information on working remotely is available here.
Why We're Limiting Visitors
Our top priority – always – is keeping our patients, families, visitors, team members, and community members safe as we implement a social distancing strategy recommended by public health experts. These measures are designed to protect patients and the community, and to protect health care workers so they are able to care for patients. These strategies also help preserve our resources.
Dining
Please observe the new hours of operation for campus dining areas. In all areas, remember to practice social distancing.
Hospital and Pavilion
William P. Clements Jr. University Hospital and Zale Lipshy Pavilion cafeterias will operate during regular hours.
South Campus Dining Plaza
Only Café Hunan and Bru will operate (7 a.m.-2 p.m.), offering only grab-n-go items.
Café seating area will be closed.
MiMart Market at McDermott Plaza (D1 Plaza) will be open 24/7.
The Faculty Club will have limited service with boxed lunches until March 23.
North Campus
The Commons Food Court – NG3 will operate with a reduced menu (7 a.m.-2 p.m.). However, seating will be closed.
The 14th floor dining room in ND is closed.
MiMart Market at NG3 will be open 24/7.
Fresh Market at Bass Administrative Center and Professional Office Building 1 (POB1) is closed effective today.
West Campus
The Outpatient Building, West Campus Building 3 (WCB3), and the Radiation Oncology building coffee shops will operate during regular hours.
Parking
Patient self-parking is FREE – the gates are raised
Patient Valet service remains available.
Visitor Center (A Building) and POB Office (Clements University Hospital) will be closed.