Guidelines for Clinicians
Jump to …
How to Handle a Positive Infection Risk Screen
If we have a patient with a positive infection risk screen for COVID-19, we will:
Page the Infection Preventionist on call at the hospital where the patient is seen.
Mask the patient and place them in an airborne infection isolation room (aka "negative-pressure") with airborne, contact, and standard precautions. This means anyone entering the room must perform hand hygiene and then wear a gown, N95 (or equivalent) respirator, and eye protection with goggles or fluid shield mask and gloves.
If no airborne infection isolation room is available, place the masked patient in a private room.
The Infection Prevention team is available to assist with performing a secondary screen for suspected COVID-19.
For additional information or questions regarding lab specimens, please contact the M.D. on call.
Drive-Up Testing for Patients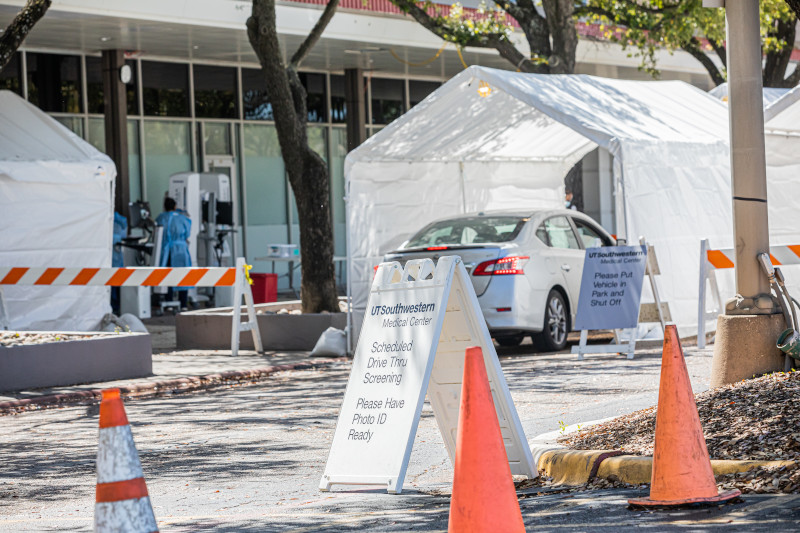 COVID-19 Drive-Up Specimen Collection Site at Visitor Parking Lot No. 18 at Paul M. Bass Administrative and Clinical Center is open 7 days a week, 9 a.m. to 6 p.m.
Please note that at this time, only UTSW providers can refer UTSW patients 12 years old and above to the drive-through testing site.
Patients with a scheduled appointment for testing should be instructed to enter the parking lot via Harry Hines Boulevard and drive along the most northern driveway until they are in the north parking lot. Signage guides traffic into and out of the drive-up site. In addition, Campus Police and Public Safety Officers are present to direct traffic.
Virtual Care: Video Patient Visits
The virtual care platform in Epic allows providers to complete video visits in lieu of in-person office visits.
To learn how to use the technology, please see:
Comprehensive Telehealth Guidance as of Sept. 17, 2021