Guidelines for Clinicians
Jump to …
How to Handle a Positive Infection Risk Screen
Calling patients from your cellphone?
On the Keep in Touch by Phone section of the Work Remotely page, we have guidance on:
Updating your work voicemail remotely
Blocking your caller ID
Displaying a UT Southwestern number when calling from your cellphone
If we have a patient with a positive infection risk screen for COVID-19, we will:
Page the Infection Preventionist on call at the hospital where the patient is seen.
Mask the patient and place them in an airborne infection isolation room (aka "negative-pressure") with airborne, contact, and standard precautions. This means anyone entering the room must perform hand hygiene and then wear a gown, N95 (or equivalent) respirator, and eye protection with goggles or fluid shield mask and gloves.
If no airborne infection isolation room is available, place the masked patient in a private room.
The Infection Prevention team is available to assist with performing a secondary screen for suspected COVID-19.
For additional information or questions regarding lab specimens, please contact the M.D. on call.
Drive-Up Testing for Patients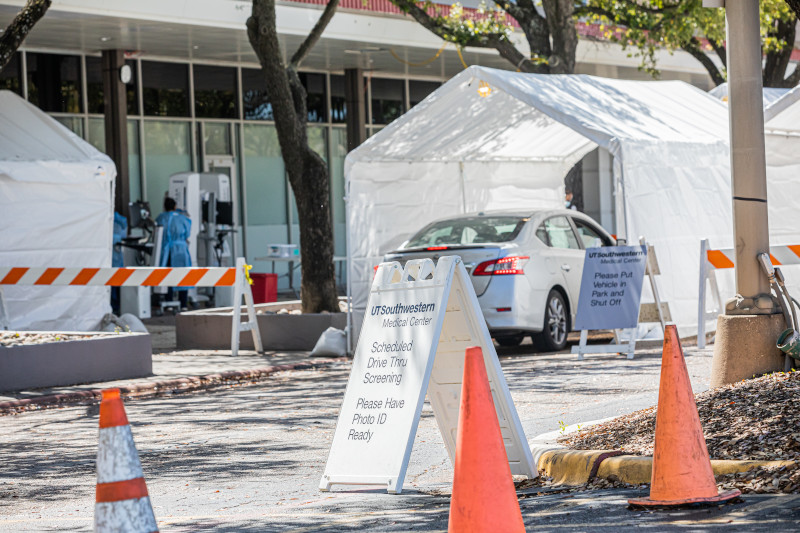 In response to the needs of our UTSW patient and provider community, we have expanded our capabilities for COVID-19 testing.
We have opened a COVID-19 Drive-Up Specimen Collection Site at Visitor Parking Lot No. 18 at Paul M. Bass Administrative and Clinical Center, open 7 days a week, 9 a.m. to 6 p.m.
Please note that at this time, only UTSW providers can refer UTSW patients 12 years old and above to the drive-through testing site.
Patients with a scheduled appointment for testing should be instructed to enter the parking lot via Harry Hines Boulevard and drive along the most northern driveway until they are in the north parking lot. Signage guides traffic into and out of the drive-up site. In addition, Campus Police and Public Safety Officers are present to direct traffic.
HIPAA Policy
Additional Resources
As the COVID-19 situation develops, it is critical that all UT Southwestern Medical Center employees maintain our commitment to patient protections and privacy guaranteed by the Health Insurance Portability and Accountability Act of 1996 (HIPAA).
We are required by law to protect the privacy of patient health information and will only release protected health information (PHI) as allowed by law or with written permission (authorization) from the patient.
UT Southwestern employees will not contact the media, respond to media inquiries, or provide PHI to media requests, and are required to direct all media inquiries to the Office of Communications, Marketing, and Public Affairs (CMPA) at news@utsouthwestern.edu.
Violations of HIPAA can result in severe civil and criminal penalties, as well as immediate termination from UT Southwestern.
More information on HIPAA policy and procedures (needs VPN to access) or contact the HIPAA Privacy Office at 214-648-6003 or privacyoffice@utsouthwestern.edu.
High-Risk Health Care Workers Must Refrain from Patient Contact
As we learn more about how severe COVD-19 illness can be, it has become clear that certain groups are at higher risk for severe, life-threatening disease. We want to do everything possible to ensure the health and safety of our workforce.
To that end, those who are in the highest risk groups – over the age of 65 or immunocompromised – must refrain from direct COVID-19 patient care but may perform other critical roles. Exceptions to this require approval from the EVP for Academic Affairs and the EVP for Health System Affairs. Non-faculty members require approval from the Chief Nurse Executive.
Other high-risk groups include those who have severe heart and lung disease or diabetes. If these apply to you, please discuss with your supervisor the option of switching from direct COVID-19 patient contact to filling other critical roles.
Presurgical COVID-19 Testing
Beginning Monday, April 27, we will require COVID-19 testing for all patients awaiting surgical procedures. Testing allows us to move forward after we have confidently ruled out COVID-19.
Testing Patients Within 72 Hours Prior to Surgery
Care teams will need to have test results for review 24 hours ahead of a scheduled procedure. To ensure we have the results within that 24-hour period, patients will need to be tested within 72 hours prior to a scheduled surgery or procedure.
Presurgical Testing Team Will Order the Test
At this time, we are asking that providers and clinics refrain from placing the order locally and instead rely on the presurgical testing team to order so that the testing and results can be appropriately prioritized and results are back the day before the procedure. The attending provider will need to sign off on this order.
Advising Patients on Testing Location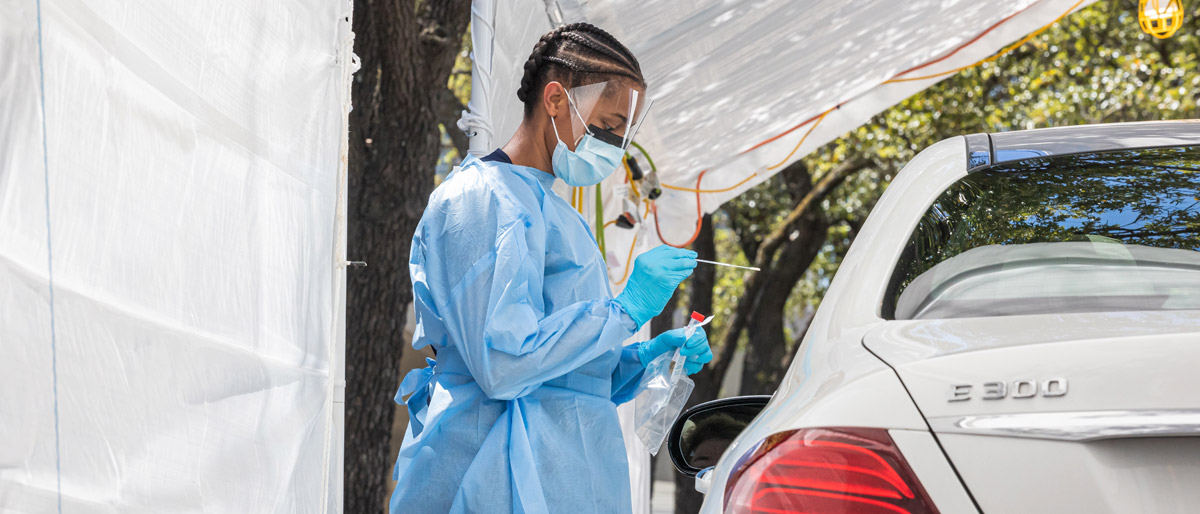 Although we prefer that patients are tested at UT Southwestern, we will also accept PCR platform testing results from an accredited hospital, government, commercial or reference laboratory
Drive-through testing is available at UT Southwestern seven days a week from 9 a.m. to 6 p.m. in Visitor Parking Lot No. 18 at the Paul M. Bass Administrative and Clinical Center at 6300 Harry Hines Blvd., Dallas, TX, 75235.
Patients traveling to UT Southwestern from out of town may need to build in extra time for testing.
If a patient elects to complete their COVID-19 PCR platform testing, outside of UTSW:

Test must be performed on PCR platform ONLY – no rapid ID now, no antigen testing (caution: many PCPs or Urgent Care Clinics use rapid testing).
Test must be performed or supervised by a provider and processed at an accredited hospital, government, commercial, or reference laboratory (no home or self-testing).
Testing must be performed no more than 72 hours from day of surgery/procedure and results should be available by 3 pm the day prior to the surgery/procedure
It is the responsibility of the Attending Faculty Physician/designee to ensure results are collected and scanned into the media tab of the patient's medical record no later than 3 pm the day prior to day of surgery/procedure
Attending Faculty Physician must confirm that testing platform is PCR and that test complies with above
If results not received, uploaded, and confirmed within above guidelines, case will be removed from surgery/procedural schedule.
In order to proceed with a surgery or procedure, results are required so that we know what actions to take next. It is possible that a patient's procedure could be canceled based on results, but decisions will be made on a case-by-case basis and take into account the patient's individualized plan of care.
Personal Protective Equipment (PPE)
Universal Masking for all Hospital and Clinic Clinicians and Staff
An earloop mask is provided each day to all clinicians and staff working in the hospital and ambulatory setting – including those in direct patient care and those in supporting roles who do not interact directly with patients.
Please use the masks provided, as we have no way of validating the effectiveness or cleanliness of masks brought in from outside.
Surgical Face Masks are Appropriate
All clinical areas (hospital and ambulatory) should use facemasks and a face shield or an N95 and face shield in accordance with institutional policy.
Eyewear should be worn in addition to face masks or N95 respirators when providing patient care services or transporting a patient.
In order to conserve PPE and maintain an adequate supply of resources for the protection of health care workers in close contact with potential patients with infections, the following strategies are being implemented:
Do not hoard or remove PPE equipment from the hospital.
During rounds, limit the number of personnel entering rooms who need PPE.
In caring for suspected or proven COVID-19 cases, the number of personnel entering the room will be limited to those essential for patient care. Visitors will not be allowed in this setting.
Sterilizing & Reusing N95 Respirators
In our ongoing efforts to be strong stewards of personal protective equipment (PPE), new steps are being taken to sterilize lightly used N95 respirators.
We will be collecting your respirator, sterilizing it, and then returning it to you. Respirators will not be gathered in bulk and redistributed to the wrong person.
Your respirator will be:
Placed in a bag with your name, department, and/or unit on it
Sterilized with vaporized hydrogen peroxide, via a process recommended by the CDC
Returned to you for subsequent use
Again, no one will ever receive someone else's respirator.
Sterilization Process
During the process, hydrogen peroxide decomposes into water and oxygen only, which means no residue is left on the mask. Many medical centers have already adopted this technique.
The method is proved to kill 99.9999% of pathogens including:
Bacteria
Viruses
Fungi
Spores
Prioritizing & Preserving N95 Respirators
All individuals are to wear an N95 respirator when assisting with any COVID-19-related aerosol-generating procedures or when entering the room of a patient on airborne isolation.
Nondirect patient care areas will only be supplied PPE on a case-by-case basis with approval from Infection Prevention.
Maintain an up-to-date record of PPE supplies in the clinics.
If an acute shortage develops, PPE supplies may be reallocated to care areas based on risk and recommendations from the CDC and our Infectious Diseases leadership.
Discarding N95 Respirators
Following use during aerosol-generating procedures (if a face shield is not used).
After contamination with blood, respiratory or nasal secretions, or other bodily fluids from patients.
Following close contact with, or exit from, the care area of any patient co-infected with an infectious disease requiring contact precautions and in the absence of using a face shield.
Extending Use of N95 Respirators Without Removal Between Patients
Extended use refers to the practice of wearing the same N95 respirator for repeated close contact encounters with several patients, without removing the respirator between patient encounters. Extended use may be implemented when multiple patients are infected with the same respiratory pathogen and patients are placed together in dedicated waiting rooms or patient care units.
The N95 respirator life can be extended when:
Performing hand hygiene with soap and water or an alcohol-based hand sanitizer before and after touching or adjusting the respirator (if necessary for comfort or to maintain fit).
Using a cleanable face shield (preferred) or a surgical mask over an N95 respirator to reduce surface contamination of the respirator.
Limited Reuse of N95 Respirators When Removed After Each Patient
Reuse refers to the practice of using the same N95 respirator for multiple encounters with a patient but removing it ("doffing") after each encounter. The respirator is stored in between encounters to be put on again ("donned") prior to the next encounter with a patient.
Reuse recommendations are as follows (this could include use on multiple days):
Use a cleanable face shield (preferred) or a surgical mask over an N95 respirator to reduce surface contamination of the respirator.
Hang used respirators in a designated storage area (anteroom) or keep them in a clean, breathable container such as a storage bag between uses. To minimize potential cross-contamination, store respirators so that they do not touch each other and clearly identify the person using the respirator. Storage containers should be disposed of or cleaned regularly.
Clean hands with soap and water or an alcohol-based hand sanitizer before and after touching or adjusting the respirator (if necessary for comfort or to maintain fit).
Avoid touching the inside of the respirator. If inadvertent contact is made with the inside of the respirator, perform hand hygiene as described above.
Use a pair of clean (nonsterile) gloves when donning a used N95 respirator and performing a user seal check. Discard gloves after the N95 respirator is donned and any adjustments are made to ensure the respirator is sitting comfortably on your face with a good seal.
Information summarized from the CDC guidance.
Training Video: Donning and Doffing PPE
Virtual Care: Video Patient Visits
UT Southwestern has expedited the roll-out of a virtual care platform in Epic that allows providers to complete video visits in lieu of in-person office visits.
To learn how to use the technology, please see:
Comprehensive Telehealth Guidance as of March 26, 2021