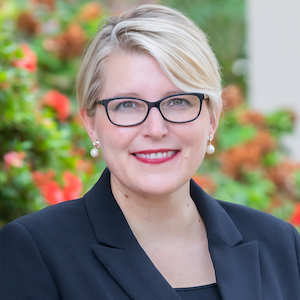 As Chief of Staff, Courtney Rottman, J.D., M.P.S.A., is a key member of the President's executive team, working closely with the President, the executives who report to the President, and the President's Office staff to monitor, facilitate, and support the execution of the President's goals and priorities for UT Southwestern Medical Center. She serves as a key adviser to the President; as a consultant to senior leaders, faculty, and staff on a wide range of issues; and as the President's personal representative on various Medical Center task forces and groups. Ms. Rottman also is responsible for the Policy Office, which reviews and updates UT Southwestern campus-wide policies and makes them accessible through a centralized electronic Policy Library.
Ms. Rottman joined UT Southwestern in September 2020 from ALSAC/St. Jude Children's Research Hospital, where she was Senior Director, Enterprise Operations and the Chief of Staff for the Chief Operations Officer. She served as an Enterprise Operations team adviser, representative, and liaison on behalf of the COO in multiyear strategic plan development and large-scale business operations improvement and transformation efforts. Ms. Rottman worked across the organization to build relationships, lead enterprise projects, generate and steward operations innovation efforts, help define and execute enterprise goals, and lead risk mitigation and revenue efforts. Previously, she served as the Chief of Staff to the Chief Development Officer of ALSAC.
Prior to joining ALSAC in 2015, Ms. Rottman served in leadership roles at global social innovators such as Susan G. Komen for the Cure, Travelocity.com, and Baylor Scott & White Health. Through these opportunities, she gained extensive experience building and transforming private and public sector organizations in areas such as fundraising operations, global strategic sourcing, business development, program and performance analysis, integrated marketing, and contract and grant management. A skilled negotiator, Ms. Rottman has led a variety of complex agreements, including the strategic sourcing division of the largest online travel agency in North America during a corporate merger.
Ms. Rottman is a dedicated professional committed to working for organizations that enrich the lives of others. She holds a Juris Doctorate from Texas Wesleyan University School of Law, a Master of Public Service and Administration from The Bush School of Government and Public Service, and bachelor degrees in International Studies and History from Texas A&M University. She is pursuing her doctorate in business administration at the International School of Management in Paris, France. Her research focus areas include global strategic planning, the workforce of the future, innovation management, and the role of artificial intelligence in the nonprofit sector to increase operating and fundraising capacity and efficiencies.