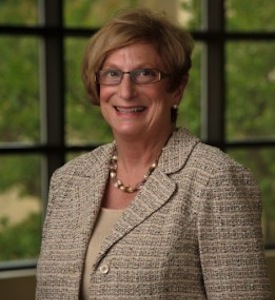 Robin M. Jacoby, Ph.D., Vice President and Chief of Staff, is a key member of the President's executive team, working closely with the President, the executives who report to the President, and the President's Office staff to monitor, facilitate, and support the execution of the President's goals and priorities for UT Southwestern Medical Center. She serves as a key advisor to the President; as a consultant to senior leaders, faculty, and staff on a wide range of issues; and as the President's personal representative on various Medical Center task forces and groups.
Dr. Jacoby is responsible for tracking major issues and activities, most notably implementation of the recommendations stemming from the 2009 strategic planning process. She is also responsible for the Policy Office, which was created in January 2011 to review and update UT Southwestern campus-wide policies and to make them accessible through the development of a centralized electronic site.
Arriving at UT Southwestern in October 2009, Dr. Jacoby brings to the position an extensive background of holding integrative "effector arm" roles in complex institutions. She came from Boston, where she had spent 12 years as Chief of Staff for the Chief Executive Officer of Partners HealthCare System, a $7 billion organization encompassing Massachusetts General Hospital and Brigham and Women's Hospital, the two major teaching hospitals for Harvard Medical School. Prior to that, she had served as Vice President of Radcliffe College, which at the time was an independent institution closely affiliated with Harvard University.
She holds doctoral and master's degrees in history from Harvard University, and she spent 18 years at the University of Michigan, initially as a faculty member in the Department of History and then in academic administration, working with the Provost and President. She is the author of an award-winning book and of numerous articles and book chapters in her area of scholarly interest. She grew up in Los Angeles, California, and did her undergraduate work at the University of California, Riverside, where she was elected by the faculty to Phi Beta Kappa and graduated magna cum laude.