Reflections on Health Care in Cuba in 2013
Alex Lyda, a former senior communications specialist in UT Southwestern Medical Center's Communications team, visited Cuba as part of a medical tour. The spirit of resourcefulness and sharing among Cubans stuck with him.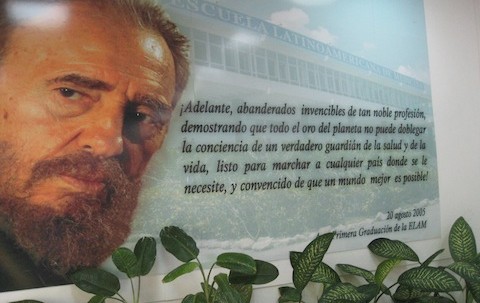 By Alex Lyda
Sometimes, it helps to start at the end: Cuba. A bottle of Advil™. 200 tablets.
It was my last night in Havana and I was getting rid of some over-the-counter medications we don't think twice about in the United States. But if you hop the 37-minute flight from Miami to the economically deprived island nation, which is increasingly easy to do, you might as well be on Mars.
The terrain is forlorn as you fly into José Marti airport, with tall, dry, skinny palm trees – a metaphor, perhaps, for the lack of obesity among the people, brought on by years of economic blockade and food shortages.
I traveled to Cuba in March with a dozen physicians from the University of California-San Francisco, Stanford, and the University of Massachusetts, to name a few.
While I was one of the few non-doctors on the trip, we were united in purpose: to learn about health care in Cuba, and how Cuban doctors are trained. It was our interest, and indeed the stated reason for our trip, that resulted in the U.S. State Department issuing a permit for our trip.
Our group spent six days touring clinics and hospitals that average Cuban citizens have equal access to, at no cost, in the 54th year of Fidel Castro's socialist "Revolution." (That number – like the Advil – is also ingrained in my memory, as there are signs all over the island about the duration of his "triumph.")
The non-profit organization Medical Education Cooperation with Cuba organized our trip and provided an unvarnished glimpse into daily health care in Havana. This was not the propagandized presentation given to Michael Moore for his polemic 2007 documentary "Sicko." We saw old equipment, decrepit clinics, and a distressing lack of medication, including anesthesia.
A Precarious Position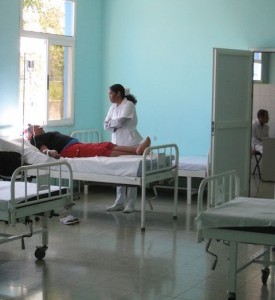 Cuba finds itself in a precarious position with cancer drugs. The embargo prevents Cubans from buying ready-made, name-brand chemotherapy drugs – instead, they buy reagents from their limited set of trading partners and brew their own.
The Cubans boasted that they can precisely replicate many commercial chemotherapies this way. Knowing better, some of the U.S. doctors on our trip had brought along Taxol and other drugs for patients they had seen on previous trips.
What the Cubans can't make do with in material, they gamely try to overcome in spirit – sometimes successfully. Cuban doctoring is by design proactive and socially responsible. It is a lot easier to prevent a mess than to clean one up, the thinking goes.
With one doctor per 143 people, physicians are widely dispersed and part of the social fabric of everyday life. Rumors of a sneeze at school are quickly followed up by an in-person visit to a child's home that evening. Privacy, and the protection of health information, is virtually impossible in the Cuban socialist system and in the teeming tenements where generations live atop each other in tight spaces.
Everyone's Business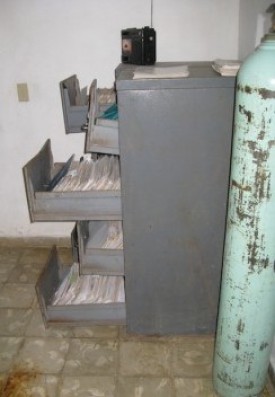 The business of health care is everyone's business in Cuba, and it is a large reason why the country's screening and preventive programs have helped extend the lifespan of even the poorest Cubans.
Which brings us back to the Advil™.
Through a friend of a friend, I had gotten to know a family living in an apartment building across from one of my favorite privately owned restaurants in the city. Three generations lived together.
At the end of the night, I bent into my suitcase and produced that bottle of Advil™. They instantly knew what it was. Widely viewed as the gold standard in pain relief by Cubans, the bottle was met by smiles from this loving family who had taken me in as their own.
"Oh look," the grandmother said staring at the label. "200 tablets – two tablets for each family in the building!"
Instead of viewing the bottle as a stockpile for another harsh year, it was a resource to be shared. Their immediate instinct was not to hoard.
"We must start making little envelopes to put the pills in," she continued.
As I slipped into the cool Havana night, I remembered that I had taken two tablets earlier in the week to combat a headache from strong mojitos at the Hotel Nacional.
I imagined the family, in their hovel of an apartment, counting to 198 and deciding to forgo themselves. Desperate to make up for the shortfall, my mind hastened to remember whether there was anything left in my hotel room, a stray mini-shampoo, perhaps – drops in a bottle compared to the gigantic spirit of an island I was only just beginning to understand, but had permanently rubbed off on me.