About the Institute
Steering Committee
Greg Fitz, M.D., Executive Vice President for Academic Affairs, Provost, and Dean
David Russell, Ph.D., Vice Provost and Dean of Basic Research
Hunt Batjer, M.D., TIBIR Co-Chair
Mark Goldberg, M.D., TIBIR Co-Chair
Kathleen Bell, M.D., TIBIR Co-Chair
Partnerships
The TIBIR initiative is highly collaborative and many organizations, both local and national have come together to find better ways to prevent and treat brain injuries.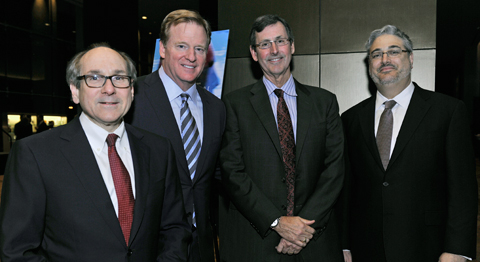 We also will leverage organizations such as the National Football League (NFL), U.S. Department of Defense, and Texas Association of Athletic Trainers.
History
The State of Texas has provided funding to support this launch – the largest allocation for this type of brain injury initiative in the State's history – $6 million for the current budget year.
Both the NFL and the Department of Defense testified before the Texas Legislature in support of UT Southwestern becoming a hub for the research and treatment of traumatic brain injuries (TBI).
UT Southwestern has received intense support from the Texas State Athletic Trainers Association (TSATA). Michael "Spanky" Stephens, its executive director, led a task force of physicians, licensed athletic trainers, and brain trauma researchers and specialist to write HB 2038 ("Natasha's Law"), which was passed in 2011 and defines concussion and return-to-play protocols for any high school student athlete in Texas. The organization's ongoing support will be needed, particularly as high schools and athletic trainers are included in research/development of brain injury/concussion database.