Campus celebrates Dr. Beutler's return from 2011 Nobel festivities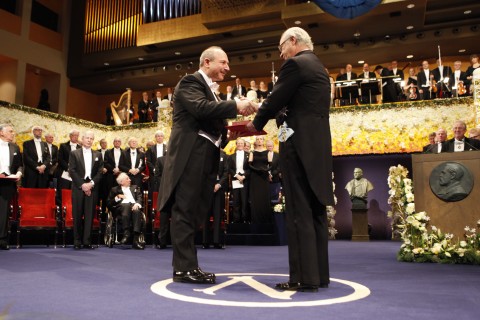 By Deborah Wormser
Members of the UT Southwestern community gathered Dec. 16 in the Tom and Lula Gooch Auditorium to celebrate Dr. Bruce Beutler's triumphant return home with the 2011 Nobel Prize in physiology or medicine, an event punctuated by frequent applause and standing ovations.
"We welcome Bruce back not for the work he has done in the past, as proud as we are of that, but for the work we know he's going to do in the future," said UT Southwestern President Dr. Daniel K. Podolsky. "It says something about UT Southwestern that Bruce joins the ranks as our fifth member of the faculty to receive this highest honor."
Dr. Podolsky said that this honor "is especially satisfying because it recognizes groundbreaking work which was done right here at UT Southwestern as a member of our faculty."
Dr. Beutler, who completed his internship and residency in neurology in the medical school, served on the Internal Medicine faculty and was a Howard Hughes Medical Institute investigator from 1986 to 2000. He returned to campus last fall as Director of the Center for the Genetics of Host Defense. He received the Nobel prize for his 1990s research that identified the mammalian receptor for innate immunity, the body's first response to invasion by bacteria and other pathogens.
"I and all Texans are proud that Dr. Beutler has been recognized by the most prized peer review in the world, the Nobel Committee, for his outstanding achievements," Sen. Kay Bailey Hutchison said in a videotaped tribute. "Nobel laureates certainly are the treasures of Texas."
Dr. Michael Brown, who along with Dr. Joseph Goldstein won UT Southwestern's first Nobel prize in 1985 for their discovery of the basic mechanisms of cholesterol metabolism, said, "I'd like to add my congratulations to Bruce for a magnificent achievement – not winning the Nobel Prize, but making a discovery that will have an enormous impact on our understanding of biology and medicine."
Dr. Brown, Director of the Erik Jonnson Center for Research in Molecular Genetics and Human Disease, provided one of the event's most touching moments. He remembered how as a junior faculty member Dr. Beutler was "absolutely, monomaniacally devoted to solving this problem. It was a really, really tough problem. It involved identifying a gene in a strain of mice that was resistant to inflammation. Bruce knew that if he could find that gene it would open a lock and expose how the body responds to inflammatory stimuli, but it was really hard."
Dr. Brown recalled with regret the many times he tried to talk Dr. Beutler out of the work because of its difficulty. "And even after he made his enormous discovery, I didn't realize the importance of it. I honestly apologize to Bruce because I did not realize what an earth-shattering thing it was.
"And that's the hallmark of a true discovery. A true discovery does come as a surprise. It does take awhile to appreciate the broad significance of it. And there's no question that his discovery has that impact."
Dr. Goldstein, Chairman of Molecular Genetics, noted that past Nobel laureates have responded to the award in various ways from dropping out to become a beach bum to remaining industrious like the other four UT Southwestern honorees – Dr. Brown; Dr. Alfred Gilman, Professor Emeritus of Pharmacology; and Dr. Johann Deisenhofer, Professor of Biochemistry.
The event featured a filmed tribute to Dr. Beutler that drew long audience applause for the Dec. 10 scene in Stockholm in which Dr. Beutler accepted the prize from the king of Sweden.
In addition, the laureates received T-shirts adorned with five Nobel-like emblems in which the face of Alfred Nobel was replaced by UT Southwestern's prize winners, causing Dr. J. Gregory Fitz, Executive Vice President for Academic Affairs, Provost and Dean of UT Southwestern Medical School, to joke: "Just a week ago when last I saw Bruce, he was resplendent in tuxedo, tails, white tie, patent leather shoes … and he was in the company of the king and queen in a grand hall. He returns here to Texas, and we give him a T-shirt."
Dr. Fitz outlined the team effort that led to Dr. Beutler's return to Texas, which began with an institutional commitment to a deeper exploration of fundamental immunology due to its impact in areas as diverse as infection, immunity, cancer biology and autoimmunity. He noted that the effort was aided by a campus commitment to scientific rigor, and the larger Dallas and Texas communities' support that enabled the team to dream big in creating the new center.
Dallas philanthropist William T. Solomon, Campaign Steering Committee Chair for the new University Hospital, said, "I think there are two things that are a great credit to UT Southwestern. One is the quality of research that has gone on and continues to go on here and, secondly, that Dr. Beutler has come back to UT Southwestern for this next stage of his career."
Philanthropist Peter O'Donnell, whose association with UT Southwestern stretches back a half century, predicted many benefits from the Nobel research: "Dallas is bursting with pride over our fifth Nobel laureate, Dr. Bruce Beutler, for discoveries in how the immune system works. His discoveries will surely lead to improved medicines for all people. It is especially notable that Bruce said about the work for which he was honored, 'I don't think I could have done it anywhere else,' which speaks volumes about UT Southwestern as a whole."
#
Dr. Beutler holds the Raymond and Ellen Willie Distinguished Chair in Cancer Research, in Honor of Laverne and Raymond Willie, Sr., and is a Regental Professor.
Dr. Brown holds the W.A. (Monty) Moncrief Distinguished Chair in Cholesterol and Arteriosclerosis Research, the Paul J. Thomas Chair in Medicine, and is a Regental Professor.
Dr. Fitz holds the Nadine and Tom Craddick Distinguished Chair in Medical Science and Atticus James Gill, M.D., Chair in Medical Science.
Dr. Goldstein holds the Julie and Louis A. Beecherl Jr. Distinguished Chair in Biomedical Science, the Paul J. Thomas Chair in Medicine and is a Regental Professor.
Dr. Podolsky holds the Philip O'Bryan Montgomery Jr., M.D., Distinguished Presidential Chair in Academic Administration, and the Doris and Bryan Wildenthal Distinguished Chair in Medical Sciences.