Regents' Outstanding Teaching Award Recipients
Teaching philosophy: "In order for young physicians to learn to treat all with respect and professionalism, they must be accorded the same from their mentors. Teaching the beginning surgeon involves not only tailoring the opportunity to the learner's skill level but also putting the patient's interest at the forefront of the care process."
In addition: When he graduated from UT Southwestern in 1986, he won the Southwestern Medical Foundation's Ho Din Award, which goes each year to the top graduating student in the medical school.
Dr. Susan Cox
Teaching philosophy: "My personal mission is to teach the next generation of doctors the 'art of medicine,' namely quality clinical skills, including a good bedside manner, caring doctor-patient relationships, professionalism and intellectual curiosity. My aim is to provide the clinical foundation for the next generation of physicians."
Research interests: Infectious disease, medical education, preterm labor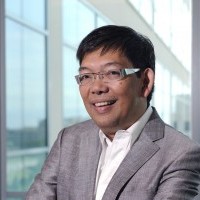 Teaching philosophy: "Education is both the great equalizer and our bridge to a better future. So those who can teach should. And those who teach should do it well."
In addition: He won the American Academy of Dermatology's Excellence in Education Award in 1992.
Endowed title: Paul R. Bergstresser, MD, Chair in Dermatology
Teaching philosophy: "In college and graduate school, I was introduced to the idea that science and philosophy are inseparable – scientific discoveries have important implications about philosophical ideas; philosophical ideas have important implications about scientific discoveries. By the time I became a faculty member, I was convinced that philosophy should be a part of graduate science education, and that every student should wonder, 'Why do I believe what I think I know?' That conviction provides the inspiration for my teaching efforts."
In addition: Dr. Grinnell's early scientific work contributed to the discovery of the biological adhesion protein fibronectin an d helped to establish the importance of fibronectin in biomedical engineering and wound repair.
Teaching philosophy: "Teaching provides me with a tremendous source of personal satisfaction by giving me the opportunity to assist others in achieving their goals, and the privilege to teach should never be taken for granted. My teaching philosophy is simple – to inspire through enthusiasm. I cannot envision another career that could be more enjoyable than this."
In addition: He came to UT Southwestern to serve as Chairman of Physician Assistant Studies, the position he continues to hold.
Teaching philosophy: "My teaching philosophy is to ignite passion and enthusiasm in students, whereby the presented material will be used to form building blocks for lifelong learning. I strive to transmit subject matter in a way that captures the imagination of the students and sparks a desire on their part to further build on the material presented. I attempt to provide a learning environment that is comprehensive. To this end, I use available chalkboard and wipe-board space to pictorially depict pathways to teach fundamental mechanisms. Rather than rote memorization, this approach enables enhanced understanding and facilitates predictions of clinical manifestations of disease processes."
In addition: He has climbed the Seven Summits, the tallest peaks on each of the continents.
Teaching philosophy: "When I teach, I strive to render the complex simple. I try to make the road forward negotiable by pointing out twists and turns that confounded me as a student. Clarity makes pathology accessible and exciting. Engaged students build a solid foundation of pathology and pathophysiology upon which they place insights from their clinical training both in medical school and throughout their lives as practicing physicians."
Research interests: Analysis of murine phenotypes, comparative pathology, developmental biology
Teaching philosophy: "Teaching is a selfish activity. You get to learn new things all the time. You have the delight of presenting new ideas to others, and awakening new ways for others to experience the world. Countless students enlighten and enrich you with their own perspectives. You get to mold the future. What's not to like?"
Research interests: Clinical research ethics, medical ethics, philosophy of psychiatry
Endowed title: Daniel W. Foster, MD, Professorship in Medical Ethics
Teaching philosophy: "My teaching philosophy is to be passionate, enthusiastic, and engaging for each lecture I present so students are excited to learn more about the topic and become active and lifelong learners. The future of biomedical science is in the hands of the students we teach and mentor toward careers as scientists and physicians. In research, we are only as good as our last experiment; the students we mentor and their future students are legacies that will endure."
Endowed title: Southland Financial Corporation Distinguished Chair in Geriatrics
Teaching philosophy: "My goal in the classroom is to create a teaching-learning team that works in both directions, communicating and keeping stress low and humor high while at the same time constantly challenging ideas. It is important to teach the facts and concepts, but also to work hard at connecting the dots into a big picture that will 'stick' and lead to creative and analytical thinking. I urge my students to take time to celebrate the eureka/'got it' moments in real time while learning to thrive on failure and move forward despite it.
Endowed title: Scheryle Simmons Patigian Distinguished Chair in Cancer Immunobiology