Renowned UTSW scientist to lead new Department of Biophysics
By Deborah Wormser
Dr. Michael Rosen, a Howard Hughes Medical Institute investigator and an expert on the tiny skeletons inside cells, has been named the first Chair of the Department of Biophysics at UT Southwestern Medical Center.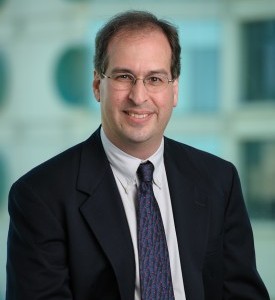 Dr. Rosen, also Professor of Biophysics and Biochemistry who holds an appointment in the Green Center for Systems Biology, said the Department of Biophysics will maintain UT Southwestern's longtime strength in structural biology. It also will build on this expertise to understand how the discrete molecules that are so well-characterized by structural biology join together to form higher-order systems, representing an exciting new scientific direction for UTSW, and for the field of biophysics as a whole.
"Dr. Rosen is an outstanding structural biologist and biochemist, and he is ideally suited to lead this research initiative," said Dr. J. Gregory Fitz, Executive Vice President for Academic Affairs, Provost and Dean of the Medical School. "During the last 10 years, Dr. Rosen and his laboratory have solved some of the most important mysteries in the field of actin polymerization and have demonstrated how the cytoskeleton of the cell is able to respond to environmental stimuli."
Dr. Rosen studies the actin cytoskeleton, the scaffolding inside cells that help them move and change shape. The cytoskeleton often must adapt quickly, for instance when immune cells squeeze through narrow openings in the walls of blood vessels to race to a site of infection. In a study earlier this year in Nature, Dr. Rosen and his colleagues showed that the molecules that control the cytoskeleton are able to assemble like polymers, the plastics studied by classical chemistry since the 1940s.
"Dr. Rosen's groundbreaking work has been published in the very best journals, and demonstrates how cells respond in a dynamic manner to different external and internal signals through changes in the actin cytoskeleton," said Dr. David Russell, Vice Provost and Dean of Basic Research. "When compromised, the actin polymerization machinery can contribute to cancer metastasis and bacterial infection."
Both Dr. Fitz and Dr. Russell praised Dr. Steven McKnight, Chairman of Biochemistry, for his role in making the new department a reality by recruiting Dr. Rosen and other structural biologists. Many of those researchers will join Dr. Rosen in the new Department of Biophysics. Through the support of the UT System STARS Program, created to help retain superb researchers, the new Department will be able to equip its laboratories with the tools of advanced biophysics, Dr. Rosen added.
Dr. Rosen was in the inaugural group of Texas researchers selected for the Edith and Peter O'Donnell Award in Science from The Academy of Medicine, Engineering and Science of Texas.
About Dr. Rosen
Hometown: Born in Philadelphia, and grew up in East Lansing, Mich., where both his parents are academics.
Background: Dr. Rosen has made an art out of learning and benefiting from multiple perspectives. As an undergraduate at the University of Michigan, he earned dual degrees in chemistry and chemical engineering. He followed that with graduate work in organic chemistry at Harvard University. Next, he completed postdoctoral work in Toronto in two labs simultaneously, developing a structural and biophysical approach in one lab and a molecular biology viewpoint in the other.
#
Dr. Chook is a Eugene McDermott Scholar in Medical Research.
Dr. Fitz holds the Nadine and Tom Craddick Distinguished Chair in Medical Science and the Atticus James Gill, M.D., Chair in Medical Science.
Dr. McKnight holds the Sam Winstead and F. Andrew Bell Distinguished Chair in Biochemistry.
Dr. Rosen holds the Mar Nell and F. Andrew Bell Distinguished Chair in Biochemistry.
Dr. Russell holds the Eugene McDermott Distinguished Chair in Molecular Genetics.