Stroke Month: Q&A – Innovations in Surgery
Dr. Babu Welch, Associate Professor of Neurological Surgery and Radiology, is at the forefront of endovascular surgery in the treatment of stroke. Endovascular surgery can open vessels in the neck and brain to restore blood flow within minutes, with access through the artery in the leg.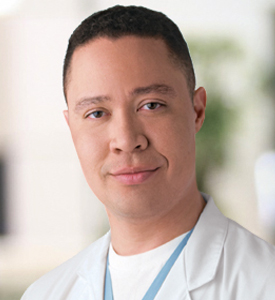 Dr. Welch serves as the Medical Director of the UT Southwestern Neurosurgery Ambulatory Clinic, Co-Director of the Paul M. Bass Center for Neurosurgical Innovation and Director of the UT Southwestern Microvascular Laboratory, where he instructs neurosurgery residents on approaches to skull base treatments and microvascular techniques.
Q – What is the latest in stroke surgery?
A – The stent-retriever device has revolutionized the field of treating acute ischemic stroke (shortage of blood to the brain caused by a blood clot.) A thin catheter is inserted into an artery in the patient's groin, through the aorta, and to the site of the clot in the brain. The stent retriever is extended past the blockage and retrieves it. Patients can go home within a few days and can have a great recovery with therapy.
Q – How do you choose a surgeon to do such a surgery?
A – In a word: carefully. The key is finding an endovascular surgeon and surgical team capable and experienced at treating the comprehensive nature of stroke, be it aneurysms, arteriovenous malformations, moyamoya disease, acute ischemic stroke, carotid occlusion, etc. The complex diseases that are cared for at UT Southwestern are possible only because the surgeons and the team are capable.
Q – How do you know if your surgical team is qualified?
A – There's really only one litmus test. Has your facility received Joint Commission Certification as Comprehensive Stroke Center? There are only 87 of them in the United States. That does not grow overnight. It is important that the public looking for treatment be aware of the time it takes to recruit and retain expertise in the field.
Q – What is the leading edge of research on stroke surgery?
A – The next frontier in the management of acute ischemic stroke will be the use of imaging for the selection of patients for treatment. Many patients arrive after the popular six-hour window and are not treated as a result. This is because the current literature suggests that the chance of complication from treatment is too high. Some of these patients may gain benefit after this time window but we are not sure which ones. If better imaging could determine a group of patients who would benefit from "late" treatment then we could help more people.