Students Honored for Community Service
Eighty-one UT Southwestern medical and graduate students have been recognized for community service with the President's Volunteer Service Awards. Their work was part of the 24,000 hours of volunteer service UT Southwestern students performed from May 2011 through April 2012.
The awards were established in 2003 by President George W. Bush to recognize the contributions volunteers make on local communities. In 2006, the University of Texas System began recording volunteer time contributed by students, faculty, and staff.
Award levels are based on hours worked. Gold awards recognize 500 hour or more; silver, 250 to 499 hours; and bronze, 100 to 249 hours.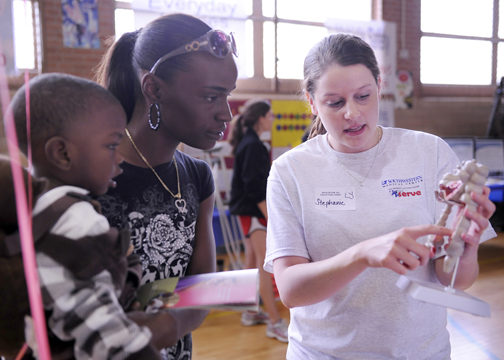 UT Southwestern students earned 21 gold awards, eight silver, and 52 bronze.
Honorees
receive lapel pins for their award level. The Class of 2015 earned the most awards.
Suzi Smith, director of the Bryan Williams, MD, Student Center and project coordinator for volunteer service, said she's proud of the hours and the work the students give to the community.
"We're fortunate to have a student population that is very giving," Smith said. "They come here to go to medical school, but they care about others and want to help."
Community service projects
include
United to Serve
, an annual UT Southwestern health fair benefiting children and families in the neighborhoods surrounding the UT Southwestern campus. Other projects include the
Monday Clinic
, which provides free medical care to the underserved at North Dallas Shared Ministries, as well as trips to Haiti and Mexico to improve living conditions, church programs, Holiday in the Park, and much more.
Mark Munns, a second-year medical student from Georgetown, Texas, and a gold award recipient, helped manage the Monday Clinic, organized a morning of community service for incoming medical students during orientation, and helped establish a dental clinic for homeless women and children.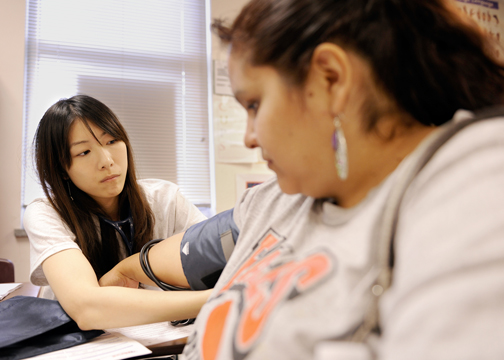 "Working at the Monday Clinic was easily the most rewarding and educational thing I have done in medical school," Munns said. "It really solidified my desire to volunteer in similar clinics once I become a physician."
The volunteer work was meaningful to him.
"I am in medical school for a variety of reasons, but wanting to make a difference is far more important than the others," Munns said. "The stresses of medical school can wear on a person at times, but volunteering removes that burden. Improving someone's situation reminds me why I decided to go to medical school in the first place and puts life in perspective."
Smith said the volunteer work is important for students and the community,
"It shows that as future physicians, they care and that giving back to the community makes a difference," Smith said. "They're compassionate and are helping people get health care and improve their lives, and that matters. People see positive things at UT Southwestern and students making a difference."
Students, faculty, and staff can record their volunteer time at the UT System website. Contact Smith for more information or assistance.
| Gold Award Winners | | |
| --- | --- | --- |
| Akanksha Sharma | Emberlynn Lui | Laurie Seidel |
| Amy Ho | Emily Silverman | Mark Munns |
| Ben Elsbernd | Fatima Wazni | Mary Elhardt |
| Ben Kogutt | Yann-Fuu Kou | Salman Harani |
| Caroline Nguyen | Justin Ahn | Shariar Akhtar |
| Casey Corbin | Ladan Agharohk | Tessa Novick |
| Dung Le | Lauren Edelman | Tiffany Lieu |
| Silver Award Winners | | |
| --- | --- | --- |
| Abigail Smith | Kim Tran | Susan Oh |
| Jared Morphew | Leila Zuo | Thomas Tielleman |
| Justin Jones | Sarah Nouri | |
| Bronze Award Winners | | | |
| --- | --- | --- | --- |
| Aaron Guel | David Vermette | Kim Hoang | Reed Garza |
| Akil Farishta | Eunice Odiase | Leila Posch | Rohin Moza |
| Alyssa Cotterman | Fiona Nicholson | Lori Yap | Ryan Thorpe |
| Amy Little | Georgia Saniuk | Luwan Ghidel | Saranya Sundaram |
| Anwar Jackson | Ian Walker | Mark Yurewicz | Sheby Alexander |
| Apoorva Murthy | Jenna Felici | Mary Beth Westerman | Shyam Sivasankar |
| Ashley Stone | Jenny Weon | Maurillio Garcia-Gil | Sophie Dube |
| Astrud Villareal | Jessica Brian | Megan Gilbert | Suzette Toombs |
| Brock Hansen | John Liaghat | Michael Wu | Thomas Heyne |
| Corbin Jacobs | Jonathan Holbrook | Min-Jeong Cho | Travis Miller |
| Damien Miran | Julie Verde | Nasim Sobhani | Tyler McDonald |
| Daniel Condie | Kara Pretzlaff | Rachita Navara | Victoria Chang |
| Darya Terekhova | Katie Cox | Rebecca Brown | Zehra Farzal |