United to Serve Health Fair Aims to Dispel Myths
Leaders of the annual United to Serve health fair present a new name – and a refocused purpose – for the upcoming community event.
The student-run event, scheduled to take place on April 14 at TJ Rusk Middle School, is designed to increase health awareness and education in a fun and interactive environment.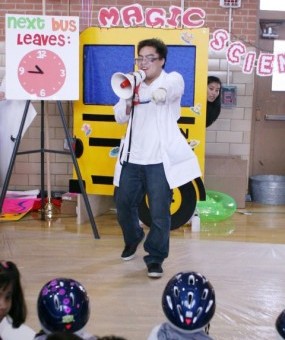 Under the umbrella of UT Southwestern's United to Serve volunteer initiative, the fair has been renamed from "A Celebration of Health" to "Health for All/Salud Para Todos."
"We really want to make it about the people who are coming to the fair," said
Ladan Agharokh, a fourth-year medical student and co-chair of the 2012 event.
Agharokh and co-chair Emily Smitherman, another fourth-year medical student, said that they've been passionate about United to Serve since attending a recruitment meeting as first-year medical students. Three years later, they remain deeply invested and involved with the volunteer initiative.
"It's something that's very important to us and that we both feel very passionate about," Smitherman said.
To get the word out to the community, volunteers have passed out 75,000 fliers to local free clinics, churches, and schools. Area radio and television stations, including Univision, have also helped promote the event, including an interview with student representatives on April 12.
Agharokh and Smitherman hope the new name attracts and connects with the surrounding Hispanic community.
"What I love about United to Serve/Health for All is it's different than most health fairs," Agharokh said. "We focus on interaction. When you approach a booth, you will be actively engaged by participating in an activity, acting something out, or answering questions."
One important myth they aim to dispel concerns obesity/nutrition.
"There are so many myths about nutrition and BMI," Smitherman said. "Not all salads are healthy, not all meat is unhealthy, and a low BMI doesn't mean you're healthy."
Clinical Nutrition students developed a healthy cookbook and will be demonstrating recipes for visitors to sample. In addition, the emergency medical student association volunteers will lead CPR demonstrations, dermatology interest group students will educate about mole awareness, and obstetrics and gynecology residents will cover women's health. Family medicine residents will be on hand to provide UIL sports physicals for kids.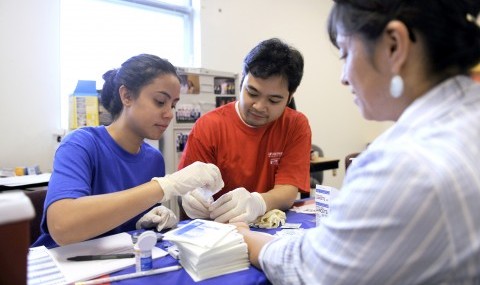 According to Smitherman, many of the visitors are at high-risk for cardiovascular disease. As such, the majority of screenings involve cholesterol, glucose and blood pressure screening, as well as height and weight.
Through a related program called Health Awareness, the students will follow-up with patrons, many of whom may not have access to regular healthcare, after the event.
"We're looking for a longitudinal impact on the community," Agharokh said.
For attendees who provide their contact information, students will call every three months to ask whether the individual followed up with a doctor. If not, they can assist with finding a doctor, clinic, or discounted pharmacy. If the individual did contact a doctor, the students will ask what the doctor said and if they are doing what was recommended.
Last year, Health Awareness followed up with 17 patrons. Health fair organizers want to at least double that number this year.
Kids' health will also be a focus, with medical professionals providing immunizations and sports physicals.
"We have dedicated our free time to this," Agharokh said. "We're so connected to this event and its success."