Big Ideas Shared Here
In 12 minutes, the average person can run 1.5 miles.
It's also possible to bake a dozen chocolate chip cookies, watch 24 television commercials, or listen to all of Bob Dylan's 11 minute, 21 second ballad titled "Desolation Row" with a few seconds to spare.
On February 16, five UT Southwestern Medical Center faculty members will each be given 12 minutes to share some of their most profound thoughts, experiences, and ideas about their individual passions. Styled after the wildly popular TED Talks, Thinking Big aims to encourage the spread of ideas and knowledge.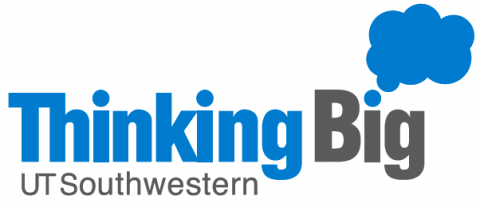 Event founder Gaurab Chakrabarti, third-year student in the Medical Scientist Training Program, said said he hopes this year's line-up really amplifies the breadth of life-saving, evidence-based medicine taking place at UT Southwestern.
"Thinking Big is a tremendous opportunity to really showcase the intellectual and occasionally idiosyncratic pursuits of our diverse faculty members," he added.
The second annual event will begin at 10:30 a.m. Saturday, Feb. 16, on UTSW's South Campus.
This year's line-up includes the following:
Benjamin Levine, M.D., Professor of Internal Medicine/Cardiology and Distinguished Professor of Exercise Sciences at UT Southwestern Medical Center. Dr. Levine is also founder and Director of the Institute for Exercise and Environmental Medicine (IEEM) at Texas Health Presbyterian Hospital in Dallas where he holds the S. Finley Ewing Chair for Wellness and the Harry S. Moss Heart Chair for Cardiovascular Research.
Alex Eastman, M.D., Assistant Professor in the Division of Burns, Trauma and Critical Care at UT Southwestern, and Chief of Trauma Surgery (Interim) at Parkland Memorial Hospital. Dr. Eastman also serves as Deputy Medical Director of the Dallas Police Department and the lead medical officer for the department's SWAT team.
Helen Hobbs, M.D., Professor of Internal Medicine and Molecular Genetics at UT Southwestern. Dr. Hobbs is also an Howard Hughes Medical Institute (HHMI) investigator. Director of the UTSW's McDermott Center for Human Growth and Development, Dr. Hobbs also serves as Director of the Dallas Heart Study, a longitudinal, multiethnic, population-based study of Dallas County.
Deborah Clegg, Ph.D., R.D., Associate Professor of Internal Medicine at UT Southwestern. A leader in nutritional and metabolic research, Dr. Clegg focuses on the role of sex hormones and nutrients and their regulation of energy homeostasis.
James Amatruda, M.D., Ph.D., Assistant Professor of Pediatrics, Molecular Biology, and Internal Medicine at UT Southwestern. An attending physician at Children's Medical Center Dallas, Dr. Amatruda's laboratory focuses on understanding the genetic causes of some childhood cancers using zebrafish models and human genomic approaches.