TAMEST Honors Hooper and Jiang
Two UT Southwestern Medical Center researchers are among four scientists from across Texas chosen for the 2013 Edith and Peter O'Donnell Award by the Academy of Medicine, Engineering and Science of Texas (TAMEST).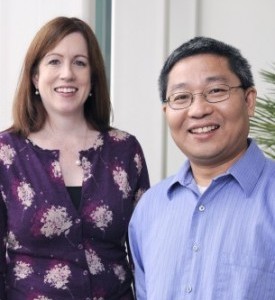 Lora Hooper, Ph.D., Associate Professor of Immunology and Microbiology, and Youxing Jiang, Ph.D., Professor of Physiology, were honored at a banquet at the Westin Galleria in Dallas on Jan. 17 in conjunction with TAMEST's 10th annual conference. Both are accomplished Howard Hughes Medical Institute investigators, and Dr. Hooper also has an appointment in UT Southwestern's Cancer Immunobiology Center.
Each year, the awards honor outstanding achievements by early-career investigators in science, medicine, engineering, and technology innovation. Each award consists of a $25,000 honorarium, a citation, a trophy, and an invitation to speak at the conference.
"The achievements of Dr. Hooper and Dr. Jiang exemplify the breadth of research under way at UT Southwestern, important work with benefits we hope will extend across the state of Texas and throughout the world of medical science," said Daniel K. Podolsky, M.D., President of UT Southwestern. "We are grateful to Edith and Peter O'Donnell for their support of scientific advancement."
Please read the December 2012 news release for additional information.