Q&A: W. Phil Evans, MD
The American Cancer Society (ACS) inducted Dr. W. Phil Evans, Director of the Center for Breast Care and Professor of Radiology at UT Southwestern Medical Center, as its national president Thursday, Nov. 1.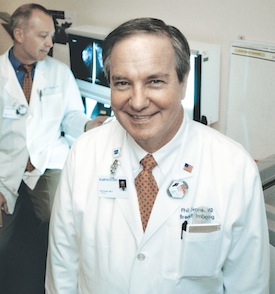 As he prepared to leave for the induction ceremony in Atlanta, Dr. Evans talked about his leadership role at the American Cancer Society, how surviving cancer made him a better doctor, and why he loves working at UT Southwestern.
Q: Congratulations on your new post. What are your goals over the next year?
A: To save more lives. We know that since 1990, there are 350 more people each day whose lives have been saved from cancer thanks to the American Cancer Society and others. If we apply the things we know—such as appropriate screening, tobacco control, healthy diet, and increased physical activity—we can move from 350 lives a day saved to 1,000 lives a day saved.
Q: Is that realistic? Can we get to the point where cancer is no longer such a major public health problem?
A: That's our goal. We want this to be a world without cancer. The good news is we've done a great job in the last few years of making sure there are more survivors. One of my favorite things the American Cancer Society does is that we call ourselves the Official Sponsor of Birthdays. We want everyone to have more birthdays.
Q: What does it mean to you, personally, to be president of the American Cancer Society?
A: I have been a volunteer there for over 25 years, and I've seen the progress we've made. If you have ever had cancer, you know how terrible it can be. I personally am a cancer survivor. I know what it is like to have someone tell you that you have cancer.
Q: What kind of cancer?
A: I had renal cell carcinoma—kidney cancer. I was diagnosed 15 years ago and had a kidney removed.
Q: How does that experience inform your work as a physician?
A: I'm frequently talking to patients about their cancer diagnosis. It was surprising to be on the other end of that conversation. You can't really understand what it's like until you're the one getting the bad news.
Q: You went to medical school here and graduated in 1972?
A: Yes.
Q: And then you returned as a member of the faculty in 2002, which means you've spent about 14 years on this campus. What sort of impact has it had on you?
A: I always highly valued the Southwestern medical education. It was absolutely fantastic. I understood that even better after I moved on. When the opportunity came available several years ago, I was thrilled to be invited to join the faculty.
Q: What sort of changes have you made at the Center for Breast Care?
A: In my career, I've always liked to build things and develop things. That's what we've managed to do at the Breast Center. We work in an environment that supports and promotes the best in research and applies it directly to clinical care. The Center for Breast Care is a highly functional, well-run operation that takes great care of patients. We've participated in clinical research studies that were quite significant, such as a multi-institutional study that paved the way for the country to change from film to digital mammography. In another major trial, we determined more breast cancers could be found in women at high risk of developing breast cancer if they were screened with both mammography and ultrasound.
Q: Just curious, but how did the president of the American Cancer Society decide to specialize in breast cancer? When did you make that decision?
A: Back around 1980 or so, I was a young diagnostic radiologist just beginning my practice. The chief of our department came to me one day and said: "There's this new breast ultrasound machine available, and it looks like it may be good for screening. The manufacturer will let us try it for six months. Why don't you check it out and see what you think?" And so I did. It looked pretty good, and I thought it was interesting. So we brought it back and installed it in our department, and then I realized what the implication of all this was: I was going to be the one who was the champion of it, saw all the patients, and interpreted all the exams. I said to my chief: "You know, I am really getting involved in this. Are you sure you want me to do all this?" He said, "Evans, he who mounts the tiger cannot dismount it at will."
Watch a short video of Dr. Evans discussing his new role with the American Cancer Society.