MyChart Goes Mobile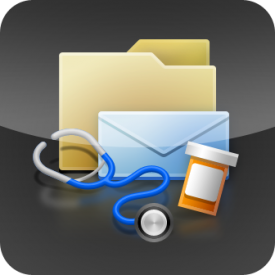 If you need to contact your UT Southwestern doctor, renew a prescription, or schedule an office visit, there's an app for that.
MyChart, an electronic portal to portions of your UT Southwestern health record, is now available as a free app for Android and iPhone. Search for "MyChart" in the app stores to download it.
Like its online counterpart, the smartphone app puts your health information at your fingertips, wherever you are. With the app, you can:
Communicate securely with your doctors
View your personal health information
Review current medications and test results
Request, cancel, or view appointments
Request prescription renewal (this feature is not yet available on the Android platform)
See your immunization history
View your allergies and more
Shannon O'Shea, clinical coordinator in Internal Medicine at the James W. Aston Ambulatory Care Center, has used MyChart for almost four years and the app since early April, shortly after it was launched. She said the app makes it easy to access medical records and other health information.
"Putting MyChart on a phone without an app can be a pain in the neck," she said, since web pages don't always adapt well to cell phone screens. The MyChart app is formatted to fit a phone screen without altering the functionality.
The app helps patients take an active role in their health care by making their information easy to access. It also lets doctors and patients communicate with each other quickly.
"The information is right there," O'Shea said. "If you're waiting for your kids or waiting in line somewhere, you don't need a computer. Everything is on your phone."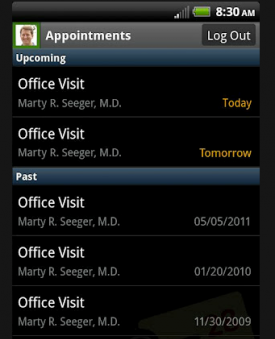 She listed several potential benefits for patients who use the app. For diabetics, for example, doctors might change medication dosages frequently until they find the right one. The patients can contact the doctor about how the dosage is working and get quick responses. For patients who forget when their appointments are or aren't sure about something the doctor ordered, the information is easily accessible.
When she visits a doctor outside of UT Southwestern who needs to know what medications she's taking, the information is in the palm of her hand.
O'Shea and the clinic staff have recommended the app to family, friends, and patients. In some cases, though, patients were using the app before the staff could recommend it to them.
"Patients who have talked to us about the app really like it," she added.
Use of the app is voluntary. To use it, you'll first need to be a registered user of MyChart. You can get access to MyChart by contacting:
Your UT Southwestern health care provider to see if he or she participates in the program. The clinical staff can help you set up the account.
The MyChart Helpline at 214-648-8888 to receive an access code to register online.
Once you install the smartphone app, click on UT Southwestern as your health care provider to begin accessing your data.
UT Southwestern launched the online MyChart portal in 2005. More than 50,000 patients use it.