MLK Scholarship Award Recognizes Community-Driven Medical Students
By Lin Lofley
Fiona Nicholson, a fourth-year medical student from Dallas, has won the 2013 Martin Luther King Jr. Scholarship for Community Service.
Ms. Nicholson, of Pritchard College, who graduated from Southern Methodist University with degrees in Biology, Chemistry, and Spanish, was recognized at the annual event on campus celebrating the life of the late civil rights leader.
Also honored were award finalists Sravya Ennamuri (Estabrook College), Laurie Seidel (Seldin College), and Ashley Stone (Fashena College).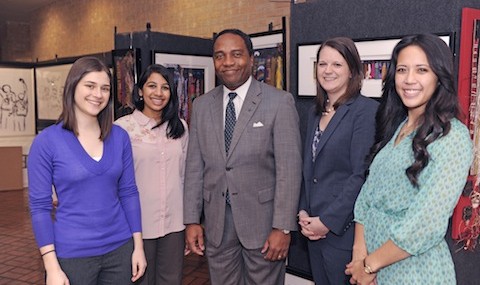 Ms. Nicholson, who plans a career in Obstetrics and Gynecology, graduated from Highland Park High School and has made volunteerism an integral part of her life since her undergraduate years. She has been a leader for four years in the United to Serve event hosted annually by UT Southwestern Medical Center students, faculty, and staff at T.J. Rusk Middle School. She also has participated as a mentor in the Advancement Via Individual Determination (AVID) program, a college readiness system for elementary through postsecondary students, as an STD (sexually transmitted disease) educator for Dallas ISD middle and high school students, and has been a part of international medical missions to Mexico and Nicaragua.
"Those medical service trips were especially meaningful to me, and it helps you to appreciate how important good health care can be," Nicholson said. "From my experience in Mexico and Nicaragua, I learned how social, economical, and cultural factors influence patient outcomes and hope to integrate this into my future career as a physician."
The MLK finalists, all second-year medical students, had similar experiences and stories to tell.
Sravya Ennamuri
Ms. Ennamuri, a graduate of Rice University from Norman, Okla., grew up with four doctors in her family.
"When I was growing up, I saw the unglamorous side of being a doctor," she said. "I saw the long hours, the night calls, and constant work, and I didn't think that was for me. I tried to find another career path during college, but nothing ever fit like medicine did. It was the right choice for me all along."
Ms. Ennamuri, who earned an undergraduate degree in Biochemistry, said her "pet project" is an organization she and a fellow student have created called SEAMS – Students for the Education of Adult Minority Societies.
"We try to say the full name a seldom as we can," she said with a smile, "but our aim is to help ethnic, lower-income, older populations by educating them about the importance of healthy living."
Interestingly, SEAMS will hold a Health Fair from 11 a.m. to 2 p.m. Sunday at the DFW Hindu Temple in Irving. Staffing will be provided by medical students, residents, and faculty members, with important areas of emphasis being education on cardiovascular health, nutrition, and fitness.
Laurie Seidel
Ms. Seidel, of Farmers Branch, is the daughter of Jack Seidel, M.D., a UT Southwestern graduate of 1987. Dr. Seidel, a pediatrician, was a resident finishing up a call shift on campus when his daughter was born at St. Paul Hospital.
Her primary volunteer interests include a hearing aid recycling program in cooperation with the Callier Center for Communication Disorders. Ms. Seidel and colleagues collect donations of used hearing aids for Callier, which refurbishes and distributes the devices to patients who might not be otherwise able to afford the devices.
With undergraduate degrees in Linguistics and Biology from Emory University in hand, Ms. Seidel said she "decided on medical school pretty late. When I was a senior in college, I realized that if I went into linguistics, I would only be able to make an impact on the world indirectly, through research; whereas with medicine I would be able to directly affect a patient's life."
She also has been active with the Nelson-Tebedo Community Clinic in Dallas, which offers HIV testing, treatment and clinical drug trials in addition to HIV dental, STD prevention and testing, medical case management, insurance assistance, prevention, and transgender health services.
"It's definitely my favorite activity," Ms. Seidel said. "I have learned a lot there."
Ashley Stone
Ms. Stone, of Lucas, graduated from the University of Southern California (or USC) with a degree in Sociology. While in high school, she participated in a weeklong mission trip to Mexico. "It was there that I became aware of health care disparities," she said.
She is part of a group of students that has started the Society for Fertility Awareness Education. The goal of the organization is to bring more knowledge of fertility awareness-based methods and women's health to campus. The proponents hope to make the organization a model for other medical students across the country.
Ms. Stone's other great passion is Global Brigades, called "the world's largest student-led global health and sustainable development organization." She and her colleagues in the Brigades will travel to Panama at Spring Break on a medical mission trip.
Griffin P. Rodgers, M.D., Director of the National Institute of Diabetes and Digestive and Kidney Diseases, keynoted the event, and Calvin Peters, M.D., a third-year resident in Physical Medicine and Rehabilitation sang James Weldon Johnson's "Lift Every Voice and Sing," which is sometimes called the Negro National Anthem.
Dr. Peters, a member of the UT Southwestern Class of 2010, has earned a spot among the contestants in the 2013 season of American Idol.