Excitement Builds as UTSW Medical Students Learn Where They'll Serve Their Residencies
At the age of 3, J. Mack Slaughter was performing onstage at Fort Worth's historic Casa Mañana Theatre, part of a real-life "Partridge Family." Later he was a part of the boy-band craze, and later still he had a bit of a film career when he appeared in a movie called "Fat Albert."
But the nerves he experienced as a performer hardly compared to the butterflies he felt on Match Day as he stood in the Bryan Williams, M.D. Student Center gymnasium waiting for the envelope bearing the news of where he would complete his residency after graduating from UT Southwestern Medical School in May.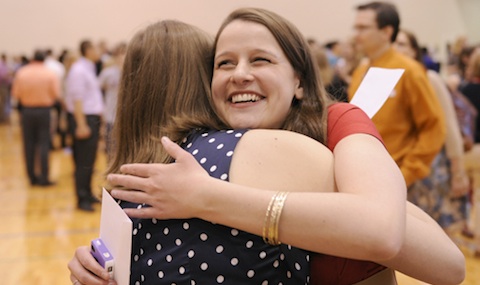 "All those kinds of nerves are different," said Mr. Slaughter, a Texas Christian University graduate, visibly relieved after matching with UT Southwestern Medical Center in his chosen field, emergency medicine. "When I was 3, I didn't know any better. When I was singing, I was nervous that there were people in the seats who had paid to be there. And on screen you really are nervous because you know people are going to pay good money to see the movie; you don't want to let them down.
"But when I woke up this morning, it beat all those other feelings. Here we all are standing in line knowing that the next few moments are of great importance for the next three years of our lives."
On Match Day, fourth-year medical students across the country learn where they'll spend the next four to seven years of their medical training in residency programs.
Waiting to find out about his future wasn't as nerve-wracking for Mr. Slaughter as was proposing to his fiancé, Rebecca Shaw, last year – "After all, you're considering maybe the next 70 years of your life," he said – but it was right up there.
"I can't tell you how relieved I am," he said. "I got a great education, made friends that I know I'll have the rest of my life, and I get to stay here in the outstanding Emergency Medicine program. It couldn't have turned out any better for me."
Jessica Frederick also is staying at UT Southwestern, having matched with the Obstetrics and Gynecology program.
"UT Southwestern was my No. 1 choice," said the Baylor graduate who grew up in Houston. "I think this is the best place to train in Obstetrics and Gynecology, and I'm super-excited. I wanted this so much; I've been having nightmares about this. But now they're over."
Family Affair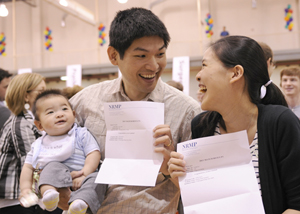 Across the Williams Center gymnasium, Angie Wang received her envelope beneath the Family Medicine banner and looked for her husband, Michael Wang, near the middle of the gymnasium. Mr. Wang, part of UT Southwestern's Medical Scientist Training Program, held an envelope of his own in one hand while using his other to push the stroller of the couple's 7-month-old son, Jonah.
They opened their envelopes at nearly the same time, learning together that their young family will spend the next four years at the University of Michigan Medical School. Angie Wang will enter a family medicine residency while Mr. Wang will begin a pathology residency. Amid the shouts and congratulatory hugs, Jonah napped quietly in his stroller.
The couple was introduced by Mr. Wang's pastor at Taiwanese Presbyterian Church of Dallas, who used to pastor at another church in Connecticut that Angie attended when she was an undergraduate at Wesleyan University. The pastor put the two in touch when he learned Angie would be attending medical school at UT Southwestern, where Dr. Wang already was a student.
Michigan will be just the latest stop for the well-traveled couple. Mr. Wang has lived in Houston, Taiwan, Kentucky, Singapore, and the Chicago area before spending the last seven-plus years at UT Southwestern. Angie Wang grew up in Taiwan, attended college in Connecticut, and spent two years as an Alzheimer's researcher at Rockefeller University in New York City before coming to UT Southwestern.
"We are very excited, and kind of scared," Angie Wang said. "This is a big change. But it's been really fun, and we've really enjoyed our time at UT Southwestern."
Anxiously Waiting
For Reed Garza, a Brigham Young University graduate from Del Rio, the countdown to 11 a.m., when envelopes containing the students "matches" were handed out, was almost unbearable.
"It was killing me," he said. "I just wanted that envelope."
Mr. Garza worried especially about uprooting his family, wife Melissa and daughter Brooklyn, age 3. But blessings were in the envelope as he matched with the dermatology program at Duke University Medical Center in Durham, N.C.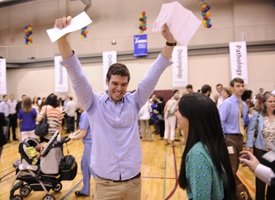 "It's a great place for families," he said. "A great city, a great area, and great educational opportunities. It's what I hoped to find when I opened the envelope, and it came true for us."
Abhishek Kashyap, a UT Austin graduate whose hometown is Fort Worth, learned that he'll join a general surgery residency at the University of Iowa.
"I'm very excited to be going to Iowa," he said. "The process has been a whirlwind, and I went from a feeling of high anxiety to feeling very relaxed. But on Monday, the nerves revved up, and I got nervous all over again."
Staying Close
Leila Zuo matched with UT Southwestern in the Anesthesiology program, and after celebrating with her friends she expressed her happiness that she'd be staying in Dallas.
"Everyone in our group got their first choice, so that's terrific," said the Texas A&M graduate who grew up in Temple. "I have a lot of family close by, and I have loved the culture and the programs here. And best of all: The waiting is over. I have been really nervous about what would appear in that envelope."
Right before receiving his envelope, Shivum Agarwal got a hand-written card from his fiancée, Danielle Clements, offering words of encouragement.
Minutes later he learned he got his top choice, John Peter Smith Hospital in Fort Worth.
"I'm really, really happy," said Mr. Agarwal, who will do his residency in family medicine. "I love Fort Worth, and I love family medicine so this is just awesome."
Roommates Jia Wang and Suzette Toombs will have to travel more than 200 miles to spend time with each other in the future. Ms. Wang, of Flower Mound, will be staying in Dallas to do her residency in Anesthesia at UT Southwestern, while Ms. Toombs is headed to Baylor College of Medicine in Houston to do her residency in Psychiatry. Both got their top choice.
"I wanted to stay in Dallas to be close to my family and go to one of the best programs in the country," Ms. Wang said. "And she'll only be three hours away."