Class of 2012 Medical Students Find Their Matches
After four years slugging away at a grueling academic regimen, the next phase for UT Southwestern Medical School students happens in a matter of seconds – when they learn on national Match Day where they will serve their residencies.
This year, the seconds ticked off the electronic scoreboard on Friday while more than 200 fourth-year medical students milled anxiously around the basketball courts in the Bryan Williams, M.D. Student Center.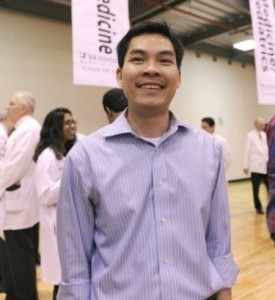 A drum roll marked the final minute until precisely 11 a.m., when faculty mentors handed out envelopes. Students erupted in cheers, as many learned they had landed their top choice for a residency program.
"I'm super-excited," said Tommy Heyne of Southlake, after learning his residency in internal medicine and pediatrics will be at Massachusetts General Hospital in Boston. "My family is very supportive. They've been awesome the whole way. I love them very much. And I love UT Southwestern!"
Chinoyeren "ChiChi" Okwara, who was born in Nigeria but who has lived in Dallas for the last decade, had her father and brother at her side when she learned her residency in internal medicine and psychiatry will be at UC Davis Medical Center, located in Sacramento, Calif.
"It was my first choice!" she shouted. "I feel really good! I feel so good!"
Similar scenes occurred in medical schools across the United States. Traditionally, American medical school graduates find out at the same moment each spring where they will continue their medical education.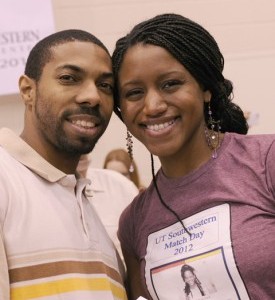 According to the National Resident Matching Program, which aligns students' preferences with the preferences of participating institutions, this year's main residency match was the largest in history, with more than 24,000 slots and 24,369 U.S. medical school seniors.
Organized by a computer algorithm, more than 95 percent of those seniors matched to a first-year residency program. The number of first-year residency positions increased slightly from last year to 24,034.
Not all of the students will be packing their bags. Sixty-seven of the 223 seniors participating in Match Day, about 30 percent, will remain at UT Southwestern.
Christina Avila, a Notre Dame graduate from El Paso, matched in Family & Community Medicine at the medical center. As the mother of a 6-week-old baby, she was worried she and her husband might be separated for a time.
"I'm very happy now," she said. "I was worried. But we get to stay together, and UT Southwestern was obviously my first choice."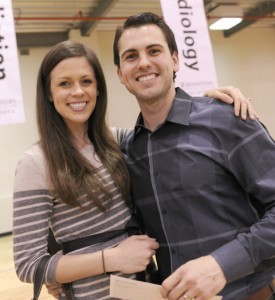 Watching students matched to a residency program is a highlight each year for Angela Mihalic, MD, Associate Dean for Student Affairs.
"Match Day is incredibly special for me," she said. "I am so full of pride and excitement to celebrate with these amazing students such an important milestone in their professional life. It is such a privilege to observe an incredible transformation as students develop into caring, compassionate, and talented physicians who have found their own calling in medicine.
"Seeing them open their Match Day envelopes with tears of joy, surrounded by loved ones and faculty, what could possibly be better?"
Dr. Mihalic, also an Associate Professor of Pediatrics, noted that UT Southwestern students seemed particularly interested in radiology, internal medicine, pediatrics and obstetrics/gynecology. Nationally, less than 1 percent of students expressed an interest in radiology and nearly 19 percent chose internal medicine. At UT Southwestern, the numbers were 5.4 percent for radiology and more than 24 percent for internal medicine.
James Wagner, MD, Associate Dean for Student Affairs and Associate Professor of Internal Medicine, said he watches with mixed feelings as each class graduates.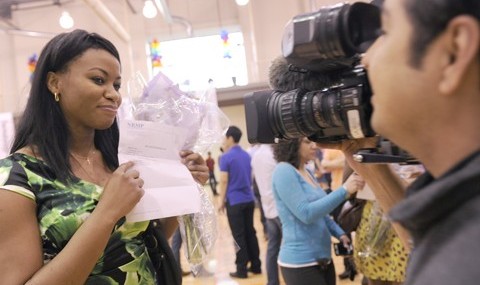 "I admire the energy and enthusiasm with which they have embraced their four years here, and I am proud of the physicians they have become. In many ways these students leave this campus better than when they came," he said. "But I am saddened that we will be losing them, at least many of them, for at least a few years. I hope they will come back as faculty as we continue to teach the next generations of physicians."
Jacob and Rachel Towns, who met at UT Southwestern and were married during their second year of medical school, hoped to end up in the same city. Both landed residencies at Indiana University – she in obstetrics and gynecology and he in emergency medicine.
"We're very happy to be at the same place," Mrs. Towns said. "Now we just need to find a place to live!"
Emily Smitherman of Clear Lake was matched with a pediatrics residency at Duke University Medical Center. She is the winner of the 2012 Martin Luther King Jr. Scholarship for Community Service.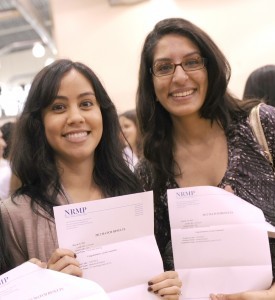 "I'm very excited because I really liked the program at Duke," she said. "It's a little smaller, but I felt that it's a program that's very supportive of the residents."
Radhika Kainthla needed a few moments to process the news that she was matched with her first choice. She's headed to Baylor College of Medicine in Houston for a residency in internal medicine.
"I had to go to a quiet place for a few minutes and take it all in," she said, smiling as she held her match letter.
Samvit Tandan, originally from Mumbai, India, said he had an anxious week awaiting match results. He will begin a residency in July at Yeshiva University's Albert Einstein College of Medicine.
"My family kept texting me every day," he said. "It was a relief, really, to find out I was going to New York City."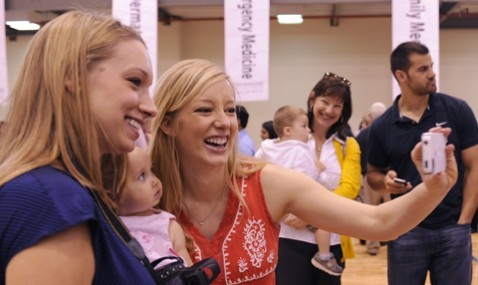 Allison Lopez of Dallas hoped to improve her chances of getting her top choice by wearing a No. 3 New York Yankees jersey with "Lopez" stitched on the back. After learning she will have a pediatrics residency at New York's Mount Sinai Medical Center, she beamed and exclaimed, "I'm so excited! I'm ready for New York and to start being a doctor!"