Hopping On Board Kangaroo Care
Kangaroo Care, a technique that involves placing a newborn on a parent's chest, has been shown to have positive physiological and neurological effects on babies, particularly pre-term ones.
Studies show that the skin-to-skin contact regulates infants' heart rates, increases oxygenation, and fosters better temperature control. This practice, however, is not always encouraged in American hospitals.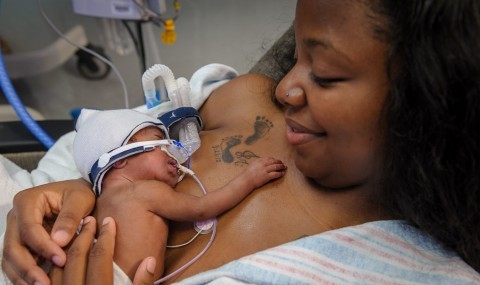 That's why Tara Best, BSN, RNC–NIC, at UT Southwestern's St. Paul University Hospital, recently launched the first staff-nurse-led IRB–approved study on Kangaroo Care.
Best, the principal investigator, has always been a proponent of Kangaroo Care, but she observed in her 14 years of nursing experience at UT Southwestern that NICU nurses rarely encourage the practice.
Her study aims to determine whether extensively trained nurses are more willing to recommend skin-to-skin contact between newborns and parents. Twenty-five nurses have volunteered to participate in the study, which is now in the second data collection phase.
"[Kangaroo Care] has all these potential benefits," Best said. "The babies do better in Kangaroo Care; it decreases their pain threshold and helps them grow better. For the parents, it's a bonding opportunity and helps them feel like they have a little bit of control in situations where they feel like they have no control.
"It also decreases rates of post-partum depression and post-traumatic stress disorder," she said.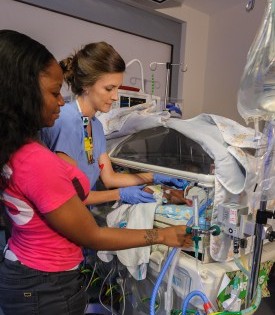 Fear is generally the biggest obstacle to Kangaroo Care. Best said her experiences indicate that many nurses are afraid to transfer an infant, who may be hooked up to IV lines, monitors, wires, and tubes, onto a parent's chest. They also worry about the baby's possible drop in heart and oxygen rates due to the transfer.
To remedy this, Best designed an educational day that included an interactive lecture and training exercises on easy and safe transfer methods. Best also created a written protocol to help nurses identify which babies are suitable for Kangaroo Care.
"I hope the nurses will continue the practice and pass it on," Best said. "If nothing else, the parents really feel like they're contributing to their baby's care."