'Don't Grow Weary'
Thomas F. Heyne, MD, a man of deep faith, is the 2012 recipient of the Ho Din Award – the highest honor given each year to a graduating UT Southwestern medical student.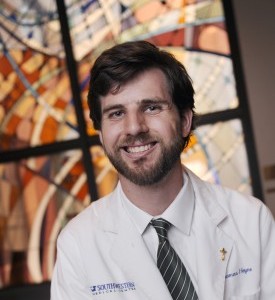 During his four years at the medical center, the Dallas native maintained top grades while volunteering as a translator at clinics and community events; as a shift manager in the Pediatric Interest Group health fair; as a publicist for the United to Serve Committee; and as an assistant chaplain at Parkland Memorial Hospital.
Dr. Heyne has been honored with the 2012 Rolland C. Reynolds Pathology Award as well as the 2010 Martin Luther King Jr. Scholarship for Community Service at UT Southwestern Medical Center. He is president of the Dallas chapter of Alpha Omega Alpha, the national medical honor society.
Renewed energy, he says, can be provided at quiet moments.
"Once, I stopped in to the Parkland Memorial Hospital chapel after a hard day to say a prayer. As I was leaving, a man in a hospital gown – someone I had never met before – beckoned me over to his back-row seat."
With one of his hands encased in a cast, the patient gingerly opened a large Bible and insisted that the medical student take in a verse. "You need to read this, doctor! You really do."
Let us not grow weary in doing good,
for at the proper time we will reap a harvest if we do not give up.
Galatians (6:9-10)
"Immediately after I finished reading, he grasped my arm and looked me in the eyes. In a hearty voice he said, 'Doc, don't grow weary! Don't grow weary! You're doing good, man!' He shook my arm so vigorously that my whole body moved, and he smiled with a giant, toothless grin."
Taken aback, the student silently left with renewed purpose.
"Looking back, I should have told him that I was not a doctor. I was just a medical student who really didn't perform any vital functions in the hospital," Dr. Heyne now says. "I should have told him that he was the one doing good by sharing his time with me, that he was the one deserving praise. Such patients give more to us than we can possibly give to them."
Meet Other Student Awardees
Dr. Heyne isn't the only graduate collecting honors from UT Southwestern leaders. Visit the
Newsroom
to meet several dozen of his peers.