Like Father, Like Son
(Like Surgeon)
Lots of sons follow their father into the family business. But occasionally, a father will follow the son. In a manner of speaking, you'll find both occurrences at UT Southwestern, where the Balches—father Charles and son Glen—work side by side as surgical oncologists in the Harold C. Simmons Comprehensive Cancer Center.
Glen, who specializes in gastrointestinal cancers, arrived first in 2009, when he was recruited to UTSW by a close friend, John Mansour, MD, Assistant Professor of Surgery. The two had met when they were fellows at Memorial Sloan-Kettering Cancer Center in New York.
"John took the job here at UTSW and called me at Northwestern, where I had gone after the fellowship," says Glen, who was raised primarily in the Houston suburb of Clear Lake. "He said, 'We have the perfect job for you, and you need to come look at it.' He was right. My wife and I were very excited to get back to Texas."
'Family is Really Important'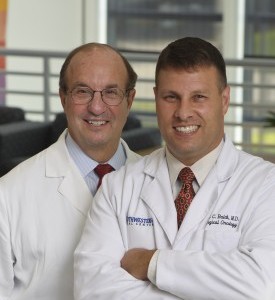 The move put dad Charles' eyes on a return to Texas as well, but for personal reasons, not professional. A world-renowned oncologist who has practiced at MD Anderson in Houston, was president of City of Hope in Los Angeles, and was Deputy Director of the Johns Hopkins Institute for Clinical and Translational Research in Baltimore, he and Glen's mother were interested in seeing more of their grandchildren. When Glen's sister and her family also returned to Texas, it sealed the deal.
"As soon as my daughter moved to Texas, that put four of our six grandkids in Texas," says the senior Balch. "I would rank four of six grandchildren above being next to Glen," he laughs, "but he's a close second. For my wife and me, being part of a family is really important."
Apparently, former co-workers are a consideration as well. "When I was president of the City of Hope, one of the young people who trained there was Dr. Roderich Schwarz," (now Chair of the Division of Surgical Oncology at UTSW) says Charles. "So I've known Rod and have mentored him since he was an assistant professor. Rod said if you come to UTSW, you can have an office next to Glen. That was the attraction."
Thoughts of Other Professions
Son Glen is delighted he's here. But at one point in his life, working alongside his father, or even in medicine, would not have seemed likely.
"I felt like the only reason I would go into medicine was because of my father," says Glen. "So I didn't want to do it and consciously tried not to." Like many young students, he briefly had thoughts of other professions, including architecture, business, engineering, even the military. "The problem I kept coming back to was, I loved biology," he recalls. "So, okay, I'll go into medicine, but I'm not going to be a surgeon like my father, because I'd only do it because of him. But then when I got into medical school, the only thing I really enjoyed was surgery."
A beloved grandmother's bout with rectal cancer pushed Glen's interest specifically toward cancer surgery. "Unfortunately, it was the same thing my dad was doing," says Glen. "All this time I'd tried not to do the thing my father was doing, and I ended up in the same field."
So much for not following in your dad's footsteps.
"I never told the kids what they should do for their career," says Charles. "In fact, I was always worried that the 'busy-ness' of what I did could be a detraction for them. But I really believe that each person should do things from their own inner passion and not do things that mimic what their parents did."
Different Roles
Though both are surgical oncologists, there are indeed some differences. Dad Charles has expertise in breast cancer and melanoma, while Glen focuses on gastrointestinal oncology. And reflecting the different stages of their careers and lives, son Glen keeps a busy surgical schedule while dad Charles carries more of a consulting and advisory role.
"Part of the reason I'm here and the major thing I do with Dr. Schwarz' encouragement is help mentor the assistant professors with how to organize their professional lives so they can advance in their field," says Charles, who also researches surgeon burnout issues caused by life imbalances.
Glen hopes to mine another area of his father's research as well. "He did a lot of clinical trials throughout his career that were pivotal in how melanoma is treated now," says Glen. "I'd just love to get more of his insight and have him help us do some of that kind of research and clinical trial development for GI cancers."
He also notes another area where his father can lend his considerable expertise—National Cancer Institute designation. "I thought he would be a great asset for the Simmons Cancer Center because he's been at NCI-designated cancer centers his whole life," says Glen. "And Dr. Willson, (James K.V. Willson, MD, Director of the Simmons Cancer Center), was a medical student on my father's service when he was at the University of Alabama, Birmingham."
'Amazingly Close' … or Not
As for the Balches similarities, it depends who you ask. (Mom, for one, reportedly doesn't think they're alike at all.)
"Glen and I are amazingly close in the way we think—even in the way we dress," claims Charles. "There have been a couple times when we've been at national meetings together and I come down in my blue pin-striped suit and my red tie and my tasseled shoes, and here comes Glen with exactly the same thing on."
It's not so amazing, counters Glen. "He thinks we have the exact same suits. You'll find a lot of doctors dress alike a these conferences—everybody's in a blue blazer," he laughs. "I think I have better taste than he does, though."
There is acknowledged agreement in one area: their approach to patient care. "We both have a lot of compassion for our patients," says Glen. "I grew up watching him with patients, so I don't know if it's learned behavior or just instinctive. And we both hate cancer and what it does to people."
Adds Charles, "I knew he would be a good doctor, intellectually. The nicest part is hearing and knowing that he's a compassionate and caring doctor."