Students Explore Aging on Convergence Day
Every year, in order to develop an understanding and appreciation for the importance of interdisciplinary cooperation and to highlight areas of strength in research and education, UT Southwestern students participate in Convergence. The all-school, year-round program unites students on one science-of-medicine theme.
This year's Convergence theme: aging.
"The theme of aging was selected to stress the growing need for both clinical education and basic knowledge on aging, as 50 million Baby Boomers are about to cross the elder-threshold," said Kristine Kamm, Ph.D., a Professor of Physiology at UT Southwestern and the Director of Convergence.
Graduate, health professions, and medical students spent the year working in small groups on a case study about the Cooper family. The family includes Mrs. Cooper, an 87-year-old woman in the early stages of Alzheimer's disease; her 87-year-old husband, who is her primary caretaker; and their daughter, 65-year-old Mrs. Allen, who is enrolled with her mother in a study being conducted by UT Southwestern's Alzheimer's Disease Center.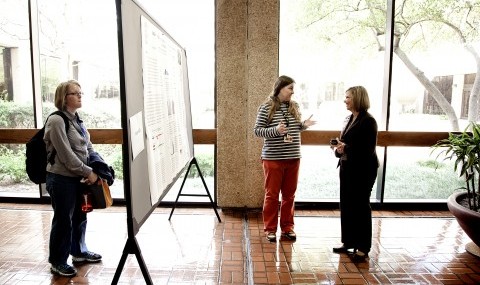 The medical students focused on the physiology of aging, health professions students learned about the role of professional caregivers, and graduate students concentrated on the Coopers' daughter.
On Convergence Day, the students joined together to discuss various residential options for the Coopers. They also participated in learning activities such as a rousing game of Aging Bowl Jeopardy. Four teams—Blue, Red, Orange, and Green—of three students each competed in three rounds of a Jeopardy-style game to answer questions in the following categories: Cooper Family, Alzheimer's Disease, Interdisciplinary Team, and Ageology. The game included an amiable host, buzzers, Daily Doubles, ask-the-audience lifelines, and comical judges.
At one point, the judges proposed raising the Blue team's negative score to zero if they sang a song. They sang the "Teapot Song" to the crowd's delight. The judges offered another 100 points if they would re-sing the song with the dance, but the team declined, opting instead to "maintain their dignity," as one Blue team member joked.
In the end, the Red team won and accepted their stress reliever and gift certificate prizes.
Outside the Aging Bowl Jeopardy auditorium, students showcased their medical posters on aging and various exhibit booths.
At the physical therapy booth, students discussed fall risks and the Activities-specific Balance Confidence Scale, and handed out pamphlets. For Kristopher Neely, a first-year physical therapy student, Convergence gave him the opportunity to learn from medical students.
"It was interesting to do Convergence because we don't really get to interact with medical students other than as tutors and in the anatomy labs, especially for the first-years," he said. "Convergence has allowed us to do that."
A pathology booth displayed heart, lung, and brain specimens that demonstrated the pathology of aging. Latex gloves were on hand for people to touch healthy and tumor-ridden lungs; an unhealthy, oversized heart that underwent a triple bypass; and cross-sections of a normal and an Alzheimer-affected brain.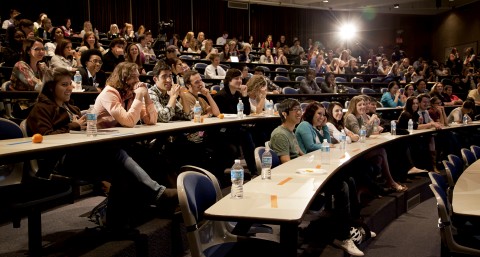 "Some of these specimens have pathologic disease and normal processes of aging that we see in almost every adult in Western society," said Bret Evers, a fourth-year medical student who recently matched with UT Southwestern, his first choice. "This highlights and gives a perspective on what students learn on Convergence Day on aging. It gives these abstract concepts more meaning and more meat."
Staffan Bresson, a third-year medical student, showcased aging software that depicted how smokers and non-smokers as well as how obese and non-obese people age. On a screen, side-by-side age-accelerated photos showed the potential effects of smoking and obesity. The simple takeaway, he said, was, "If you smoke and/or are obese, you age faster."
There also was a nutritional supplement booth that offered samples of various formulas of Ensure and Glucerna drinks. And a geriatric booth with computer stations educated students on age-related delirium, urinary incontinence, peripheral neuropathy, gait, and heart topics.
"We want the medical students to be interested in geriatrics," said Patricia Larios, M.D., a geriatrics fellow. "Even if they don't go into the field, we want them to know how to treat elderly patients."