New website serves as information centerpiece for William P. Clements Jr. University Hospital
UT Southwestern Medical Center has launched a new website for the William P. Clements Jr. University Hospital, which is set to open in late 2014.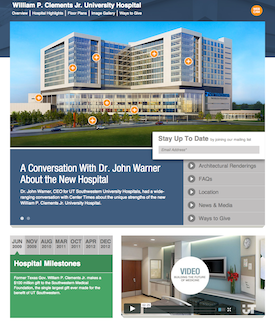 The website provides UT Southwestern's current and prospective patients, their families, referring physicians, employees, and the community with a glimpse inside the new 12-floor, 460-room hospital. You can find the new website at utswmedicine.org/clements.
The website emphasizes the many ways Clements University Hospital will integrate exemplary patient care with leading-edge research and education – reflecting UT Southwestern's three-part mission.
Features of the new website include:
A Look at the Hospital: The website's home page provides a striking view of the hospital, with roll-over information about what can be found throughout the facility. Overview, Highlights, and Floor Plan sections provide a more in-depth look at the hospital and its features. This includes the hospital's role in supporting UT Southwestern's mission, the facility's attributes (including the "W"-shaped design and how it promotes patient care, facts and figures, a look at patient rooms, a listing of specialty areas, a floor plan that shows the departments and services floor-by-floor, and much more).
Image Gallery: An image gallery provides a collection of the latest architectural renderings illustrating what the outside and the inside of the hospital will look like, along with videos and a live webcam tracking the ongoing progress on construction.
News and Media: This section provides stories about the hospital, including coverage in Center Times, which is providing an ongoing series of stories about the new hospital. Don't miss the full-page story in the March edition of Center Times, which features many hospital highlights, as well as the April edition, which includes a wide-ranging interview with John Warner, M.D., CEO of UT Southwestern University Hospitals.
FAQ: A Frequently Asked Questions section offers answers to some of the most often asked questions about the hospital.
Stay Up to Date: This feature gives visitors an opportunity to join an electronic mailing list to receive regular updates about the new hospital, including progress reports on construction, stories from UT Southwestern or in the media, and a wide range of other information.
Ways to Give: This section gives visitors information on various ways they can support the new hospital.
This dynamic website will be updated regularly as the hospital moves from the construction phase to the opening and beyond. Visit the site often to see the exciting progress on this milestone in UT Southwestern's journey as a world-class academic medical center.
Visit the new website for William P. Clements Jr. University Hospital.