TV Show Shines Spotlight on UT Southwestern Stem Cell Researcher
A stint on a local television reality show is helping Andrew Koh, MD, promote stem cell transplantation.
Dr. Koh, Director of the Pediatric Hematopoeitic Stem Cell Transplantation Program at Children's Medical Center and Assistant Professor of Pediatrics and Microbiology at UT Southwestern Medical Center, has been featured on Children's Med Dallas. The documentary, produced by local station WFAA-TV (ABC) Channel 8, airs at 6:30 p.m. each Saturday through April 14.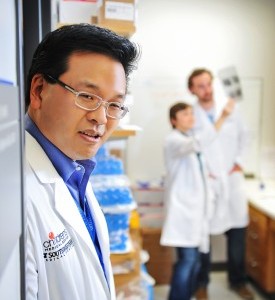 The show, in its second season, spotlights Children's Medical Center and the doctors and nurses who care for sick or injured children. Many of the featured physicians are members of the UT Southwestern faculty.
Dr. Koh said being on the program was a good way to promote the stem cell transplantation program at Children's.
"One of the reasons I was recruited from Harvard was to get more programs to refer patients to our transplantation program," Dr. Koh said.
His segment on the show featured Sophie Tilley, a 14-year-old from Arkansas. In 2008, Sophie was diagnosed with osteosarcoma, a cancerous bone tumor in her knee. After undergoing surgery and chemotherapy, she developed leukemia from the chemo. To treat her, Dr. Koh transplanted stem cells from a donor, infusing the cells through a central line. Sophie had to wait three to four weeks for healthy new cells to grow. It would take 100 days before her immune system would be healthy again and could begin fighting infections.
So far, Sophie is doing well, Dr. Koh said.
Besides the hospital setting, a recent episode featured Dr. Koh away from work, spending time with his wife and two sons and exhibiting his musical skills. Having TV cameras follow him around the hospital and at home with his family didn't bother him.
"I knew some of the filming would be artificial, like walking past the door 10 times while they filmed it," he said. "But the interaction with the patient was real. I just ignored the cameras."
The documentary has been a positive effort for the hospital, Dr. Koh said. He's heard from people with other transplant programs, thanking him for raising the profile of stem cell transplantation.
"I think this has been a good way for Children's to promote itself and what we can do for children," Dr. Koh said. "I hope it serves its purpose so we can get more hematology and oncology patients referred to us and can save more kids."
Learn More
Watch the series on Facebook