Lot to be Said for Early Independence
A UT Southwestern Medical Center postdoctoral researcher who runs an independent laboratory reports in Cell today that prions help transform winemaking yeast cells from unicellular to multicellular organisms in response to alcohol.
"One of the big questions in science is how cells cooperate and that includes how they form multicellular structures. These results could further our understanding of the molecular mechanisms that enable the evolution of social behaviors," said senior author Randal Halfmann, Ph.D., a postdoctoral researcher in the Department of Biochemistry. The study's lead author, Daniel Holmes, a research technician in biochemistry, will be heading to graduate school in the fall.
The changes in response to exposure to 12 percent ethanol, causing the cells to stick together, are inherited from one yeast generation to the next, but they are also reversible in response to another environmental change: low-oxygen levels, the researchers report.
In October 2011 Dr. Halfmann was one of 10 investigators selected for the inaugural class of the National Institutes of Health (NIH) Director's Early Independence Awards, which enabled them to leapfrog the traditional postdoctoral training period and establish independent laboratories as quickly as possible.
Dr. Halfmann was already running his own laboratory as a UT Southwestern Sara and Frank McKnight Independent Postdoctoral Fellow. The fellowship honors the parents of Biochemistry Chair Steven McKnight, Ph.D., who at the start of his career held a similar early independence fellowship at the Carnegie Institution for Science in Washington, D.C.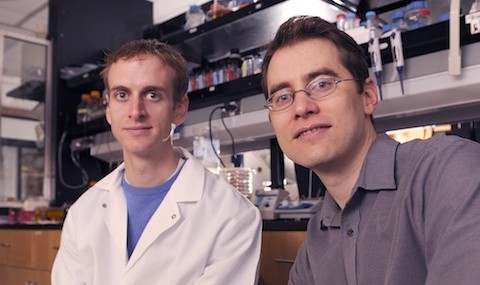 Dr. Halfmann earned his doctorate at the Massachusetts Institute of Technology, working in the laboratory of Susan Lindquist, Ph.D. – a Howard Hughes Medical Institute investigator and member of the Whitehead Institute for Biomedical Research in Cambridge, Mass., and a co-author on the current study. Another co-author is Alex Lancaster, Ph.D., a computational biologist in Dr. Lindquist's laboratory.
The current study builds on Dr. Halfmann's work at MIT, which indicated beneficial effects in yeast of the misfolded, self-perpetuating proteins called prions, which were once thought to be only associated with disease.
Although many researchers are studying the disease-causing effects of prions, only a few groups in the world are thought to be investigating possible beneficial effects. Another UT Southwestern researcher, Zhijian "James" Chen, Ph.D. – a Professor of Molecular Biology and Howard Hughes Medical Institute investigator who is also in the UT Southwestern Center for the Genetics of Host Defense – published a study in Cell in August 2011 in which he reported the first discovery of a "good" prion-like mechanism in human cells. It was also the first to report such a protein clustering mechanism involved in innate immunity.
A graduate of Texas A&M University, Dr. Halfmann grew up in the west Texas town of Coleman, where he was valedictorian of his high school class.
"This study demonstrates that prions can be environmentally responsive determinants of multicellularity and may contribute to the evolution of cellular cooperation, Dr. Halfmann said.