Cancer Clarity
The $10.5 million Cancer Prevention & Research Institute of Texas (CPRIT) grant awarded to UT Southwestern on Nov. 2, 2011, included nearly $1 million to Jinming Gao, PhD, Professor of Oncology and Pharmacology, and Baran Sumer, MD, Assistant Professor of Otolaryngology.

Dr. Gao and his team will use the funds to develop a new method of imaging solid tumors in the head, neck and chest region using cancer-activatable fluorescent nanoparticles. The minute particles, developed at UT Southwestern, are capable of binding with receptor sites on tumor cells, and then "lighting them up" for a surgeon to clearly see.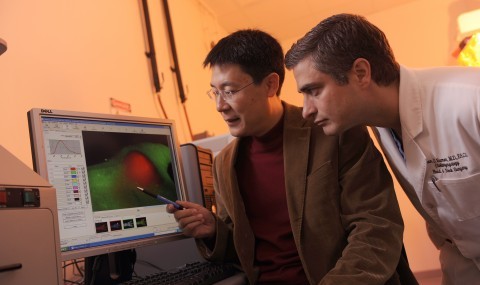 "The really cool feature about these nanoprobes is that they stay dark in blood, and upon reaching tumors, they get turned ON inside cancer cells," Dr. Gao said.

More brightly outlining tumor cells that are distinguishable from normal cells in the head and neck—a notoriously difficult and small operating environment—is the Holy Grail for any surgical oncologist, and the new method of illumination is showing promise in animal models.

Because the tight area of the head and neck typically requires the assistance of robotics, the imaging technique has attracted the attention of Dr. Sumer, one of UT Southwestern's leading ear nose and throat specialist, who is currently collaborating with Dr. Gao's lab on the development of these nanoprobes.

"Every day, I and other surgeons struggle with this—excising or lasering all the bad tissue while leaving behind the good," Dr. Sumer said. "Sometimes very good ideas get worked on in a bubble. An engineer, for instance, will develop something that is good in concept but simply isn't practical in the operating room. When I'm not in clinic, I spend as much time in Jinming's lab as possible."

An end goal of the research is to develop multi-chromatic maps of an individual's tumor, to account for all the eccentricities and irregular tumor shapes that are part of being human.

At its core, this an unparalleled synergistic effort between a bioengineer and a surgeon to see the cancer better for curable resections, Dr. Gao said.

The latest round of CPRIT awards brings the medical center's total funding from the institute to $115 million for 71 projects over the past two years.

"CPRIT is a very special program," said James K.V. Willson, MD, Director of the Harold C. Simmons Comprehensive Cancer Center at UT Southwestern, "This is the next chapter in a string of awards meant to bolster research and innovation at leading cancer centers across the state."
The awards are based on proposals submitted by faculty members and evaluated through the peer-review process. In addition to the nearly $1 million grant to Drs. Gao and Sumer, the latest CPRIT funding includes:
Hamid Mirzaei, PhD, Assistant Professor of Biochemistry, received a $4.4 million grant for his research examining the role of proteins in cancer.
Luis F. Parada, PhD, Chair of Developmental Biology, received $1.5 million for his research in developing new approaches for treating brain tumors.
A third grant for $1 million went to Woodring Wright, MD, PhD, Professor of Cell Biology and Internal Medicine, for research into telomerase inhibition cancer therapy, which would target an enzyme necessary for long-term proliferation of tumor cells.
UT Southwestern received six additional awards, totaling about $3.6 million, that went to Cheng-Ming Chiang, PhD, Professor of Pharmacology and Biochemistry and in the Simmons Cancer Center; Yuh Min Chook, PhD, Associate Professor of Pharmacology; George DeMartino, PhD, Professor of Physiology; Sandra Hofmann, MD, PhD, Professor of Internal Medicine and Molecular Genetics; Bethany Janowski, PhD, Assistant Professor of Pharmacology; and Qiu-Xing Jiang, PhD, Assistant Professor of Cell Biology.
"CPRIT funds are central to our success in advancing the future of cancer research and treatment," said Daniel K. Podolsky, MD, President of UT Southwestern. "Physicians and investigators working hand-in-hand give us a distinct advantage in the fight to defeat cancer."