Bridging the Digital Health Divide, Across the Globe
The Office of Global Health recently sponsored a special conference on adopting technology in a global health setting, bringing experts in public health, emergency medicine, biomedical technology, and infectious disease to UT Southwestern Medical Center.
Panelists highlighted the prevalence and increasing penetration of mobile technology across the globe. Its widespread use in the developing world, home to 64 percent of cellphone users, offers a tremendous opportunity to reach remote populations through telemedicine and to monitor disease outbreaks, said presenter Egbe Osifo-Dawod, M.D., of the Anadach Group, a New York-based global health care strategic consulting firm.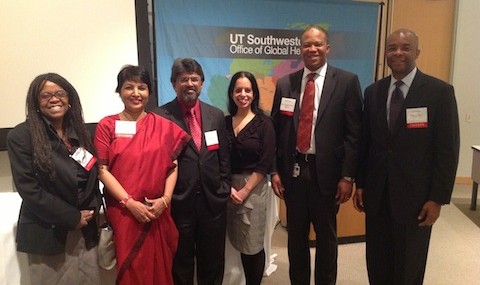 "The rapid rise in applications of technology and decreasing cost of such technology provides an irresistible confluence of events that is changing health care, both locally and globally," said Fiemu Nwariaku, M.D., Associate Dean of Global Health at UTSW, who led the January conference. "The sharing of this knowledge and best practices through conferences such as this will go a long way to improve the efficiency of health care delivery and reduce health disparities across the world."
Another often overlooked area where developing nations play a role is the growth of bioengineered crops that produce material fit for medical applications, panelists said.
Sujata Bhatia, M.D., Ph.D., Assistant Director for Undergraduate Studies in Biomedical Engineering at Harvard University, shared her experience exploring the use of natural polymers in medical devices. In her current role, she is testing and fielding polysaccharide-based tissue sealants to help with wound closure.
Tissue sealants and scaffolds can be developed from raw materials such as soybean fibers, bamboo, or pectin derived from plant roots. DuPont is developing corn-based polymers that can bind with injured tissue, providing structural support, then dissolve in the body naturally when they are no longer needed, she said. These non-synthetic alternatives, which can reduce inflammation and often prevent the formation of abscesses, are valuable in a wide range of medical subspecialties, such as vascular surgery, reconstructive surgery, gastroenterology, and even ophthalmology.
Dr. Bhatia told approximately 50 attendees that she is working with Johns Hopkins University to develop a sprayable sealant designed to close micro-wounds after cataract surgery. The sugar-based sealant is superior to mechanical stitches because the chance for complications is very low.
Meena Cherian, M.D., who directs the World Health Organization's Global Initiative for Emergency and Essential Surgical Care (GIEESC), discussed the initiative's efforts to build capacity for emergency and essential surgical care in low- and middle-income countries, and the importance of leveraging low-cost and sustainable technologies to meet local needs.
An electronic Trauma Health Record (eTHR) can provide real-time information to health, transportation, and city planners in low-resource environments to reduce death and morbidity from trauma.
Morad Hameed, M.D., a trauma surgeon and Assistant Professor of Surgery and Critical Care Medicine at the University of British Columbia, discussed the tool, which is based on an electronic tablet such as an iPad and can accurately provide essential information about injured patients. Combined with GPS, it can also be used to map the frequency and distribution of injuries and violence in a community.