New UTSW ads highlight the science of patient care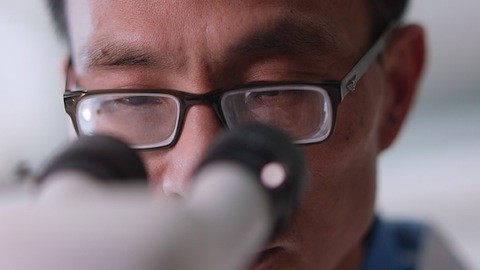 Highlighting our uniqueness as an academic medical center – one that supports patient care from microscope to stethoscope – UT Southwestern has developed a new round of television advertisements that focus on how groundbreaking research at UTSW leads to first-rate patient care. The ads will air from now until August during morning news programs and primetime shows on all major local networks.
The first ad in the series invites consumers to think beyond the bedside and take a moment to remember where medicine often begins: the laboratory.
From unlocking cholesterol's secrets with Nobel laureates Drs. Michael Brown and Joseph Goldstein, to discovering a liver disease culprit with Drs. Helen Hobbs and Jonathan Cohen, these discoveries have helped to save millions of lives and may save many more in the future, highlighting that patients come first at UTSW and receive the full spectrum of care.
"We expect these ads to continue to raise UT Southwestern's profile as the place patients should come to first for their medical care. Our message with this initial set of brand advertising leans into our incredible record of discovery to deliver the point that better science leads to better care for our patients. We want to make sure the public is aware of the importance of this connection," said Dorothea Bonds, Associate Vice President of Marketing in the Office of Communications, Marketing, and Public Affairs.
Watch the new ad and read additional information about UTSW's groundbreaking research at utswmedicine.org.
A second ad focusing on cancer research at UTSW will begin airing in mid-April, and 14 billboards across the Dallas-Fort Worth Metroplex will also emphasize that our discoveries make a difference.