Study identifies brain-based biomarkers in psychosis
In a groundbreaking study led by UT Southwestern Medical Center, a comprehensive set of empirical brain-based biomarkers has been established to aid in diagnosis and treatment of psychosis.
This study is among research taking place at UT Southwestern's Peter O'Donnell Jr. Brain Institute, a comprehensive initiative dedicated to better understanding the basic molecular workings of the brain and applying these discoveries to the prevention and treatment of brain diseases and injuries.
Psychosis Types Identified by Brain-based Biomarkers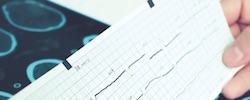 Biotype 1
Most-impaired group
Most brain tissue damage of three biotypes
Poor cognition and eye-tracking capabilities
More likely to have schizophrenia (59 percent)
Tendency toward severe psychotic symptoms
Biotype 2
Cognitive impairment and poor eye-tracking
High brain wave response as measured by EEG
Often rated as overstimulated, hyperactive, or hypersensitive
Observable gray matter loss, but less than in Biotype 1
Worse scores on mood scales, such as depression and mania
Biotype 3
Least-impaired biotype
Near-normal evaluations of cognition, EEG function, and brain structure
Symptoms of moderate severity
More likely to have bipolar disorder (60 percent)
Identification and study of biomarkers – measurable substances such as levels of a specific protein in the blood whose presence is indicative of a disease, infection, or environmental exposure – is a growing field of research that often can help diagnose, predict risk of, or even assist in developing targeted, more effective therapies for various conditions. Statistical modeling of clinical and biomarker data sets can facilitate redefinition and reconceptualization of complex human diseases.
In this case, the gold standard for diagnosis of psychosis to date has been clinical observation, classifying patients into schizophrenia, schizoaffective, and bipolar disorders. But in this study, the Bipolar-Schizophrenia Network on Intermediate Phenotypes (B-SNIP) identified three neuro-biologically distinct biotypes that do not always match up with the conventional clinical diagnosis.
An estimated 19 million Americans, or 6 percent of the U.S. population, experience schizophrenia, schizoaffective, or bipolar disorders.
"In a sense, we have totally deconstructed and rethought the basis for diagnosis in psychosis," said Dr. Carol Tamminga, Chair of Psychiatry at UT Southwestern, who leads the consortium. "Building diagnoses based on biology, not just phenomenology, makes it possible for the biological bases of these brain disorders to stand out as molecular targets for disease definition and novel treatments."
The B-SNIP consortium, which includes researchers from five other institutions, published its findings in late 2015 in the American Journal of Psychiatry.
"In the end, we found the term 'psychosis' might actually describe a number of unique psychiatric disorders, just as the term 'congestive heart failure' might describe a range of cardiac, renal, and pulmonary disorders, each having distinctive mechanisms and treated with specific remedies," said Dr. Elena Ivleva, Assistant Professor of Psychiatry and the study co-leader at UT Southwestern.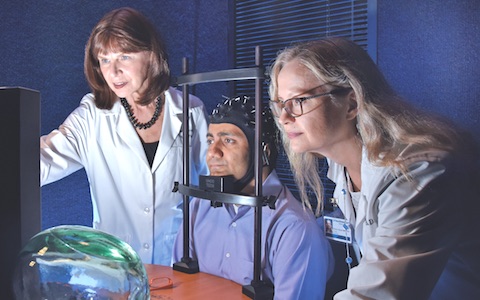 Considerable evidence has shown that a symptom-based diagnosis of psychotic illness incompletely captures biologically meaningful differentiations, often resulting in less-than-satisfactory treatments.
In the study, participants submitted to various cognitive, eye-tracking movement, and electroencephalography (EEG) tests as well as several modalities of magnetic resonance imaging (MRI). The group included individuals diagnosed with psychosis, their first-degree relatives, and a control group of participants. Analysis of the results of the biomarker battery in 1,872 of those tested demonstrated three distinct clusters, or biotypes, of psychoses. Participants were considered equally ill with psychosis, regardless of biotype, and each group's phenomenology overlapped, Dr. Tamminga added.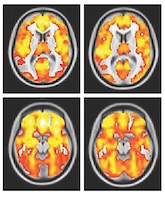 "What's puzzling and fascinating at the same time is that all three biologically driven disease constructs, or biotypes, might be clinically diagnosed as having schizophrenia, schizoaffective, or bipolar disorder," said Dr. Tamminga, who holds the Lou and Ellen McGinley Distinguished Chair in Psychiatric Research, and the Communities Foundation of Texas, Inc. Chair in Brain Science.
"There are multiple examples in other fields of medicine where use of biomarkers has led to a distinction of unique diseases that overlap in their symptom presentations," said Dr. Tamminga. "Hopefully, this neurobiological examination of severe mental illness will lead to more precise, biologically meaningful diagnoses and novel treatments."
Dr. John Sweeney, Professor of Psychiatry and Pediatrics at UT Southwestern, was a Co-Principal Investigator.
B-SNIP was funded by the National Institute of Mental Health (NIMH) and is part of the NIMH Research Domain Criteria (RDoC) initiative, which aims to develop the fundamental data for basing psychiatric diagnoses on biological characteristics instead of merely on clinical symptoms. The goal is to develop a framework for modeling mechanisms of brain diseases.
To expand and validate the consortium's initial findings, a second phase of the study will recruit an additional 3,000 patients and healthy volunteers over five years to undergo a more exhaustive battery of biomarker measurements and genetic tests. The combined data will be used to create a psychosis biomarker database to quantify and validate the biotype data, which potentially can serve as the foundation for improved, accurate disease classifications and guide the development of better treatments.