From Sept. 11 responder to Emergency Management Coordinator, Derek Trabon has a passion for safety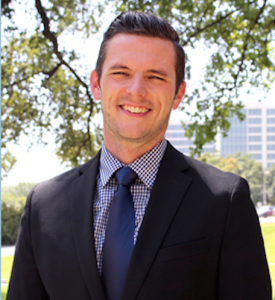 When the plane hit the Pentagon on Sept. 11, 2001, it sounded like cannon fire.
For 19-year-old Derek Trabon, this was a normal sound. As a Company E, 3rd U.S. Infantry Regiment soldier stationed at Fort Myer in Arlington, Virginia, booms of a cannon were part of a routine rehearsal.
But as the news of the 9-11 attack spread across the Potomac River, from the Pentagon to Fort Myer, reality set in – this was not a rehearsal.
Nicknamed "The Old Guard," the 3rd Infantry is the oldest active infantry unit in the Army. Primarily a ceremonial unit, they escort the President and they protect the Tomb of the Unknown Soldier. Since 1784, they've served as the last line of defense for the national capital region. On Sept. 11, Mr. Trabon and "The Old Guard" were called to duty. Mr. Trabon knew the time had arrived to trade his ceremonial rifle for a tactical one.
During the next two and half months, Mr. Trabon and his company served at the Pentagon for search and rescue, remains recovery, and perimeter security. He says the events of Sept. 11, 2001 jolted him to a new career path. The historical romance of the "The Old Guard" no longer drew him. He'd discovered a passion for safety and emergency management.
"After Sept. 11, a line quickly formed of people wanting to leave the 3rd Infantry to deploy and fight," Mr. Trabon said. "It was a shift in mindset similar to the reaction to Pearl Harbor during World War II. We were done with 'show and tell.' For me, it was time to figure out what emergency management really meant."
Fifteen years later, Mr. Trabon is the Emergency Management Coordinator at UT Southwestern. The mission of emergency management is to develop prevention plans that reduce vulnerabilities to disasters and response plans to transition a disaster to the recovery phase. He says there are five tenants of Emergency Management: mitigation, preparedness, prevention, response, and recovery.
"Emergency Management is a global perspective," Mr. Trabon said. "It's a continuous planning process that begins with understanding what our risks are. We develop relationships with everyone from local and state government to the UT Southwestern Police and the University Hospitals. Being the leading academic medical center in North Texas puts us in a unique position. We're like a small city. Our teams respond to all types of situations from severe weather and utility interruptions, to hazardous materials incidents."
September is National Preparedness Month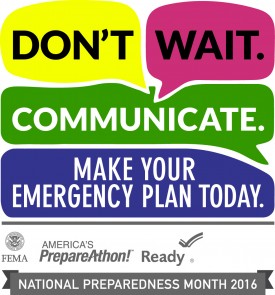 This September, Safety and Business Continuity recognizes National Preparedness Month through campus-wide educational outreach. The 2016 theme is Personal and Family Preparedness and Mr. Trabon hopes that UTSW employees will be inspired to create emergency plans for themselves and their families.
"When it comes the emergencies, it's not a matter of 'if', but 'when,'" Mr. Trabon said. "Taking just 30 minutes to cover simple emergency plans with your loved ones can be lifesaving. And for UTSW, the importance of family preparedness is twofold. If a widespread catastrophic event were to take place, UTSW would need our essential and non-essential employees here to support the community. If our employees are prepared with a family emergency plan, then they're more likely to be able to return to work quickly, where they are needed."
Safety and Business Continuity will be hosting emergency preparedness booths across campus to answer questions and distribute emergency preparedness materials.