Dr. Jay Horton aims to take Center for Human Nutrition to the next level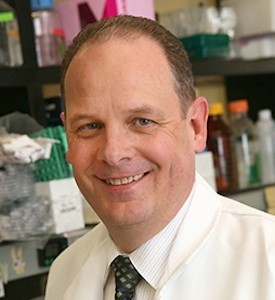 The new Director of the Center for Human Nutrition is setting a course that aspires to make the Center the pre-eminent research institution in the country in metabolic diseases, especially obesity.
After a nationwide search, the search committee determined that the best candidate was already at UT Southwestern and selected Dr. Jay Horton, Professor of Internal Medicine and Molecular Genetics, to succeed Dr. Scott Grundy, Professor of Internal Medicine, who directed the Center for 32 years before stepping down in 2013.
"It's a case of going around the world to find the guy next door," said Dr. Grundy of his successor, an internationally acclaimed physician-scientist who has made fundamental contributions to the understanding of lipogenesis (the creation of fats), fatty liver disease, and cholesterol metabolism.
Dr. Horton's characterization of secreted PCSK9 and the protein's interactions with low density lipoprotein receptors provided the foundation for the development of a new class of cholesterol-lowering drugs approved by the FDA in 2015. Dr. Horton also is Chief of the Division of Digestive and Liver Diseases.
"Dr. Horton was selected for this position after a national search because of his outstanding accomplishments in both biomedical science and academic leadership," said Dr. J. Gregory Fitz, Executive Vice President for Academic Affairs and Provost, and Dean of UT Southwestern Medical School. "He will have the opportunity to continue the legacy established by founding Director Scott Grundy at a juncture in time when an understanding of issues in metabolism, obesity, and regulation of appetite are of increasing importance as key drivers of health and well-being." Dr. Fitz holds the Nadine and Tom Craddick Distinguished Chair in Medical Science, and the Atticus James Gill, M.D. Chair in Medical Science.
Dr. Horton said he aims to build on prior successes of the Center for Human Nutrition and to cement UT Southwestern as the national leader in metabolism research. Toward that end, he intends to broaden the Center's scope in the following areas:
Expand the research base to include metabolic disorders other than obesity.
Enhance emerging technologies, in particular mass spectrometry and nuclear magnetic resonance-based technologies.
Work with the Division of Digestive and Liver Diseases to develop a nutrition program that provides expertise for UTSW hospital patients.
And, most importantly, expand the numbers of talented investigators.
"The overarching mission of the Nutrition Center will be to identify, train, and recruit new investigators who will characterize the molecular, biochemical, metabolic, and physiological processes that contribute to human metabolic diseases," said Dr. Horton, who holds The Dr. Robert C. and Veronica Atkins Chair in Obesity & Diabetes Research, the Scott Grundy Director's Chair, and the Center for Human Nutrition Director's Endowed Chair.
The Center for Human Nutrition was established in 1981 through a $1 million donation from an anonymous family, and ever since the Friends of the Human Nutrition Center was founded in 1985, they have generously been providing additional annual support for faculty research.