A growing presence in Fort Worth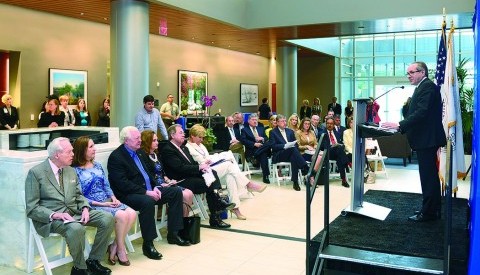 UT Southwestern Monty and Tex Moncrief Medical Center at Fort Worth reflects ongoing expansion and a continuing legacy
Since the Moncrief Cancer Institute launched just after World War II as one of the first cancer centers in the nation and the first in the Southwest to pioneer community radiation therapy, expansion has been a constant.
That growth continued in 2015, with a watershed moment coming in August when the creation of the UT Southwestern Monty and Tex Moncrief Medical Center at Fort Worth was announced. The Center, located in the heart of Fort Worth's burgeoning medical district, was made possible by an extraordinary $25 million commitment from W.A. "Tex" Moncrief Jr., and is UT Southwestern's first named campus outside of Dallas.
This new Center will build on UT Southwestern's recent expansion at the nearby Moncrief Cancer Institute, which reflects the generosity and foresight of W.A. "Monty" Moncrief, his son W.A. "Tex" Moncrief Jr., and the rest of the Moncrief family.
These expansions strengthen the Medical Center's depth, and its capacity to serve residents of Fort Worth and surrounding areas, while improving patient access to UT Southwestern's medical care, research, and educational opportunities.
"Connected with our objective to improve and help meet the health care needs of North Texas, expanding our ability to provide the community of Forth Worth more convenient access to UT Southwestern clinical care is a high institutional priority," said Dr. Daniel K. Podolsky, President of UT Southwestern. "We are delighted and privileged to be a part of the growing Fort Worth medical community, made possible through the long-standing support and vision of the Moncrief family.
"In the years ahead, their remarkable generosity will support the development of a multidisciplinary outpatient facility programmed specifically to meet the medical needs of the area, while our new clinical expansions at the Moncrief Cancer Institute – also thanks to the Moncrief family – enable us to extend the full backing and advantage of the region's only National Cancer Institute-designated comprehensive cancer center in North Texas."
In May, UT Southwestern's Harold C. Simmons Comprehensive Cancer Center, which this year was recognized with the NCI's top comprehensive status designation, brought its world-class advances in clinical cancer care and research to residents of Tarrant County and 10 surrounding counties through a new satellite facility, called the Harold C. Simmons Comprehensive Cancer Center Fort Worth. Dedication ceremonies included congratulations and comments from Fort Worth Mayor Betsy Price.
"For the center to be here, it's great for the city, great for the patient, and great for the physician," said Mayor Price. "We have an incredible medical district already, and this is icing on the cake that really brings that next level of medical care to us."
Among the advantages is the ability to make the latest clinical trials more readily available to Fort Worth residents. "They're doing the cutting-edge research that is giving us hope every day," said cancer survivor Charles Florsheim. "If you want to live and have a good chance of survival, then you need cutting-edge care," he added.
Encompassing more than 22,500 square feet in the expanded Moncrief Cancer Institute, the Simmons Cancer Center Fort Worth is specially designed to enhance the patient's experience with exam space, state-of-the-art imaging capabilities, on-site lab and pharmacy services, and 14 all-private infusion rooms for chemotherapy that are a first for Fort Worth. The Center also is able to provide secure telemedicine links directly to the Simmons Cancer Center in Dallas, allowing expert consultations and secured access to electronic medical records, as well as extending the reach of oncologists, surgeons, and bone marrow transplant specialists at UT Southwestern's William P. Clements Jr. University Hospital and radiation oncologists at the W.A. Monty & Tex Moncrief Radiation Oncology Building.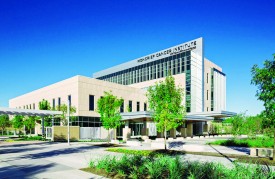 The need for these services is clear. The Texas Cancer Registry estimates Tarrant County alone will see more than 7,200 new cases of cancer this year, with the top concerns being cancers of the breast, lung, and colon.
"The care being made available at these new facilities is important in delivering on our commitment to provide the patients of this region UT Southwestern expertise, as well as extending our institutional research and education missions," noted Dr. Podolsky, who holds the Philip O'Bryan Montgomery, Jr., M.D. Distinguished Presidential Chair in Academic Administration, and the Doris and Bryan Wildenthal Distinguished Chair in Medical Science.
Dr. Keith Argenbright, Director of UT Southwestern's Moncrief Cancer Institute, noted the clinical focus of the new services provides a valuable addition to the Institute's mission and the Fort Worth health care community.
"The community outreach, survivor care and counseling, and mobile mammography services that the Moncrief Cancer Institute historically provided have proved to be important components of improving access to quality health care throughout Tarrant County and adjoining communities. These new offerings represent an exciting evolution of that mission," said Dr. Argenbright, who also is Associate Professor of Clinical Sciences and in the Simmons Cancer Center.
Supporting Cancer Survivors and the Underserved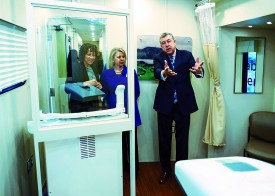 In May, the Simmons Cancer Center and Moncrief Cancer Institute debuted a Mobile Cancer Survivor Clinic. The custom-designed, $1.1 million, fully equipped 18-wheeler, is the first of its kind and delivers follow-up and screening services to cancer survivors in their communities.
The mobile clinic offers 3-D mammography, colon cancer screenings, private exam rooms, exercise facilities for one-on-one training, and high-speed telemedicine links to cancer experts and counseling services at the Moncrief Cancer Institute in Fort Worth and Simmons Cancer Center in Dallas. The bilingual cancer survivor services target nine rural North Texas counties covering more than 7,000 square miles. The traveling clinic serves Tarrant, Parker, Wise, Hood, Erath, Somervell, Johnson, Ellis, and Navarro counties – a region where 55 percent of the population is considered medically underserved and where one-third of cancer survivors are considered at-risk of failing to adhere to essential follow-up care due to the lack of facilities, lack of transportation, and other factors.
The Mobile Cancer Survivor Clinic provides the following cancer screening services to cancer experts and counselors:
3-D mammography
Colon cancer
Private exam rooms
Exercise facilities
Telemedicine links
Helping to address the needs of this community, the Cancer Prevention and Research Institute of Texas (CPRIT) awarded the largest prevention grant in its history to Moncrief Cancer Institute to provide colon cancer screenings at no cost to the underserved in Tarrant and surrounding counties.
This expanded commitment to health care in Fort Worth reflects the mission for the original Radiation Center that became Moncrief to ensure that residents in Fort Worth and surrounding areas have direct access to world-class medical care and facilities.
"My family has been touched by cancer and we take the fight against cancer very personally and very seriously," said W.A. "Tex" Moncrief, president of the William A. and Elizabeth B. Moncrief Cancer Foundation, in a 2013 announcement on the expanded Moncrief Cancer Institute. "We want to defeat this horrible disease, while ensuring our community has every resource necessary to offer the best cancer care and treatment for our fellow citizens. With this expansion of services and our continued affiliation with UT Southwestern, we are confident both goals will be achieved."
The Continuing Moncrief Legacy
The original Radiation Center began treating patients in August 1958, but got a significant boost in 1966 with a generous contribution by Mr. and Mrs. W.A. "Tex" Moncrief and a matching federal grant that funded an expansion of the facility. Within a decade, the center became one of the top radiation facilities in the Southwest, and an additional donation of $2.5 million by the Moncriefs led to another major expansion in 1979.
Based on the continued generosity and guidance from the Moncrief family, the new center was dedicated as the Moncrief Radiation Center in 1980. In 1999, administration was transferred to UT Southwestern, which broadened the scope of services. In 2010, the nonprofit organization changed its name to Moncrief Cancer Institute and in 2012, thanks to an extraordinary $22 million gift from the Moncrief family, moved into its current 60,000-square-foot facility located on a 3.4-acre site at 400 W. Magnolia Ave.
"It is our hope that the community of Fort Worth sees UT Southwestern as much a part of that community as it has been a part of the Dallas community," said Dr. Podolsky.
Dr. Podolsky holds the Philip O'Bryan Montgomery, Jr., M.D. Distinguished Presidential Chair in Academic Administration, and the Doris and Bryan Wildenthal Distinguished Chair in Medical Science.
###
W.A. "Monty" Moncrief
Mr. W.A. "Monty" Moncrief was one of Texas' legendary wildcatters. In 1931, he drilled one of the first wells in the East Texas oil field and made a major discovery extending the field. The Lathrop well came in at 18,000 barrels a day. The market was flooded with East Texas oil. Mr. Moncrief and his partners decided to sell their East Texas interest for $2.5 million. It later sold for over $37 million to Standard Oil Company. Mr. Moncrief then used the funds from the sale of his East Texas property to discover other major fields in West Texas, Florida, and Louisiana.
W.A. "Tex" Moncrief Jr.
W.A. "Tex" Moncrief Jr. was born in 1920 in Fort Worth, and later graduated from the University of Texas in 1942 with a degree in petroleum engineering. After working as an engineer in the East Texas oil fields, he received a commission in the U.S. Naval Reserve and was trained at Harvard as a communications officer before serving in the Pacific.
After the war, he returned to Fort Worth and went into the oil business with his father, W.A. "Monty" Moncrief. That's when he made huge discoveries of natural gas in Wyoming, as well as major discoveries on the Gulf coast, in Texas, and Louisiana.
Mr. Moncrief also has been a major supporter of athletics at the University of Texas and Texas Christian University, where the field is named after him and his father. Mr. Moncrief served on the Board of Regents from 1987 to 1993, was named to the Texas Philanthropy Hall of Fame in 2001, and was honored as a Distinguished Alumnus by the University of Texas Exes in 2008.