Brain experts discuss concussions at citywide forum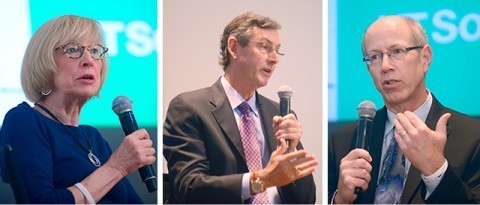 UT Southwestern Medical Center faculty members and a former NFL star and coach engaged in an informative discussion of concussion, and how parents, athletes, and coaches can identify and deal with suspected concussions at the Dallas Festival of Ideas, held Feb. 20 at Fair Park.
UT Southwestern panelists included Dr. H. Hunt Batjer, Chair of Neurological Surgery; Dr. Kathleen Bell, Chair of Physical Medicine and Rehabilitation; and Dr. C. Munro Cullum, Professor of Psychiatry, and Neurology and Neurotherapeutics. Former NFL star and coach Mike Singletary also sat on the panel, which was hosted by WFAA sports anchor Dale Hansen.
"Concussions are not just a football injury," said Dr. Batjer, also Co-Chair of the NFL Head, Neck, and Spine Committee. "In fact, the most common cause of concussion is bicycling. Further, it's not just an issue for boys. Girls are more likely than boys to experience concussions when they play similar sports, like soccer."
Dr. Batjer pointed out that the vast majority of concussions do not result in unconsciousness, and symptoms like dizziness, blurry vision, headaches, ringing or buzzing sounds, or even nausea and vomiting usually go away in a few hours or days. Appropriate treatment would be to stop playing, rest in a quiet environment, and when symptoms clear, start on an incremental return to school and play protocol.
But if someone loses consciousness, feels numb or "tingly" in any part of the body, can't stay awake, experiences neck pain or seizures, or suffers from symptoms that persist for more than a day, that person should be taken immediately to the emergency room, said Dr. Batjer, also a former college athlete.
"Several things can be done to either prevent concussions altogether, or minimize their damage," said Dr. Bell. "First, wear a helmet. A football player wouldn't think of stepping onto the field without one, and you shouldn't get on a bike or skateboard without one either. Also, make sure it is in good condition and fits snugly. Helmets won't prevent a concussion, but they can limit the severity."
Parents should meet with team coaches and trainers, discuss the team's "return to play" policies, and make sure the training regimen includes complete physical conditioning and proper techniques, she added.
"You know your kids," Dr. Bell said, "and if you see them exhausted, dragging around on the field, head down and shoulders slumped, they are a concussion waiting to happen. They should be taken out of play."
Mike Singletary advocated for "Heads-Up Tackling."
"Back in the bad old days, we were taught to use the helmet as a weapon, and aim straight at the opponent's ear-hole on their helmet," Mr. Singletary said. "That has to change. By tackling with their eyes on the opponent, and aiming that tackle at the central body, they are more likely to successfully tackle the ball carrier, and stay safe in the process."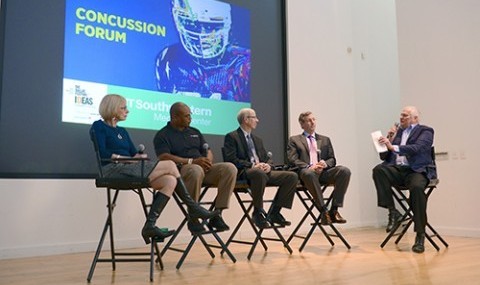 Panelists agreed that far more study and research of concussion is needed. UT Southwestern is leading that effort with CON-TEX, a registry of concussion patients ages 5 and older that will capture comprehensive, longitudinal data on sports-related concussion and mild traumatic brain injury patients. The data will give a "snapshot" of the current state of concussion assessment and treatment and will be the foundation on which the design of rigorous clinical research and valuation of treatments will be built. Individuals enrolled in the registry will have the opportunity to participate in future clinical trials testing innovative therapies and diagnostic approaches.
The CON-TEX study and registry is a collaborative effort among UT Southwestern, Children's Health Children's Medical Center Dallas, Texas Scottish Rite Hospital for Children, and Texas Health Resources Ben Hogan Sports Clinics.
"We don't know nearly enough about concussions, and the most effective treatments," said Dr. Cullum, Principal Investigator on CON-TEX. "Put a normally active teenager in a dark, quiet room for a few days without access to friends, television, and computers, and you'll have one depressed youngster pretty soon. We need to know how much rest is required for what kind of concussion.
"There's a saying in medicine, 'If you've seen one concussion, you've seen one concussion.' Each seems to be unique, and there's a lot for us to learn."
Initially, CON-TEX aims to enroll 300 to 500 participants through 2016 who are patients at the participating institutions.
"Our long-term goal is a better understanding of concussion, its risks, treatment, and prevention," Dr. Cullum said, "not just in student athletes, but for people in all stages of life, whether they are children or adults on bikes or playing sports, military personnel in combat, or seniors who experience a fall."
Last year, UT Southwestern founded the Texas Institute for Brain Injury and Repair, of which Drs. Batjer and Bell are Co-Chairs, along with Dr. Mark Goldberg, Chairman of Neurology and Neurotherapeutics.
UT Southwestern recently established the Peter O'Donnell Jr. Brain Institute, a comprehensive initiative dedicated to better understanding the basic molecular workings of the brain and applying these discoveries to the prevention and treatment of brain diseases and injuries.
- Gregg Shields