Message from the President
Dear Friends,
Within the pages of Southwestern Medicine, you will find reports on some of UT Southwestern Medical Center's most significant achievements of the 2014-15 academic year. We are deeply grateful for the support you have provided, which has been essential to the breadth and depth of our accomplishments and to the momentum that we are building to advance UT Southwestern as a premier academic medical center, at the forefront of biomedical research, patient care, and medical education and training.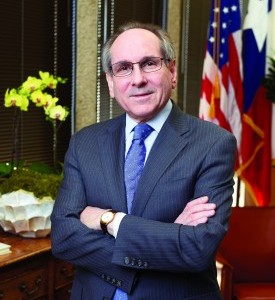 Opening the William P. Clements Jr. University Hospital in December 2014 was a major milestone of the 2014-15 academic year, and we are very proud that the new hospital has already gained national recognition for impressive achievements on quality and safety measures.
Another major 2014-15 milestone was the designation of our Harold C. Simmons Comprehensive Cancer Center by the National Cancer Institute as a comprehensive cancer center – the highest distinction possible, making it one of only 45 comprehensive centers nationally and one of only two in Texas.
Extraordinary support from our philanthropic friends in the community enabled new strategic initiatives, including the launch of the Peter O'Donnell Jr. Brain Institute. The Institute is a comprehensive effort to advance understanding of the basic molecular workings of the brain and the application of these discoveries to the prevention and treatment of brain diseases and injuries, today and in the future.
We were also able to strengthen the foundation of our research enterprise through the creation of the Lyda Hill Department of Bioinformatics. This new department significantly expands the analytic capabilities available to our scientists who are seeking to gain insights from the massive data sets that are increasingly at the heart of transformative discoveries that lead to better treatment and, when possible, prevention of disease.
During this year, the footprint of the UT Southwestern Health System has continued to expand, creating increased access to UT Southwestern physicians for patients and their families in this region. This includes cancer care in Fort Worth at the Moncrief Cancer Institute and planning our first named UT Southwestern campus outside of Dallas: the UT Southwestern Monty and Tex Moncrief Medical Center at Fort Worth.
Looking ahead, in addition to continuing our efforts in all of these important initiatives, we have added the new dimension of an innovative alliance with Texas Health Resources. In the spring of this year, working together, we will be launching Southwestern Health Resources, an integrated health care network to provide more comprehensive access to quality health care for citizens throughout North Texas.
Sadly, calendar year 2015 concluded with the death of Dr. Alfred G. Gilman, whose passion for advancing medicine, as well as UT Southwestern, was unsurpassed. As a Nobel Laureate and former Dean of the Medical School, Executive Vice President for Academic Affairs and Provost, Chairman of the Department of Pharmacology, leading scientist, and mentor to hundreds throughout his 28-year career here, Dr. Gilman enthusiastically brought his unique zest and zeal for excellence to every endeavor. He will be deeply missed, but his contributions to scientific understanding, as well as his thoughtful and rigorous approach to scientific challenges, will continue to serve not only as an inspiration, but as a model, for generations to come.
What follows are mere glimpses of UT Southwestern's commitment to innovation and excellence in education, research, and patient care. On behalf of the entire campus community, I thank you for your generous support and continued commitment to UT Southwestern's mission and goals.
Sincerely,
Daniel K. Podolsky, M.D.