Neurosciences: Tackling depression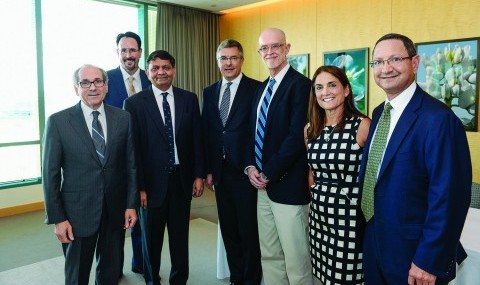 Depression – a psychiatric disorder that affects 16 million Americans annually and can impact every aspect of a person's life – may be one of the most challenging conditions to treat effectively.
No blood tests are currently available to diagnose or determine the best treatment for an individual patient. Additionally, not all treatments work the same for everyone, leading to a trial-and-error process in treatment selection. Furthermore, some people respond quickly, while it may take weeks, months, or even years for others before the therapeutic approach best-suited to a person is identified.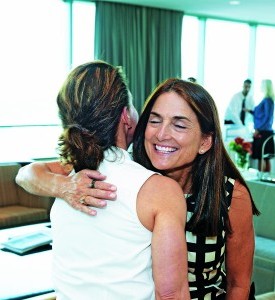 Julie Hersh understands these challenges. President of the Hersh Foundation, she detailed her own struggles with depression in the book, Struck by Living: From Depression to Hope, and became a national advocate for public education and research on depression. But she did not stop there. The Hersh Foundation, established in 1997 by Julie and her husband Ken Hersh, made a $5 million lead gift last year to Southwestern Medical Foundation to help establish the Center for Depression Research and Clinical Care at UT Southwestern, as well as to endow the Julie K. Hersh Chair in Depression Research and Clinical Care.
Spurred by the vision of eliminating the burden of these disorders, faculty associated with the Center aim to accelerate discoveries into the causes of and treatment for depression, bipolar disorder, and related conditions. The Center is led by Dr. Madhukar Trivedi, Professor of Psychiatry and Chief of UT Southwestern's nationally recognized Division of Mood Disorders.
"Just as with breast cancer, the best approach for depression, bipolar, and related disorders would be to diagnose early and find the most appropriate treatment. Late reaction results in massive collateral damage – problems at work, familial strife, and even suicide," said Mrs. Hersh, a board member of the Southwestern Medical Foundation who also served on the advisory board to develop the Center. "Dr. Trivedi and UT Southwestern are uniquely qualified to craft a more scientific approach for early detection and personalized treatment."
Dr. Trivedi has led national research efforts to identify biological and clinical features that are associated with the best results for each person. Knowing this helps doctors and patients to select treatments that will work.
"One of the biggest challenges is to quickly match people with one of the 35-plus treatments we have available. Right now, we go through a trial-and-error process," said Dr. Trivedi, who received the 2015 American Psychiatric Association Award for Research, the Association's most significant award for research.
He is currently leading a multicenter, National Institutes of Health (NIH)-supported study called EMBARC, which stands for Establishing Moderators and Biosignatures of Antidepressant Response for Clinical Care. The five-year study, launched in 2012, is examining clinical and biological markers. Participants undergo magnetic and electroencephalogic brain imaging and blood, DNA, hormonal, chemical, cognitive, and behavioral tests.
"We'll treat people and follow each of them for two years to see if we can learn how best to match their biology with treatment. We hope to establish a signature for each individual patient and speed up recovery for each patient with depression," said Dr. Trivedi.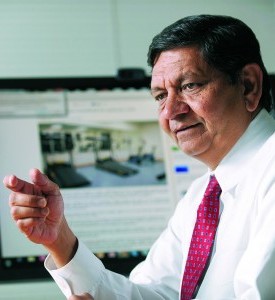 At UT Southwestern, finding better treatments is achievable thanks to the Center for Depression Research and Clinical Care that has one of the strongest programs in the nation for mood disorders research and treatment. Investigators in molecular psychiatry and basic neuroscience generate significant findings related to how specific genes, proteins, and brain mechanisms may contribute to depression and bipolar disorder. Particular emphasis is placed on understanding the mechanisms by which antidepressant treatments work.
"The possibilities for significant advances in the understanding of depression and bipolar disorders have never been greater," said Dr. Daniel K. Podolsky, President of UT Southwestern. "The Hersh Foundation's generous gift supports the next important step − finding the biological foundations that can help us design more effective diagnoses and treatments tailored to an individual's needs, and just as importantly, finding the means to predict who will suffer from depression."
One of the Center's latest projects is an iPad-based program called VitalSign6 that helps primary care physicians identify patients with depression. The application allows physicians to bring a much-needed, measurement-based approach to patients during the triage process, thus making screening and tracking for depression the "sixth vital sign" after body temperature, pulse rate, respiration rate, blood pressure, and pain. The assessments identify depressive symptoms, antidepressant treatment side effects, and adherence to treatments, all with the goal of returning to wellness in mind.
This effort builds upon earlier, landmark studies by UT Southwestern. In a benchmark study, Dr. Trivedi led the largest nationwide investigation of treatment for major depressive disorder, funded by the National Institute of Mental Health. From 2000 to 2006, the Sequenced Treatment Alternatives to Relieve Depression study, called STAR*D, tracked more than 4,000 patients at 41 primary care and psychiatric clinics across the country. As a result, step-by-step guidelines used by clinicians around the world were established for measuring and treating depression symptoms.
He has also pioneered studies into exercise as a therapy for depression. The Treatment with Exercise Augmentation for Depression (TREAD) study confirmed aerobic exercise was an effective treatment for patients with major depressive disorder. He and his team also were able to identify proteins in blood cells that may predict the effectiveness of exercise on depression. Now Dr. Trivedi is studying several brain-based mechanisms as possible biomarkers of depression and as a guide for treating depression with exercise.
"These cutting-edge biomarker studies are beginning to help us develop blood and brain tests and speed the process of treatment matching for depression, bipolar, and related disorders," Dr. Trivedi said. "It is important to keep in mind that a comprehensive approach is needed to achieve recovery and may involve a combination of treatment strategies. We should stop asking, 'Is it medications?' or 'Is it psychotherapy?' The question should be, 'What types of treatments are necessary for recovery for each individual?' "
###
Dr. Podolsky holds the Philip O'Bryan Montgomery, Jr., M.D. Distinguished Presidential Chair in Academic Administration, and the Doris and Bryan Wildenthal Distinguished Chair in Medical Science.
Dr. Trivedi, the inaugural Director of the Center for Depression Research and Clinical Care, holds the Betty Jo Hay Distinguished Chair in Mental Health.