Mentoring the next generation of cancer researchers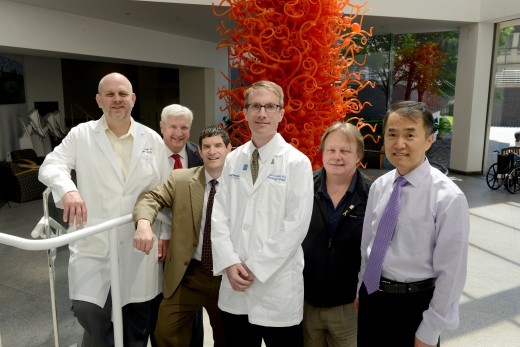 By Carol Marie Cropper
Dr. David Gerber, Associate Professor of Internal Medicine at UT Southwestern Medical Center, knows the importance of mentorship and its role in advancing cancer research. Through the years, he has mentored doctors-in-training who've won national awards and changed policy at hospitals where they worked, and others who beat out far more experienced physicians in national research competitions.
Now, a prestigious grant from the National Institutes of Health (NIH) will allow him to spend more time coaching young medical students, residents, and researchers as he conducts research to improve cancer treatment.
The NIH's Midcareer Investigator Award in Patient-Oriented Research, K24 for short, is designed to give recipients more time to mentor promising clinical investigators. The five-year grant comes with salary support of up to $100,000 per year, plus benefits; up to $50,000 per year for research development support (supplies, equipment, travel, etc.); as well as additional funding for indirect costs.
"This grant will allow me to mentor more people, in greater depth, more intensively, and for longer periods of time," said Dr. Gerber, who specializes in treating lung cancer and is also co-leader of the Experimental Therapeutics of Cancer Program in the Harold C. Simmons Comprehensive Cancer Center. The award also serves as evidence of UT Southwestern's commitment to mentoring and training in clinical research, Dr. Gerber said.
Mentees will assist Dr. Gerber in one or more of his five federally funded research projects aimed at improving cancer treatment. That research includes:
Examining whether cancer patients previously treated for cancer have a worse prognosis – a concern that has led most cancer trials to exclude such patients.
Testing whether the antifungal drug itraconazole, used to treat nail fungus, might be an effective and more affordable inhibitor of a signaling pathway involved in cancer.
Determining if survival rates improve in patients with locally advanced lung cancer who are given immunotherapy after standard chemotherapy and radiation treatments.
Analyzing whether survival rates improve for a group of cancer surgery patients assigned to targeted, personalized treatments. The test group, derived from a National Cancer Institute effort involving molecular testing on 8,000 cancer surgery patients, includes those whose tumors had specific aberrations. Dr. Gerber is leading the NCI study.
Testing whether beta-lapachone, a substance derived from the South American lapacho tree, might inhibit cancer growth in patients with advanced, nonresponsive tumors.
Other Simmons Cancer Center investigators participating in the research and mentoring supported by Dr. Gerber's grant include: Dr. Rolf Brekken, Professor of Surgery and Pharmacology, and Deputy Director of the Nancy B. and Jake L. Hamon Center for Therapeutic Oncology Research; Dr. Chul Ahn, Professor of Clinical Science; Dr. David Boothman, Professor of Pharmacology and Radiation Oncology; and Dr. Ethan Halm, Professor of Internal Medicine and Clinical Science, and co-leader of the Population Science and Cancer Control Program; and Dr. Richard Leff, Professor and Associate Dean for Clinical/Translational Science at Texas Tech University Health Sciences Center.
Dr. Gerber is the first UTSW researcher honored with a K24 grant in about a decade.
He said he's looking forward to "the opportunity to share with trainees what I think is an incredibly satisfying and exciting career. Being a clinical investigator has its challenges, but it's creative, it's impactful. Right now, I'm approached by considerably more potential mentees than I have the ability to take on."
The grant will allow him to expand his mentoring efforts. And, looking to the future, he pointed out, "Those mentees become others' mentors."
Dr. Boothman holds the Robert B. and Virginia Payne Professorship in Oncology.
Dr. Brekken is an Effie Marie Cain Research Scholar.
Dr. Halm holds the Walter Family Distinguished Chair in Internal Medicine in Honor of Albert D. Roberts, M.D.