Mind and Body Classes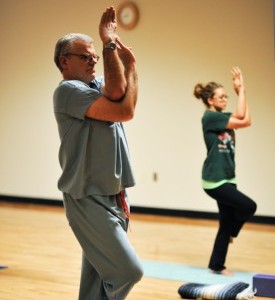 Active Yoga
Instructor: Chris
Yoga variation based on flowing postures that challenge the body by focusing on functional strength, flexibility, and relaxation to improve cardiovascular conditioning and body awareness.
Core 'n' More
Instructor: Chris
Mat-based Pilates and core work, plus yoga for releasing tension and to help open the body.
Meditation
Instructor: Mark
Introduction to the art of meditation provides a greater sense of self-awareness, compassion, and empathy. Also learn to process stress constructively and acquire an increased sense of health and well-being.
Power Yoga
Instructor: Linda
Designed to enhance vitality and a sense of well-being, this workout will help participants gain improved flexibility, balance, strength, and posture. The class will incorporate basic poses from various yoga styles.
Yoga
Instructors: Rose, Chris
Traditional and basic yoga postures, sometimes held, to connect mind, body, and breath. A combination of stretching and strengthening bring balance and harmony from continuous practice.
Pilates
Instructor: Nell
Lengthen your muscles and refresh your mind in this traditional mat-based class. A focus on alignment, core strength, and breath work will keep you challenged and coming back for more.
Power Vinyasa Yoga
Instructor: Diana
An energetic flow, interweaving sequences of yoga poses together with continuous "ujjayi" breathing. Improve strength, flexibility, and self-awareness via a coordinated flow of sun salutations, long poses, balancing postures, core work, and back bends.