Cardiofit Classes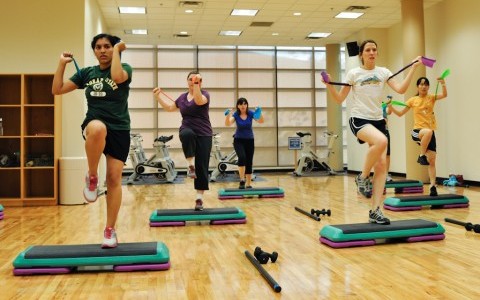 Dynastep
Instructor: Dennis
Want to have fun while you exercise? Join us for an upbeat step aerobics class for those who enjoy a variety of basic, easy-to-follow stepping moves! Emphasis is on aerobic conditioning, with toning and strength training included.
Spinning
Instructors: Al, Linda
Participants will enjoy a challenging and authentic cycling ride. With driving music and great drills, the outdoor cycling experience comes indoors. Class size is limited by the seven bikes we have available. Newcomers are welcome! The classes are designed so first timers can participate at their own pace until they get comfortable with the programs.
Turbo Kickbox
Instructor: Linda
This cardiovascular training class is designed in the style of martial arts, incorporating punches, kicks, and drills to enhance endurance and agility.
Turbo Sculpt
Instructor: Linda
Combination class including strength training and cardiovascular training, designed in the style of martial arts.
Zumba®
Instructors: Richelle, Gabriela
Ditch the workout; join the party! Shake your booty to a blend of Latin and International beats in this incredibly fun fitness-based dance class. No dance experience needed.
Total Training
Instructor: Nell
Start your weekend right with this energizing circuit-style workout that blends cardio, strength, balance, and flexibility. Be ready to play hard and get sweaty using a variety of equipment, moves, and drills.
Cardio Combo
Instructor: Rose
Fast-paced aerobics utilizing step, plyometrics, weights, and an exercise ball for a total-body workout that will have you coming back for more.
Body Sculpt
Instructor: Richelle
Stuck in a workout rut? Re-energize those muscles with some targeted, high-energy resistance training, and sculpt that body firm! Whether your goals are strength, endurance, weight loss, or muscle building, Body Sculpt can get you there.
Get Fit
Instructor: Meaghan
Be prepared to change up your workout routine and get fit! This full-body workout is unlike anything you've ever done! It is a non-stop challenge that includes a mix of cardio and strength training.